Eureka! After scouring the internet and testing recipe after recipe, I have finally created a laundry detergent recipe that I like. It's powerful and I swear it performs better than any commercial laundry detergent I've ever used. The best part? I know how to pronounce everything that goes into it. Being a powder, there is no melting, pouring, sitting, or other obnoxious steps. Measure, mix, and you're good to go.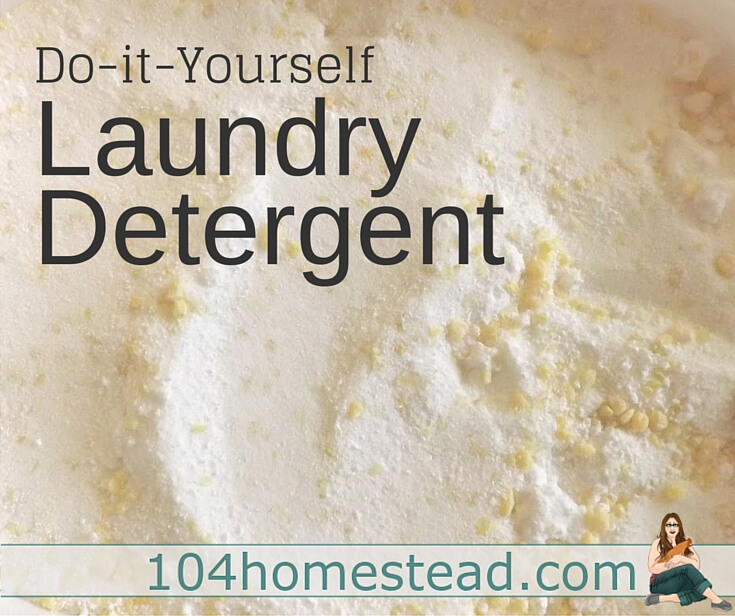 Making My Laundry Detergent Recipe
Ingredients
Fels-Naptha Soap (shredded)
Borax
Washing Soda
Simply mix it into a container of your choice using 1 part fels-naptha, 2 parts borax, and 2 parts washing soda. To use, add 1 tbsp. per medium/light wash load, 2 tbsp. per large/heavily soiled load. This recipe is HE safe using only 1/3-1/2 the above recommended amount.
Some other great laundry-related stuff to check out:
This awesome book, The Busy Mom's Guide to Taming the Laundry Monster, is a great resource for getting laundry under control. I hate doing laundry and it often gets out of control. After reading this book, it's a bit more manageable.
The "one size fits all" laundry systems of the past don't really fit "all". What is needed is a system that is as unique as the family. With grace and humor, the author encourages the busy mom to be intentional about her system. – Amazon
The Not-so-Modern Housewife's post "Liquid Laundry Detergent" which is practically the same, but in liquid form.
Can't find washing soda locally? Check out How to Turn Baking Soda Into Washing Soda. Also make sure you check out our other DIY Cleaning Recipes.