Do you want to make your own beauty products, but you don't know where to start?
What if you could get a handful of fun recipes that are perfect for beginners?
Homemade Beauty Essentials offers recipes for hard lotion bars, melt and pour soaps, and fun lip balms.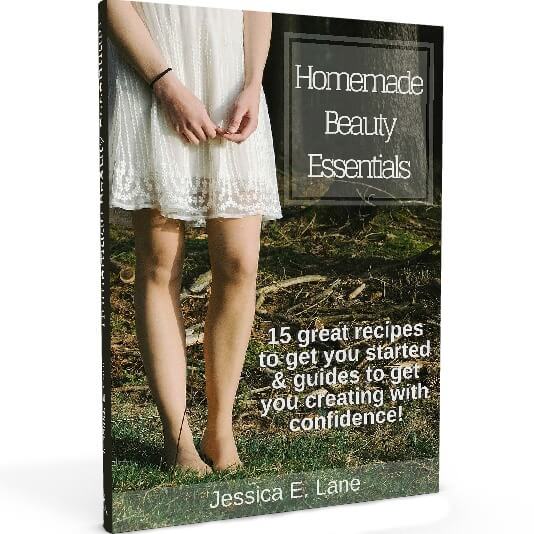 Here are just a few recipes you'll get…
Barista Soap with subtle scents of coffee to get you going in the morning and coffee grounds to exfoliate.
Divinity Soap & Hard Lotion with romantic scents of chocolate and roses.
Chocolate-Orange Lip Balm that will remind you of the chocolate oranges you get at Christmas.
Dirt Lovin' Gardeners Soap with loofah embedded for a good scrubbing. Perfect for you or your gardening friends.
Tranquility Lotion Bar with a wonderful blend of lavender and ylang ylang for the ultimate relaxation experience.
---
Are you looking for homemade gifts for the holidays? These would be perfect!
---
My name is Jessica Lane. I began experimenting with homemade beauty products four years ago. Three years ago, I started to explore the power of essential oils. It only seemed natural to combine the two. Now I make homemade beauty products that contain essential oils that offer aromatherapy and benefits to the skin.
It was important to me to pass on my favorite recipes so that you can start experimenting as well. In addition to the recipes contained in Homemade Beauty Essentials, you will get the information you need to be able to create your own recipes.
[wp_eStore_add_to_cart id=2]
Just $5.9

9

 .
Testimonials
"The book includes recipes for 6 different lotion bars, 6 melt and pour soaps, and 3 lip balms; as well as pictures of how the final products will look (see above for a lotion bar photo example). It also includes descriptions of essential oils you might want to include, their benefits, and cautions that may pertain to their use. I tried recipes for a lotion bar and lip balm, and they turned out beautifully."
– Lesa of Better Hens & Gardens
"Not only did I get 15 great recipes ranging from using waxes to make butters and lotion bars, Jessica also gave me valuable background information about the properties of the ingredients she uses."
– Shelle of Preparedness Mama
[wp_eStore_add_to_cart id=2]
Just $5.99
"My teenage daughter is using Homemade Beauty Essentials as part of her health credit for high school. I love that the author not only has fun recipes in this book but that she also gives information about as to why each ingredient is used."
– Angi of SchneiderPeeps
"Homemade Beauty Essentials is a must have resource for anyone wanting to make their own body products or give them away as gifts. The book will walk beginners through every necessary step in a clear and concise manner while providing recipes and ideas for the more experienced maker. It's the perfect addition to the DIY library and a resource that you'll turn to again and again."
– Kathie of Homespun Seasonal Living
[wp_eStore_add_to_cart id=2]
Just $5.99
100% MONEY BACK If for some reason you are unhappy with your purchase, return it withing 90 days for a full refund.