Subscribe to The Homestead Helper and Get a Free Copy of My eBook!
or read on…
---
Do you want to start homesteading but don't know where to start?
We are in the technological age, meaning there is an endless supply of knowledge at our fingertips. Great! Well, maybe not.
It can be overwhelming to break into something new with that much information​.
Have you ever Googled something about starting a new diet? 200 pages worth of results listing hundreds of diets, hundreds of reviews saying such-and-such diet does not work, and variations people claim are the way to diet properly. Here you are, Googling diets, and you are at the point of giving up and grabbing an Oreo.
That's why I wrote…
Welcome to the World of Homesteading
In this digital book, you'll find a seasonal guide to setting homesteading goals. These are goals you easily achieve, regardless of the size or location of your homestead. In addition to giving you goal ideas, Welcome to the World of Homesteading offers goal-tracking sheets. These worksheets can be printed off year after year so you can watch your homestead grow.
The best part is this book is absolutely free! It's the mission of The 104 Homestead to teach you how to homestead where you live. This book is a great start. Once you subscribe to The Homestead Helper, you will get your complimentary copy of my book and weekly tips for homesteading right where you are.
So what are you waiting for? Subscribe now!
You get to choose the frequency! Select from the options below.
Weekly Newsletter
An update on what's happening on my homestead and new content from here on the website.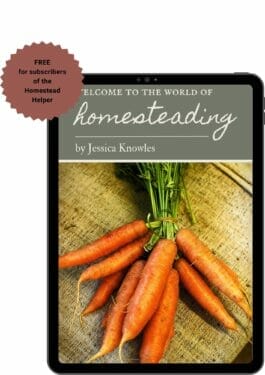 Monthly Newsletter
A list of things you'll want to do this month on your homestead and what's trending on the website.