These goat milk shampoo bars have a generous helping of castor oil to promote a great lathering experience, along with a full amount of goat's milk for an added creamy and luxurious feel. Shea (or mango) butter helps to slightly harden the finished bars while providing moisturizing properties for scalp and hair.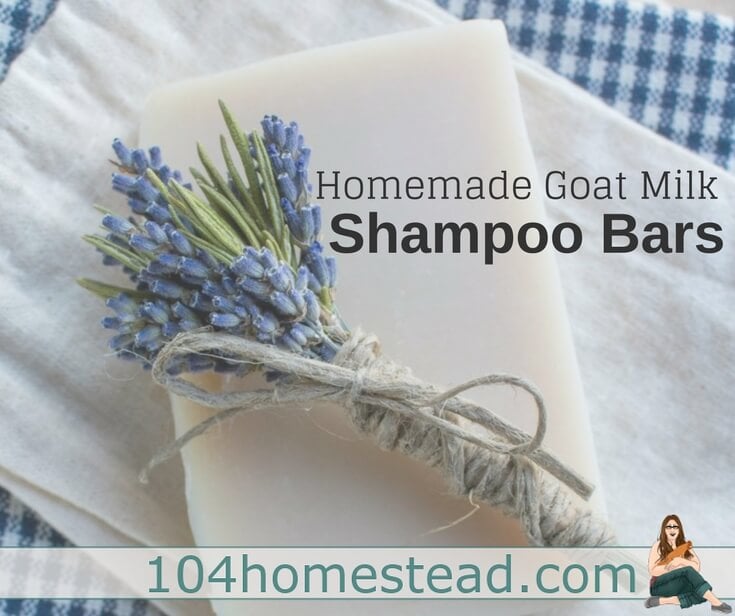 This recipe is one from Jan Berry's new book, Simple Natural Soapmaking.
Before making, you'll first need to freeze the milk. To do so, weigh the amount of milk you need for the recipe directly into ice cube trays. Freeze until solid and store the cubes in freezer bags until you're ready to make soap.
Yield: 7 to 8 bars of soap (2.5 lbs/1.13 kg)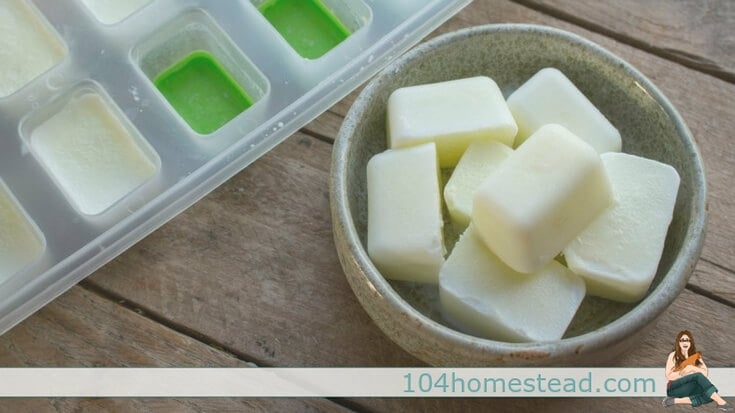 Lye Solution
8.5 oz (241 g) frozen goat's milk
0.5 oz (14 g) distilled water
3.9 oz (111 g) sodium hydroxide (lye)
Oils
7.5 oz (213 g) coconut oil
3 oz (85 g) shea or mango butter
10.5 oz (298 g) olive oil
3 oz (85 g) sweet almond or sunflower oil
4 oz (113 g) castor oil
Essential Oil
1.23 oz (35 g) of lavender essential oil, optional
Substitutions & Tips
Note that all ingredients should be measured by weight. You'll need an accurate scale to make soap.
To replace the shea or mango butter, try using lard or tallow instead. The lye amount will stay within an acceptable range for either change and will not need to be adjusted. If allergic to coconut oil, try using an equal amount of babassu oil in its place. For this replacement, the lye amount should be slightly reduced, to 3.85 ounces (109 g).
Directions to Make Goat Milk Shampoo Bars
Place the frozen goat's milk and water in a heavy-duty plastic or stainless steel bowl. Wearing protective gloves and eyewear, carefully sprinkle a small amount of lye at a time over the frozen milk, stirring well after each addition. The entire process will take several minutes, but working slowly ensures that the milk doesn't scorch and that the lye completely dissolves. The lye solution does not need to cool further before adding to the oils.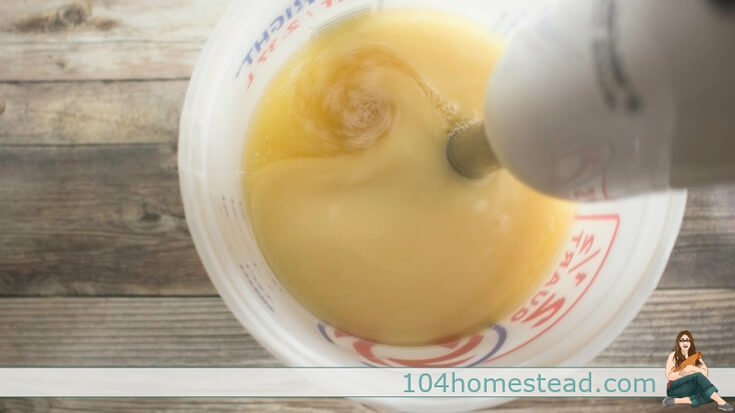 Melt the coconut oil and shea butter, then add to the other oils. Add the lye/milk solution to the oils. Using a combination of hand stirring and an immersion blender (stick blender), stir the soap until it reaches a very light trace. (Trace is when the soap has thickened enough so when you drizzle a small amount of the batter across the surface, it will leave a fleeting, but visible imprint or "trace" before sinking back in.) At trace, stir in essential oil, if using, then pour into a prepared mold.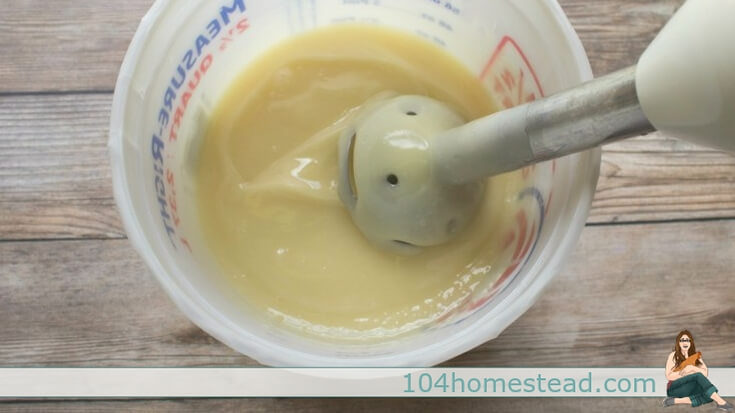 Once poured into the mold, you have two options. You can keep the soap at room temperature, covering lightly with wax paper and a towel or pillowcase. Peek at the soap every so often; if it starts developing a crack, that means it's overheating and should be moved to a cooler location. Alternatively, for a lighter colored soap, place the filled mold in your refrigerator for 24 hours, then remove and allow to stay at room temperature another day or two before unmolding. Slice the soap into bars when it̕s firm enough not to stick to your cutting tool. Cure on coated cooling racks or sheets of wax paper about 4 weeks before using.
Benefits of Goat Milk for Hair
The proteins and fatty acids in goat milk shampoo bars nourish hair and makes it naturally shiny. If you have curls, goat's milk shampoo will help to control frizz and make your curls sculpted. Also, because it's gentle and it helps to moisturize the skin, you may find dandruff relief after using goat milk shampoo bars.
If you're looking for more great soap recipes, I highly recommend getting a copy of Simple Natural Soapmaking. Herbalist Jan Berry offers everything the modern-day enthusiast needs to make incredible botanical soaps. Beginners can join in the sudsy fun with detailed tutorials and step-by-step photographs for making traditional cold-process soap and the more modern hot-process method with a slow cooker. Jan presents fifty easy, unique soap recipes with ingredients and scents inspired by the herb garden, veggie garden, farm, forest and more.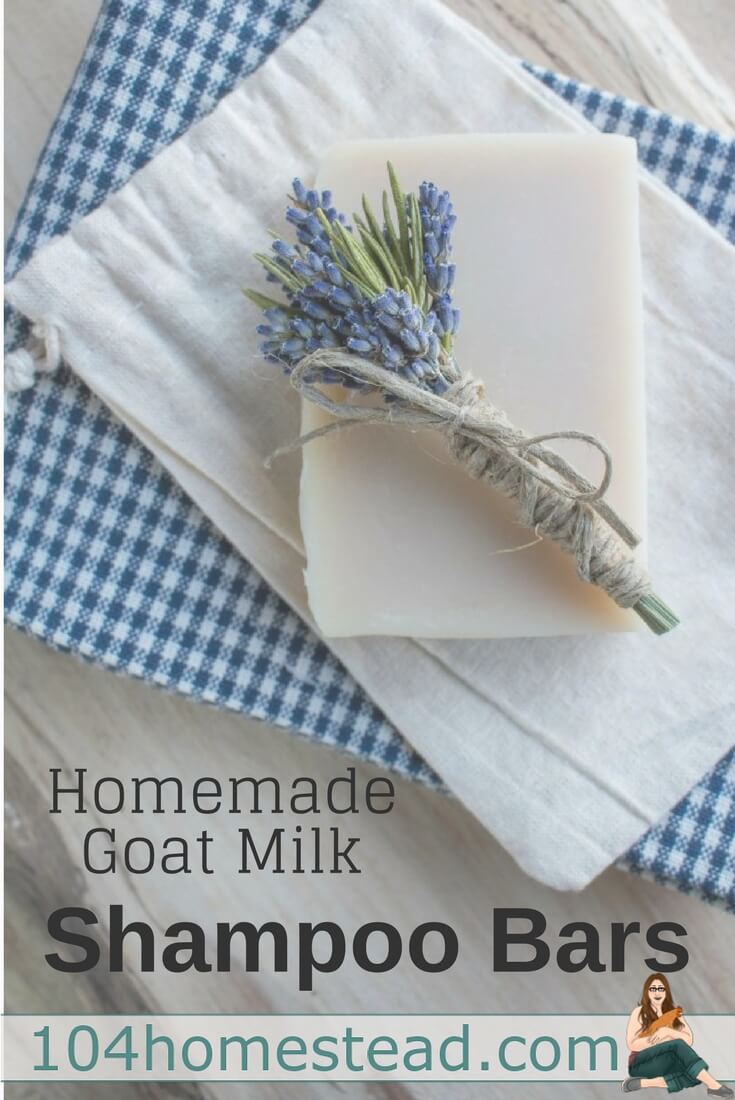 The following two tabs change content below.
I am a non-traditional homesteader. What is a non-traditional homesteader? I'd like to think we are the people who don't fit the mold. I am a busy mom on a small bit of property with not a lot of financial resources, but I am figuring out how to live the life I want. A homesteader's life.
Latest posts by Jessica Lane (see all)