There are a lot of dill pickle recipe ideas online, but there is something they all lack. The secret to crispy pickles. A single surprise ingredient.
I love dill pickle spears. I prefer spears over coins because they stay crisper. Yes, late at night I sneak to the kitchen to eat them right out of the jar. Shhh, don't tell my children. The secret to a crispy pickle… leaves. Plant leaves.
Specifically, I am referring to grape leaves. Grape leaves contain tannins that inhibit a naturally occurring enzyme in cucumbers that cause them to soften. Other types of leaves (such as oak and cherry) work, but may cause a bitter taste in your pickles.
Ingredients
This dill pickle recipe will make approximately 6 quarts of pickles if cut into spears. Less if cut into coins.
6 lbs Cucumbers (see variety suggestions below)
3 c. White Vinegar
3 c. Water
6 tbsp. Dill Seeds
6 tbsp. Pickling Spice (see my recipe below)
2 tbsp. Kosher Salt
24 fresh Dill Sprigs
6 fresh Grape Leaves (washed and dried)
In a large saucepan over medium-high heat, combine the vinegar and salt. Add 3 cups water and bring to a boil, stirring to dissolve the salt.
Meanwhile, in each jar, place 1 tablespoon of the pickling spices, 1 tablespoon of the dill seeds, 1 grape leaf, and 4 sprigs of dill. Put the cucumber spears in the jars upright, packing them tightly and avoiding large gaps. Ladle the salted vinegar water into the jars. If you are planning to keep them in the fridge, your work is done. Allow them to rest for two weeks so the flavor can develop and then sit back and enjoy. If you are canning, read on for processing instructions.
My Pickling Spice Recipe
This blend is perfect for all kinds of pickles, not just this dill pickle recipe. Double or triple it so you have plenty on hand for harvest season.
2 tbsp. Black Peppercorns
2 tbsp. Mustard Seed
2 tbsp. Coriander
2 tbsp. Dill Seed
1 1/2 tbsp. Red Pepper Flakes
1 tbsp. Allspice
10 Bay Leaves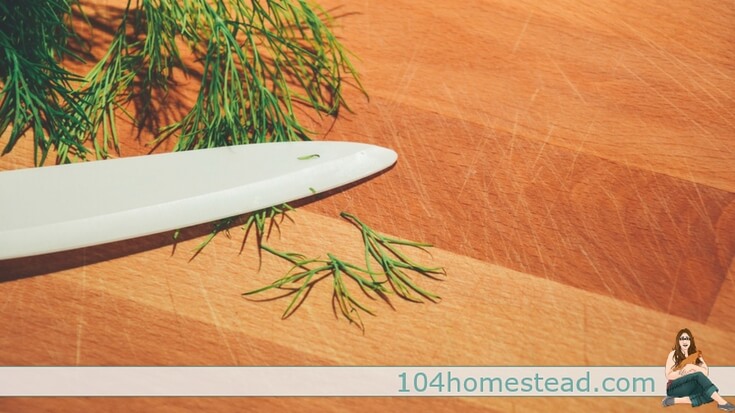 Additional Tricks for a Crispy Dill Pickle
Use the correct kind of cucumber. Persian and Kirby cucumbers stay crisper and firmer than English cucumbers. I get my seeds from Seeds of the Month Club and have always been beyond happy with the varieties I receive. For just $3.99 a month (or less if you subscribe for 1 or 2 years), you will get open-pollinated, heirloom seeds delivered right to your front door.
Preparing Your Cucumbers Correctly
Use your cucumbers right after picking. If they wilt even the slightest bit, your pickles may be compromised.
Be sure to cut off the blossom end of the cucumber which contains enzymes that soften your pickles. Speaking of cutting, the smaller your pieces, the softer they will become. It's best to choose a small cucumber and divide it into large spears.
Let your cucumbers chill in an ice bath for four to five hours before starting to process them.
Processing Your Cucumbers Properly
Refrigerator (not canned) pickles of course stay firmed because the canning process cooks them a bit. Refrigerator pickles are good for about 2 months. If you want to store your pickles for longer, canning is the best option. Just make sure you are watching the timer when you water bath them so you are only cooking them as long as necessary for safe storage.
If you choose to water bath can your pickles, process with 1/2″ head space in quart jars for 15 minutes. I prefer name brand Ball jars. In fact, it's the only time I splurge on name brand for just about anything, but I've found in this case it's worth it. They are less prone to breakage than others on the market. Consider it an investment.
If you're new to canning, I highly recommend grabbing a copy of Ball's Book of Canning and Preserving. Not only is it chock full of recipes, it gives important information about safe canning practices. I know I shouldn't slam my own platform, but the internet is full of "experts" giving out bad advice. Canning isn't somewhere you can afford to take chances with bad advice.
Why I Don't Use Crisping Agents
A note on Pickle Crisping Agents, I have heard positive reviews for it, but I'm leery of using it. These crisping agents are made of calcium chloride which has been known to cause stomach pain, nausea, and vomiting. You can read more about it's dangers at LiveStrong. The nice thing about this dill pickle recipe is you'll probably find they are crisp enough without additives.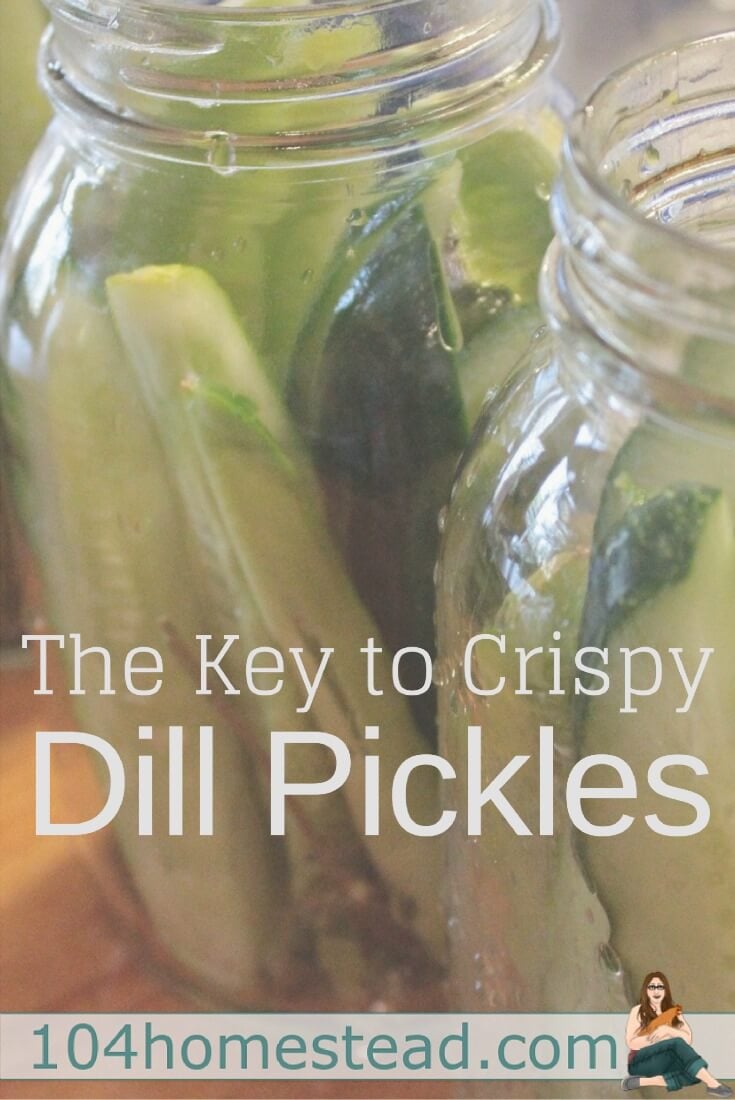 The following two tabs change content below.
I am a non-traditional homesteader. What is a non-traditional homesteader? I'd like to think we are the people who don't fit the mold. I am a busy mom on a small bit of property with not a lot of financial resources, but I am figuring out how to live the life I want. A homesteader's life.
Latest posts by Jessica Lane (see all)