Hyssop: Why You Need to Make Some Space for This Herb
Hyssop is easy to grow and can provide a multitude of benefits to you and your homestead. It's worth carving some space out in the garden for.
Hyssop (Hyssopus officinalis) is a member of the mint family and you'll want to make room for it in your herb garden this year. Don't worry, although it is related to mint, and it does spread, it spreads at a much slower rate than the mints you might be familiar with. The first year you plant, it will look like a frilly clump, but as it gets older, it will form a nice rounded bush about 2′ tall. I plant it as a landscaping plant, with its violet-blue spikes of flowers, because I enjoy its beauty as well as its culinary and medicinal uses. The local pollinators enjoy it as much as I do. Even the hummingbirds stop by to admire it.
Hyssop vs. Anise
There is a lot of confusion surrounding the differences between true hyssop and anise hyssop. Anise hyssop (Agastache foeniculum) and true hyssop flowers appear similar and even taste similar, but they come from different roots. Hyssop comes from Europe. Anise is native to North America and tends to be more drought-resistant. The real reason to assure that your hyssop is true hyssop is that it has medicinal benefits that anise does not. |
Medicinal Uses
Hyssop is often times used as a cough and cold remedy, usually in the form of tea. It loosens mucus, aids in congestion, and lessens the symptoms of colds, flu, sinus infections, and bronchitis.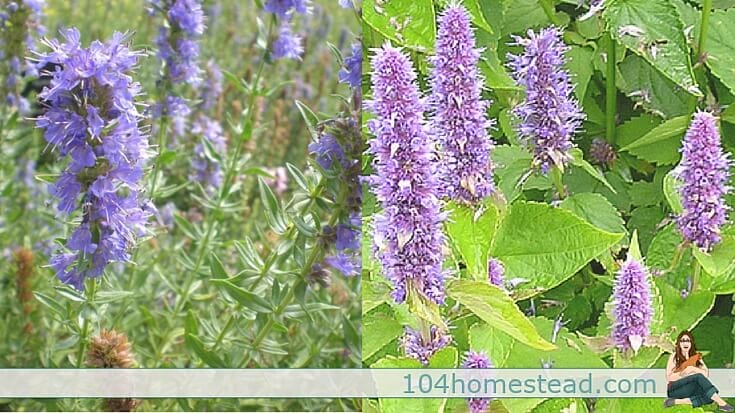 Culinary Uses
The flavors are hard to describe. It's a somewhat bitter, minty-licorice flavor. It's used to flavor the popular liqueur, Absinthe. The leaves add a nice minty note to marinades (use sparingly) and the flowers are a nice decorative and refreshing element to salads.
Growing Hyssop in Your Garden
Hyssop is very easy to grow. In the northern US and southern Canada, it can be found growing along the side of the road. It's hardy in zone 3-10. It can easily be started from seed indoors, but if you can find an established plant, you can divide the root ball to start new clumps. To start, collect seeds from an established plant, let the flowers dry, and then "paper bag" them in the fall.
Plant in full sun with an 18-24″ spacing. If you want a bushier plant, in the spring, prune heavily to encourage new growth.
Cough & Congestion Tea
Feel a cold coming on? Try this recipe.
Hyssop Cough & Congestion Tea
A deliciously minty tea with licorice notes.
Print Recipe
Instructions
Steep flowers in boiling water in a covered container for ten minutes. I like to use a tea infusing spoon.

1 tbsp. Dried Hyssop,

8 oz. Water

Add lemon (optional) and honey. Honey can be adjusted for optimal sweetness.

1 tbsp. Raw Honey,

1 tsp. Lemon
Notes
Dried hyssop leaves and flowers can be kept in an airtight container for up to 18 months.
Nutrition
Calories:
56
kcal
|
Carbohydrates:
15
g
|
Protein:
1
g
|
Fat:
0.2
g
|
Saturated Fat:
0.04
g
|
Polyunsaturated Fat:
0.1
g
|
Sodium:
17
mg
|
Potassium:
106
mg
|
Fiber:
1
g
|
Sugar:
12
g
|
Vitamin A:
888
IU
|
Vitamin C:
6
mg
|
Calcium:
52
mg
|
Iron:
1
mg
For additional cold and flu remedies, you can make at home, check out How to Make Elderberry Syrup, Homemade Ginger & Lime Cough Syrup, and Homemade Fire Cider. You may also find relief with 3 Hot Drinks & Teas That Help You Detox.