Homemade Fire Cider for Cold & Flu Season
I was introduced to Fire Cider last year when my friend, the owner of Spice & Grain, offered me a sample after hearing me complain about terrible congestion from a cold I was fighting. Made with apple cider vinegar and other immune-boosting natural ingredients, it's something I feel comfortable taking.
According to writer Trisha McCaul:
Fire Cider is a tonic with antibacterial, antiviral, antimicrobial and anti-fungal properties, which can be taken daily as a preventive and also at the onset of colds or flu; an expectorant [that] breaks up congestion and helps us ward off respiratory ailments and sinusitis; also helps to stimulate sweating and moves toxins out of the body, which is beneficial in cases of colds, flu and mild fevers.
Results
After the initial shock at such a powerful taste, I was shocked by how quickly the Fire Cider went to work. My sinuses began to clear before I even left the store. How could it not with that heat? By the next morning, I felt better than I had in days. That was just with one dose. I went back to Spice & Grain the next day to buy a bottle, but it just wasn't in my budget. A shame since it was working so well.
Make It at Home
My friend informed me I could make Fire Cider at home. I knew it was something I needed to have on hand every winter to fight off colds and flu. It's safe for kids and in fact makes a good gauge as to whether your kids are faking illness or not. If one of my little cherubs announces they are too sick to go to school, I bring out the Fire Cider. If they are willing to take it, I know they are really sick and they spend the day relaxing on the couch with warm, honey-sweetened chamomile tea spiked with Fire Cider. If they aren't willing to take it, it's off to school they go.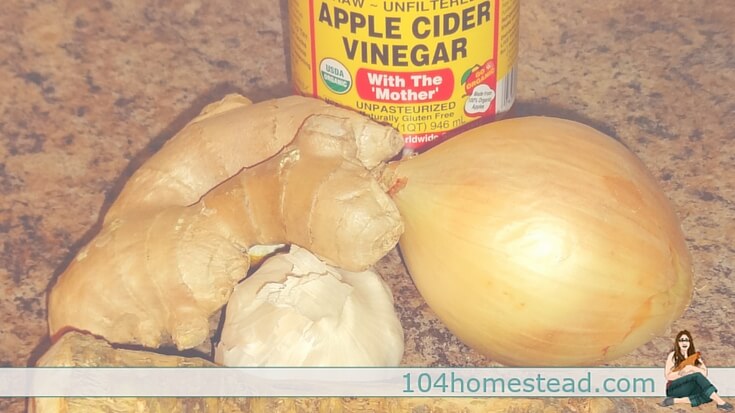 Ingredients
1 Head of Garlic (peeled and smashed)
1 Medium Horseradish Root (cleaned, peeled, and sliced)
1 Medium Onion (peeled and chopped)
1 Medium Ginger Root (peeled and grated)
1/4 c. Honey (less or more to taste)
1 qt. Apple Cider Vinegar (I prefer Braggs)
1 large Orange (zested and juiced)
Cayenne (to taste)
Rosemary, Thyme (any herbs you have on hand and prefer)
Instructions
Prepare your roots and vegetables and place them in a glass jar with a plastic lid. If you're using a metal canning lid, cover it with wax paper before sealing to prevent oxidation. Add in your herbs, spices, orange juice, and orange zest. Fill almost to the top with vinegar leaving about 2″ of head space. Seal.
Allow the concoction to cure for 1-3 months in a dark cabinet. After your Fire Cider has rested, strain the liquid into a clean container and mix in the honey. Refrigerate. It should last 6-8 weeks due to the high acid content.
Buy Fire Cider
If you don't want to go through the steps of making your own fire cider or you are already sick and you need it ASAP, you can buy it on Amazon or at your local health food store.