How To Make Galvanized Planters: A Simple 3-Step Guide
Built to last, these galvanized planters add a distinct farmhouse style to any outdoor space. You'll love the look and the functionality.
Are you looking for an easy way to get your garden started? Maybe you don't have the space or time for a garden bed? Galvanized bins make handy planters and they are pretty charming too! Best of all, this DIY project is one you can easily complete over a weekend. This means there is no reason to not be growing your own food.
The 3-Steps to Preparing Your Steel Planters
In this guide, we'll review the 3 steps to using galvanized bins as planters:
Drill drainage holes.
Position the galvanized planters and fill them with soil.
Start planting!
Galvanized bins can be found at your local hardware store, farm supply store, or online. They come in various sizes and are traditionally used for animal feed. Think about what size would be best for your space and for what you want to grow. The metal tub shown here are 155-gallon tanks from Tarter; they are approximately 2 feet high by 2 feet wide by 6 feet long.
Drill Holes for Adequate Water Drainage
You want to make sure the veggies you are going to plant have good drainage, so drilling holes in the bottom of the planter is important. This is not an easy job, but it's worth it! Here's how:
Flip the bin upside down for drilling, and put a tarp or a blanket underneath to catch the metal scraps.
Using a 1/2-inch metal drill bit, drill holes every few inches around the perimeter of the trough, as well as across both vertically and horizontally. This will drain the battery from a cordless drill quickly, so a corded drill might be a better option if you have one.
Position Your Galvanized Planters & Fill Them with Soil
These galvanized planters are a great addition to a patio, deck, or yard. If you want your bins in a specific location, you can measure and mark the specific spot. When placing the bins, take the time to make sure they are level, which is important for drainage. Remember that once the bins are full of dirt, they will be fairly permanent because of their weight (though you can always empty the dirt out to move them).
For soil, we recommend using a blend of 2/3 high-quality topsoil and 1/3 compost. Your local landscape/garden center can probably deliver this by the yard (even better if you have a truck and can pick it up), and then you can shovel it into the bins.
Fill your galvanized bins to the very top with the soil/compost blend! Keep in mind that the soil will settle, and stopping even just a few inches from the top of the bins will create a gap that will cast a shadow on your plants.
Start Planting in Your Metal Planters!
Now you're ready to plant, which is the fun part! Herbs do very well in these galvanized planters. Snap peas and lettuce are examples of cool-season vegetables that can be sown directly in galvanized planters. Cherry tomatoes and summer squash are examples of warm-season vegetables that can either be started indoors or purchased as seedlings. You can mix and match – starting with some direct sowing early in the season and adding other seedlings and warm-season veggies as the season progresses.
If you need help with hardening off and transplanting your seedlings into your new planters, here is your guide on how to do it.
Do galvanized planters get too hot?
You may be a bit concerned that your poor plants are going to cook when the sun shines on your planter, but fear not, the galvanized containers will reflect heat. The damp soil also creates a cooling effect that will prevent roots from getting too warm.
Is it safe to plant in galvanized tubs?
"Galvanized containers have a zinc coating (which can contain cadmium) which prevents the underlying steel or iron from rusting. If you have these containers for a while, or if your soil/water is acid, the zinc coating can corrode, and the zinc and cadmium can be released and uptaken to your plants. So this would be a major consideration if you were planning on growing veggies for your family in the galvanized containers. Small amounts of zinc help your immune system but large amounts of zinc and any amount of cadmium can be poisonous."

– Vicki Motz, National Institute of Food and Agriculture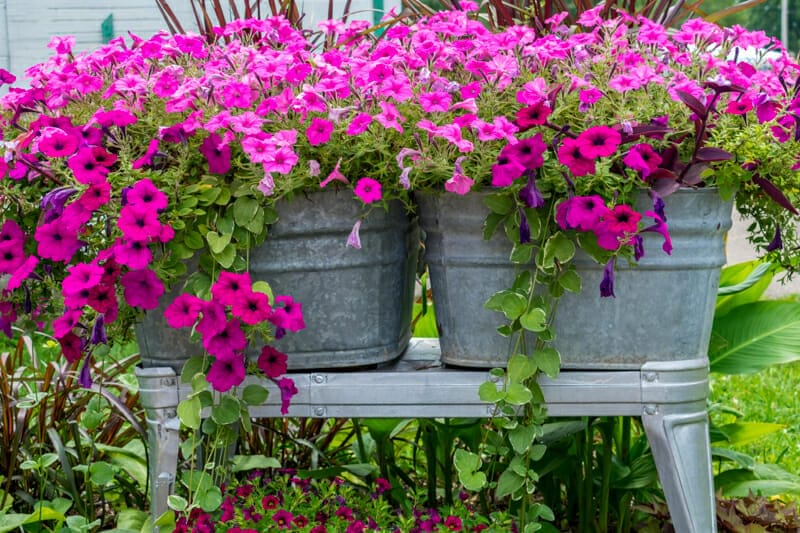 If you have acidic soil or water and you start to see wear and tear, it may be best to retire your planters from food production to ornamental plants. 
How long do galvanized planters last?
Galvanized planters can last for an average of 25 – 60 years. The lifespan of a galvanized planter depends on how well the planter was cared for. Wipe down your galvanized steel planter with a damp cloth to remove dirt. Don't use any detergents or soap as this may remove the patination oils.
For inspiration on garden planters you can make yourself, check out these cute DIY garden containers.