8 Low-Cost & No-Cost Garden Trellis Ideas for Vining Foods and Flowers
Want to build a garden trellis that's cheap and easy? These DIY trellis ideas for the garden are quick to make and don't cost much.
Estimated reading time: 6 minutes
Trellises serve an important function in the garden. Climbing plants like cucumbers, morning glories, indeterminate tomatoes (should you be removing the suckers from your tomatoes?), peas, squashes, and other climbing vines need support to reach their maximum potential. You can purchase tomato cages or garden obelisks, but you can DIY 1 (or 100) for less money.
They can be completely utilitarian, or they can be a work of art. The best part is that they can cost pennies or even be free with a little ingenuity. They can be assembled in minutes or toiled away year after year to become intricate masterpieces. I love re-purposing things I already have. I love it even more when it is aged, beautiful, and given new life.
Below are seven functional trellis ideas that won't break the bank.
Upcycled Trellises
A great example is this wooden ladder. It may not be beautiful, but it does have some charm.  Mostly it serves a purpose. As a ladder, its days were over. The bottom rung pivoted, and the other rungs creaked under a small person's weight. Now it lives its life trellising gourds and pumpkins. With pumpkins on the side with the larger steps, I can frequently rest the growing pumpkins on the steps to take the weight off the vine. If it's sturdy enough, the little shelf could be used for some decor or even a small drip irrigation bucket.
When using a ladder for a trellis, ensure the feet are planted into the ground a bit. Once it has foliage on it, it tends to catch the wind. A strong wind could knock it over, ripping the plant up by the roots.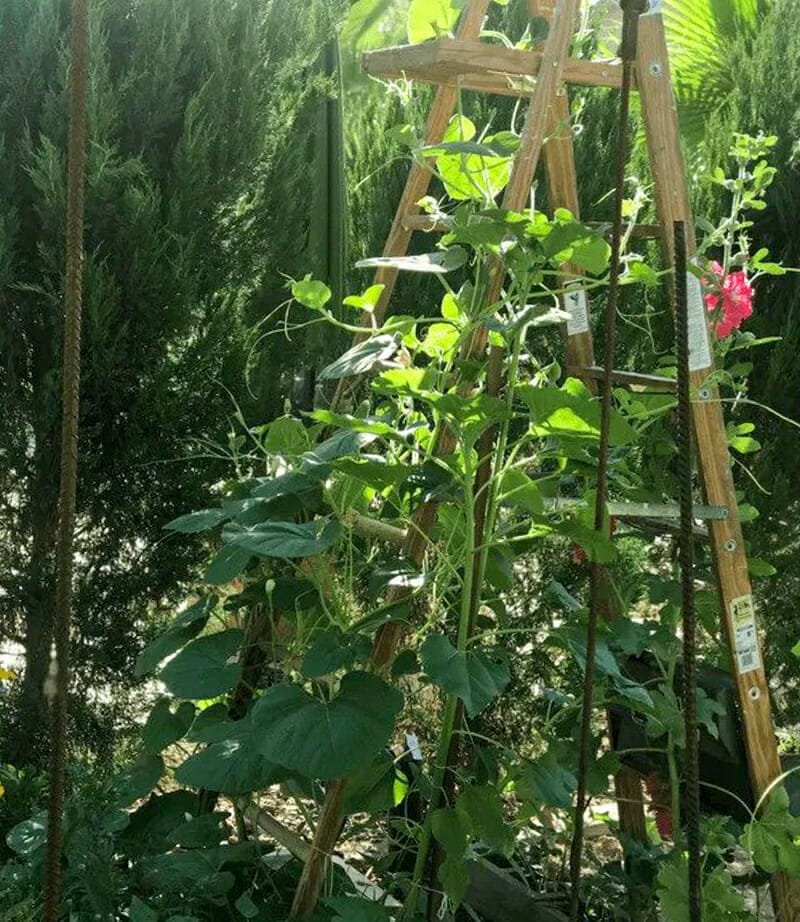 Check out Growing In the Garden for tips for using ladders in the garden.
Window frames make another wonderful upcycled trellis. Below is a beautiful window frame trellis found on Cool DIY Ideas that uses chicken wire to support the growing plants.
Tree Branches
After a long, hard winter, it's often easy to find branches that have fallen under the weight of the snow. These branches are excellent trellises. You can use them to create a teepee or as a structure to attach chicken wire or twine. The best part about these trellises is the natural feel and the free factor.
By cutting or snapping the branches, you can customize them into whatever size and shape you need. Another added bonus is the bark. It creates a rough texture for tendrils to grab hold of.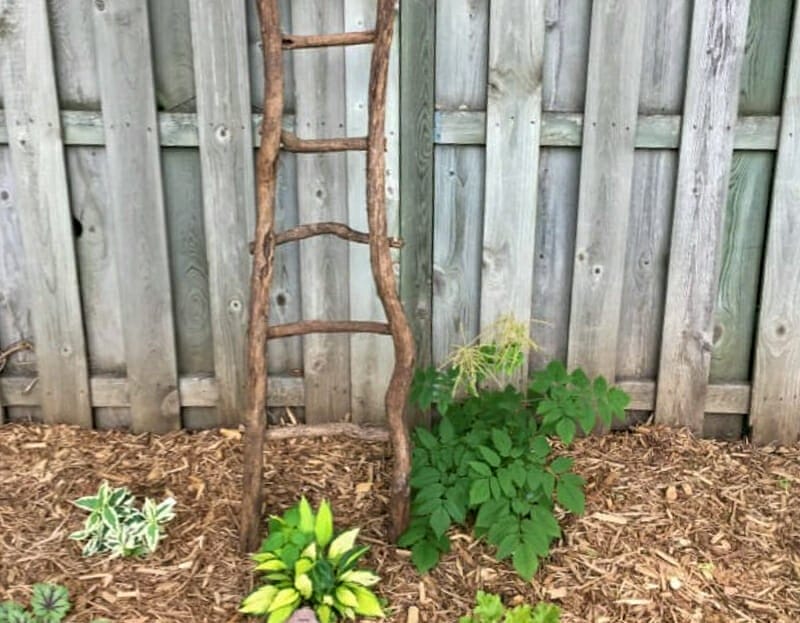 See the tutorial for building the tree branch trellis above at Gingham Gardens.
Bamboo Poles
Bamboo poles are as versatile as tree branches, but you can get a bit more creative because they are fairly uniform. If you have bamboo growing natively, you can use that (just be sure to dry it completely before using it so it doesn't root in your garden). If you don't have bamboo natively, your local garden center should have them cheaply.
House Grail has six bamboo trellis ideas for you to scope out.
Pallets
Pallets are available almost anywhere, and you can sometimes find them for free. Either staked into the ground with a 2×4 or made into a triangle like shown in the picture below, they make a great trellis for your shorter-growing vines.
Some caution should be used when implementing pallets in the garden. Be sure that the pallets you are using are heat treated and not chemically treated. They will be marked with HT or MB. MB stands for methyl bromide, a chemical that is not food safe. HT stands for heat treated. Heat-treated pallets are safe around edible plants.
http://www.preppypinkcrocodile.com/2013/05/community-garden-plot-update-weeds-be.html
Hog & Cattle Panels
Hog and cattle panels are great garden trellises because they are sturdy with a grid built in. Tall panels can be used to create an arch between two beds. The way they are set up means they will support each other's weight. These tall panels are great for beans that frequently grow very tall. You can reach the topmost ones from inside the arch.  Short rows of panels can be used for short crops like snow peas. These look great grown as a border around raised beds.
Get Busy Gardening shows you how to make a cattle panel arch trellis.
In the video below, Urban Farmstead shows you how to make a hog panel fence trellis.
French Tuteurs
These trellises are more "polished" than many of the ones above, but they still cost only $25 and take only 90 minutes to make. Get in touch with your weekend warrior and follow this tutorial from She Holds Dearly.
Have you discovered a great free or cheap garden trellis system? I'd love to hear what it is. I'm always looking for new and exciting ideas. If you are working on setting up your first garden, be sure to check out Garden Design: More Than Just Raised Beds and Setting Up a Veggie Garden in the Backyard.