The Big List of Chicken-Safe Plants for Your Flock
Finding out which plants are chicken-safe and not toxic can be challenging. Find the best chicken-friendly plants to grow around your coop.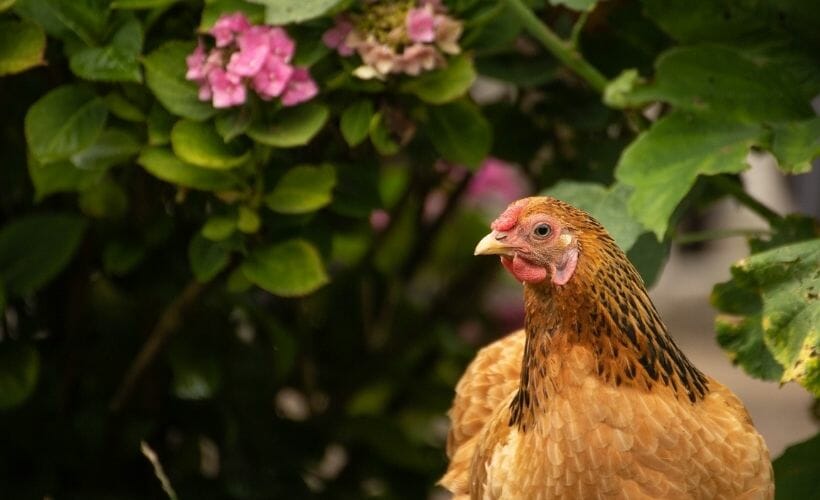 If you're a chicken owner or considering adding these delightful creatures to your backyard, you may have wondered which plants are safe and beneficial for them. Well, wonder no more! In this post, I have curated an extensive list of plants that are not only chicken-safe but also offer various benefits to your feathered friends. I've got you covered with colorful flowering plants, foliage that hides less appealing areas, and even herbs that your chickens can prune.
So, let's dive into this comprehensive guide and make your chicken coop a haven of greenery and nourishment for your flock.
The following plants are appropriate and worry-free for the areas where chickens roam. The list tells you the zone the plant grows in as well as if the plant is annual or perennial. Some annuals can be overwintered as perennials in warmer climates.
Tip: Introduce a 'Chicken Salad Bar' in your coop! To enhance your chickens' well-being, consider planting a small, raised garden bed filled with chicken-safe herbs and edible plants directly in their coop. You can protect the roots from being dug up by installing hardware cloth over the top before the seeds sprout. This not only provides a natural and enriching environment for your feathered friends but also offers them a diverse array of nutritious greens. Opt for herbs like basil, mint, and parsley, and include some chicken-friendly vegetables like kale and Swiss chard. Not only does this 'salad bar' contribute to their diet, but it also promotes natural foraging behaviors, keeping your chickens happy, healthy, and entertained.
Plants marked with an asterisk (*) have medicinal properties for chickens.
Chicken-Safe Floral Plants
If you have been looking to enhance the aesthetic appeal of your chicken's enclosure, incorporating floral plants into the surrounding landscape is a wonderful idea. These carefully selected floral plants not only bring vibrant seasonal colors but are also completely safe for your feathery friends. Imagine the beauty of Bee Balm, Black-Eyed Susan, or the delicacy of Petunias adorning the area around your coop, creating a visually pleasing and harmonious environment for both you and your chickens.
These chicken-safe floral plants provide a delightful touch of nature that can bring joy and tranquility to your backyard.
Bee Balm 3–9 Perennial
Begonia Annual
Black-Eyed Susan 3–11 Perennial
Coreopsis 3–9 Perennial
Calendula Annual
Daisy 5–8 Perennial
*Dandelion Annual
Day Lilly 4–8 Perennial
Echinacea (Coneflower) 3–9 Perennial
Impatiens Annual
*Marigold Annual
*Nasturtium Annual
Orchid 6–8 Perennial
Petunia Annual
Sunflower Annual
Thistle 3–10 Perennial
Velvet Nettle 3–10 Perennial
Violet Annual
Zinnia Annual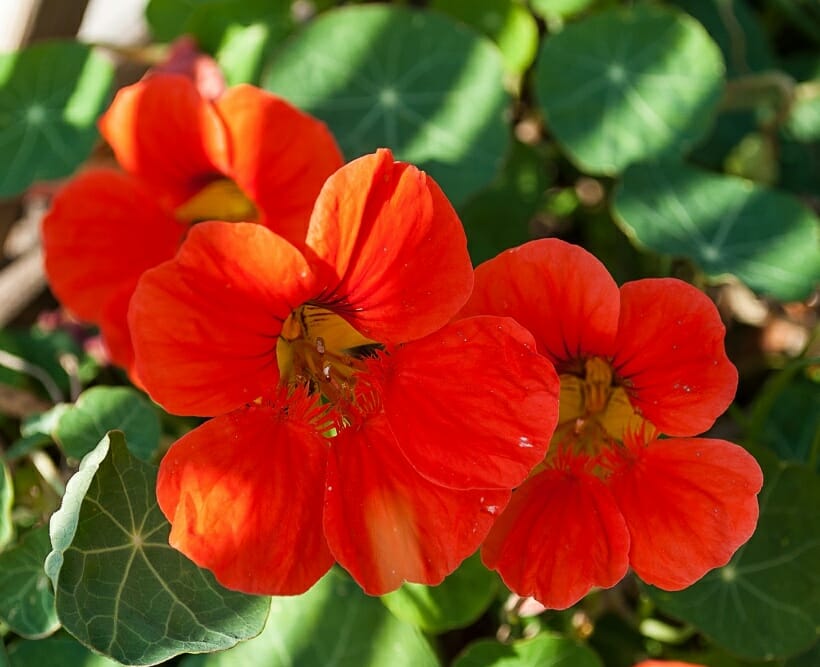 Chicken-Safe Foliage Plants
If you find yourself desiring some year-round foliage to conceal those less appealing areas around your chicken yard, worry no more. These carefully selected chicken-safe foliage plants are here to come to the rescue. You can create a serene and cohesive backdrop, hiding any imperfections and transforming your chicken yard into a lush oasis. Enjoy the beauty of nature while providing your chickens with a safe and comforting environment.
Coleus Annual
Hens & Chicks 4–8 Perennial
Hosta 3–7 Perennial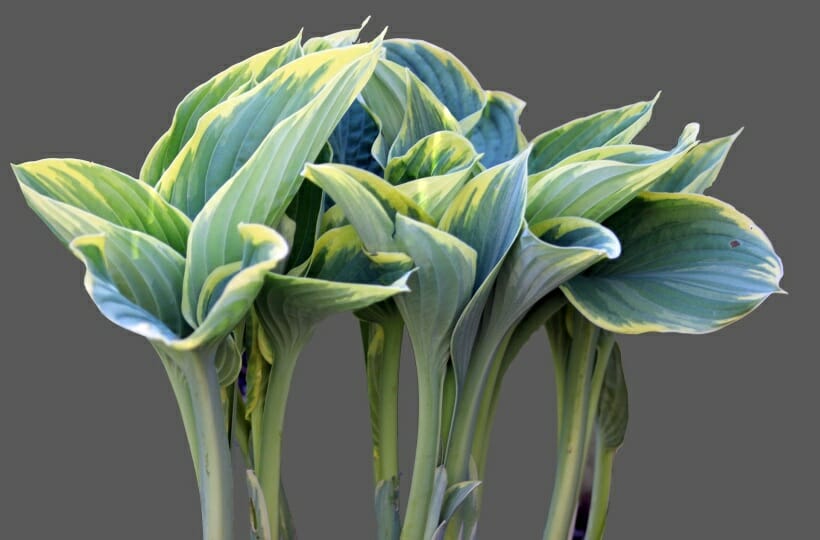 Herbs to Plant For Chickens
When it comes to growing herbs for your chickens, it's a win-win situation. Not only do many herbs offer numerous health benefits for your flock, but they also thrive with regular trimming, becoming even bushier and more abundant. And who better to do the trimming than your feathery companions themselves? By allowing your chickens to indulge in a little herbal snacking, you not only save time and effort but also provide them with a source of entertainment and enrichment.
Basil Annual
*Catnip 3–9 Perennial
*Lavender 5–10 Perennial
*Lemon Balm 4–11 Perennial
*Mint 3–10 Perennial
Oregano 5–11 Perennial
Parsley Annual
*Rosemary 6–10 Perennial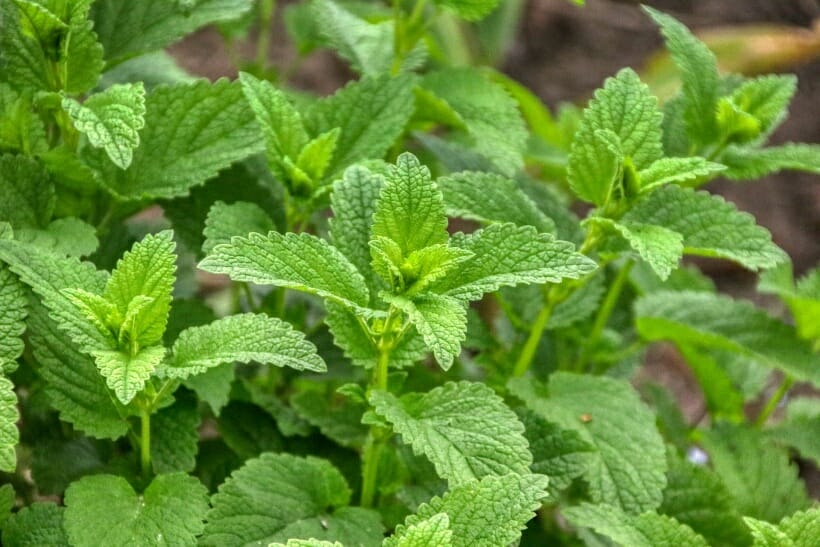 Chicken-Friendly Vines
Not only do vines offer a refreshing shelter from the summer sun, but they also gracefully die back in the winter, allowing sunlight to penetrate. Picture this: lush grapevines or hops cascading along the sunny side of your run, creating a living, green canopy that adds visual appeal and provides a cool retreat for your feathered companions. While your chickens enjoy the shade, you can appreciate the natural beauty and the potential harvest of grapes or hops that these vines offer.
Black Eye Susan 10–11 Perennial
Bougainvillea 9–11 Perennial
Grape Ivy Annual
*Nasturtium Annual
*Rose 3–11 Perennial
Swedish Ivy Annual
Virginia Creeper 3–9 Perennial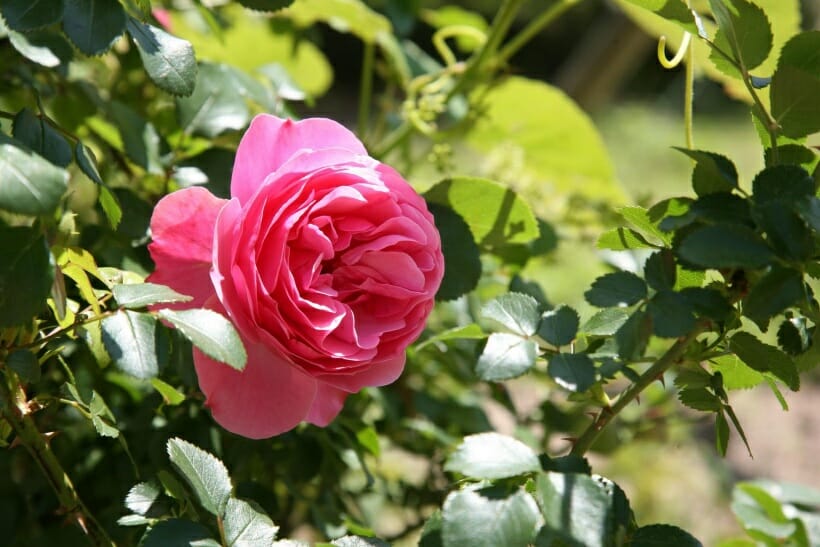 Chicken-Safe Shrubs
When it comes to free-ranging your chickens, it's natural to have concerns about the safety of certain shrubs on your property. While plants like azaleas and rhododendrons can indeed pose risks to your flock, many shrubs are perfectly safe and can bring beauty and functionality to your chicken-friendly landscape. These chicken-safe shrubs provide a valuable balance between creating a visually appealing environment and ensuring the well-being of your feathered companions.
Bamboo 5–9 Be sure to plant the non-invasive variety!
Butterfly Bush 5–10
Dogwood 3–8
Fig 7–9
Forsythia 5–9
Gardenia 8–10
Hop Tree 4–9
Juniper 3–9
Lilac 2–9
Palm 8–11
*Rose 3–11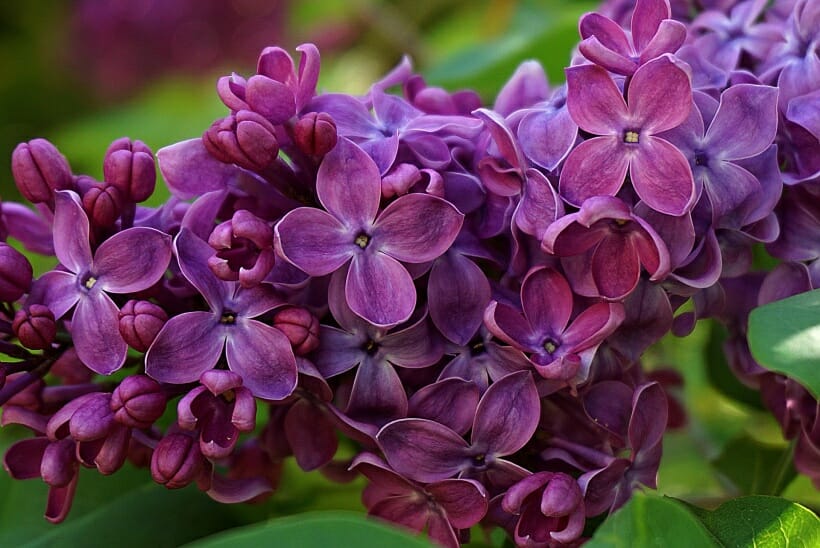 Shade Trees for Chickens
Having trees in your chicken's environment shouldn't be a cause for concern regarding the fruit, nuts, and leaves that might drop from them. In fact, it's a hidden benefit! Your chickens will eagerly clean up the fallen debris.
Ash 2–9
Citrus (all) Keep in mind that too much citrus may cause weak eggshells because it affects calcium absorption.
Crab Apple 3–8
Dogwood 3–8
Elm 2–9
Eucalyptus 8–10
Fig 7–9
Guava 9–12
Hawthorn 4–7
Hop Tree 4–9
Madrona 6–10
Magnolia 5–9
Manzanita 8–11
Palm 8–11
Papaya 9–10
Pine 2–9
Redbud 5–9
Sassafras 4–9
Willow (Goat/Pussy/Weeping) 2–9 (depending on species)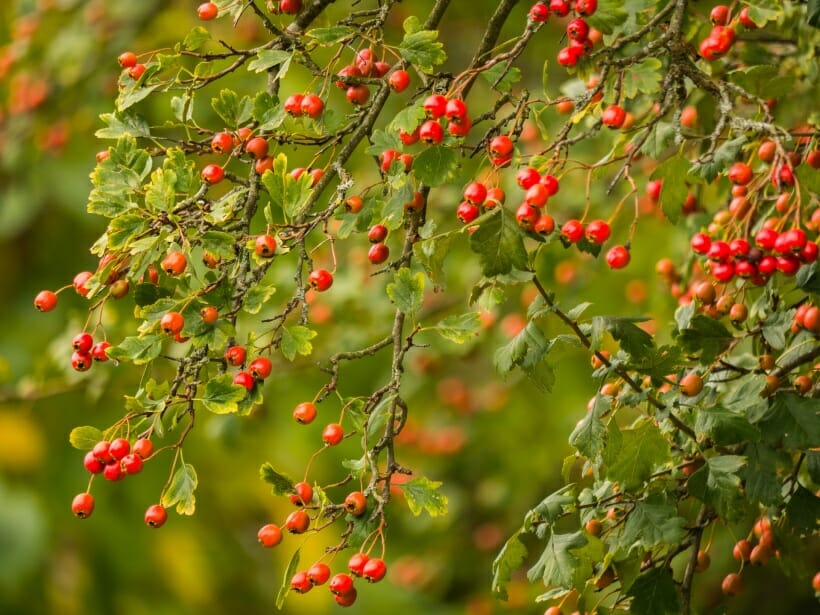 Remember that just because a plant is "safe" does not mean it will be safe from hungry chickens. Be sure to check out this comprehensive list of poisonous plants for chickens if you are worried about a plant already located on your homestead. If you have a suggestion for a plant that should be listed here, let me know in the comments below.
Frequently Asked Questions
If you need more information on raising backyard chickens, be sure to check out my most popular resource, Backyard Chickens 101: Everything you need to know about laying hens. Also, be sure to discover how herbs can help treat common chicken ailments.
If you've found value in this blog post and enjoyed reading it, why not share it with your Pinterest community? Pin the image below and spread the love!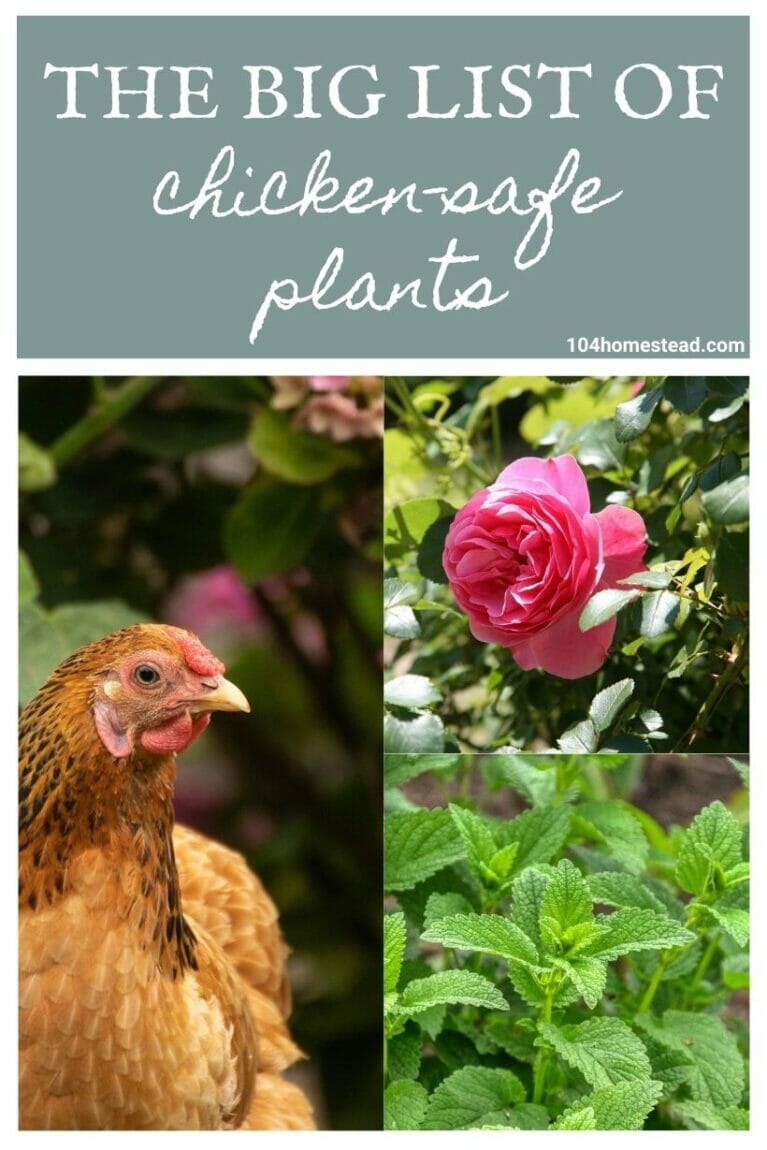 By incorporating chicken-safe plants into your coop and surrounding areas, you provide a visually appealing landscape and a nourishing and beneficial environment for your chickens. From flowers to foliage and herbs, this big list offers a range of options to enhance their well-being. So, go ahead and create a chicken paradise with these safe and thriving plant choices!
Which chicken-safe plants are your favorites to grow in and around your coop, and why? I would love to hear your thoughts and insights on creating a vibrant and beneficial environment for your feathered friends. Share your experiences and recommendations in the comments below.