The Unappreciated Apple: Making Crab Apple Butter
Apple butter is an amazing thing. It is like a thick, sweet apple sauce that is used as a condiment. Apple butter can be used in a sandwich or on toast, warmed and dolloped on top of ice cream, or swirled into yogurt. The possibilities are endless.
Crab apples are often overlooked when it comes to preserving and cooking. Who could blame you? A crab apple is both sour and bitter at the same time. They often look funky. It takes some real creative genius for making them taste just right, but fear not… I've done the work for you.
Homemade Crab Apple Butter
Ingredients
12 c. Crab Apple Pulp
5 c. Sugar
2 med. Oranges (grated zest & juice)
1 tsp. Cinnamon
3/8 tsp. Nutmeg
3/8 tsp. Allspice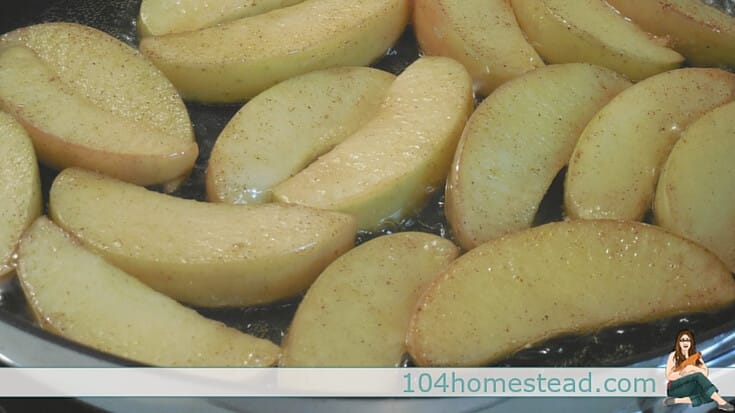 Instructions
Combine all of the ingredients in a slow cooker and turn to high.
Cook with the lid off and stirring every hour or so for 8-10 hours (or until the mixture thickens and cooks down by half).
The butter is done when it mounds a bit in a spoon. When you place a spoonful of it on a plate, no liquid should leak from it.
Preserving Your Butter
You can water bath can the butter for 15 minutes in half-pint or pint jars.
Here are some more great fruit butters to try: traditional farmhouse pear, fresh peach, nectarine maple vanilla, and stone-fruit butter. You'll also love this new book from my friend Kathie of Homespun Seasonal Living. It's called The Fiercely DIY Guide to Jams, Jellies & Fruit Butters. Kathie creates fruit pairings and combinations that blow the mind.
How do you enjoy your apple butter? What apples have you used when making it? Talk to me in the comments below!