I'll be honest, when I woke up this morning to write, I was drawing a blank. I had several topics in mind, but all of them required me photographing steps. I just wasn't feeling ambitious enough to pull out the camera. I was sitting in front of a blank screen and blinking cursor, scanning the house for inspiration. Something really cool to share with you. Something brilliant I had discovered. All of a sudden my eyes landed on the perfect something. A bed sheet hanging loosely from the corner of a window, blowing gently in the breeze.
Why would I have a bed sheet hanging from my window, you might ask? I have no shades in my kitchen, only a frosted panel in the top (with little cutouts of cutlery) to keep the sun from your eyes while eating your toast. On really hot days the sun comes blazing in through my front windows causing the A/C to work even harder than it needs to. The bed sheets filter the sun so we can stay cool without having to feel like we're living in a dark cave.
I've also used Thomas the Train bed sheets to make a curtain and valance for my toddler's room. The big fold in the top of the flat sheet is perfect for sliding a rod through (you just need to remove a few stitches to open the ends) and the "extra" at the bottom can be turned into a valance. Just last week I recovered a small arm-chair with a nice satin pinstripe bed sheet. It won't last as long as upholstery fabric, but I got the bed sheet for $2 at a thrift store and the upholstery fabric costs twice that a yard. I'm okay with doing it again in a few years.
This got me thinking about all the ways you could repurpose or upcycle an old bed sheet. Now, keep in mind I'm not the best seamstress — though my harvest apron isn't too shabby — but even I can handle these projects.
Repurposed & Upcycled Bed Sheet Ideas
#1 Obviously they can be cut down used as rags & cleaning cloths.
#2 Gardeners use them to cover crops during light frost.
#3 You can keep one folded up in your trunk for an impromptu picnic lunch or in case you need to change a tire in nice clothes.
#4 Two full-sized sheets sewn together are the perfect size and weight for a beach blanket. You can do some random lines for quilting to keep the bed sheets from slipping. It will dry in no time on the line when you get home or you could just toss it in the dryer.
#5 A quick and easy drawstring bag with hundreds of possibilities – shoes, kid's toys, toiletries, etc.
#6 A solid colored bed sheet might be just the thing to line see-through clothing for cheap.
#7 Pillow cases make awesome reusable grocery sacks. Check out the tutorial here. I did it and they work great (though I still prefer my tote bags for heavy items).
#8 Here is another great bag option using a pillowcase. It's a bit easier than the one from #7, so if you're new to sewing or you prefer simplicity, this might be the right one for you.
#9 If you live in an area with long periods of bad weather, a bed sheet rag rug might be just the project for you.
#10 You can make a cute wreath like this one by Two Shades of Pink.
#11 You can make some easy-peasy jammie pants.
#12 Or maybe a skirt is more your style.
#13 You can create simple wall art from pretty bed sheets. This tutorial is in Spanish (I think), but you can figure out the steps even if you don't have Google Translate.
#14 You could make throw pillows for your bed or sofa.
#15 You can give your kids an awesome outdoor craft project.
#16 A bed sheet teepee is fun for kids and adults. Here's a tutorial from The Handmade Home and another from My Poppet.
I think the important "take away" from this is that bed sheets are free or inexpensive fabric sources. Instead of hauling old sheets away in boxes, figure out if there is some way you can give them new life. That's the homesteader way!
Do you have some awesome way of reusing old bed sheets? Tell us below in the comments. If you've got a tutorial, feel free to share the link. Just learning how to sew? Trying to hone in on your skills. Check out the Craftsy online sewing classes.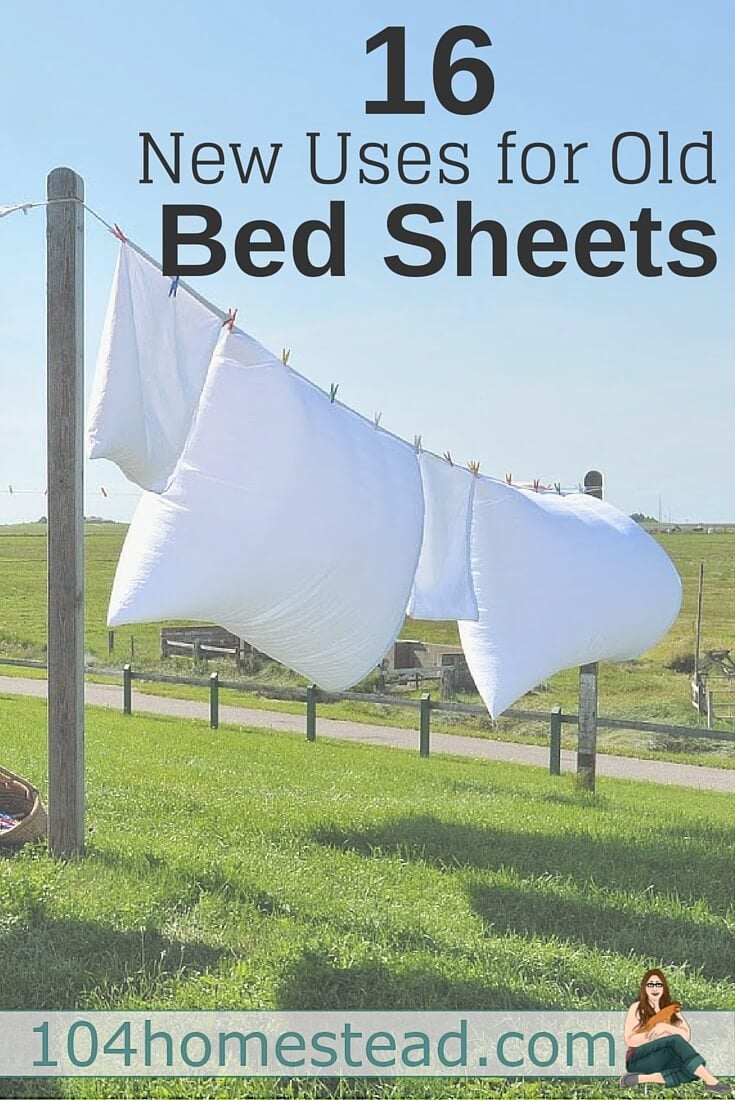 The following two tabs change content below.
I am a non-traditional homesteader. What is a non-traditional homesteader? I'd like to think we are the people who don't fit the mold. I am a busy mom on a small bit of property with not a lot of financial resources, but I am figuring out how to live the life I want. A homesteader's life.
Latest posts by Jessica Lane (see all)