16+ Enchanting Mason Jar Craft Ideas You'll Love to DIY
Today, I am going to share a few super cute mason jar craft ideas. Mason jars are an inexpensive item to transform into something new.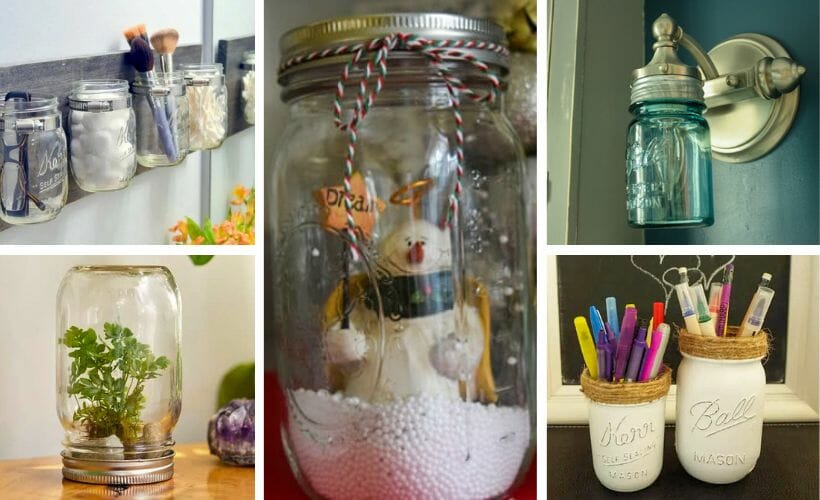 Are you like me? Do you hoard mason jars like they're going out of style? Mason jars are just one of the many things I collect. They go so beautifully with my farmhouse chic life. From time to time I've got to come up with some sort of purpose for them, otherwise, my boyfriend gets on my case about my collections. Here are sixteen great mason jar craft projects (plus a couple of bonus ideas for more inspiration).
Some Fun Mason Jar Facts
In 1858, a Vineland, New Jersey tinsmith named John Landis Mason invented and patented a screw-threaded glass jar or bottle that became known as the Mason jar. This innovation of an airtight container transformed food preservation. From 1857, when it was first patented, to the present, mason jars have had hundreds of variations in shape and cap design.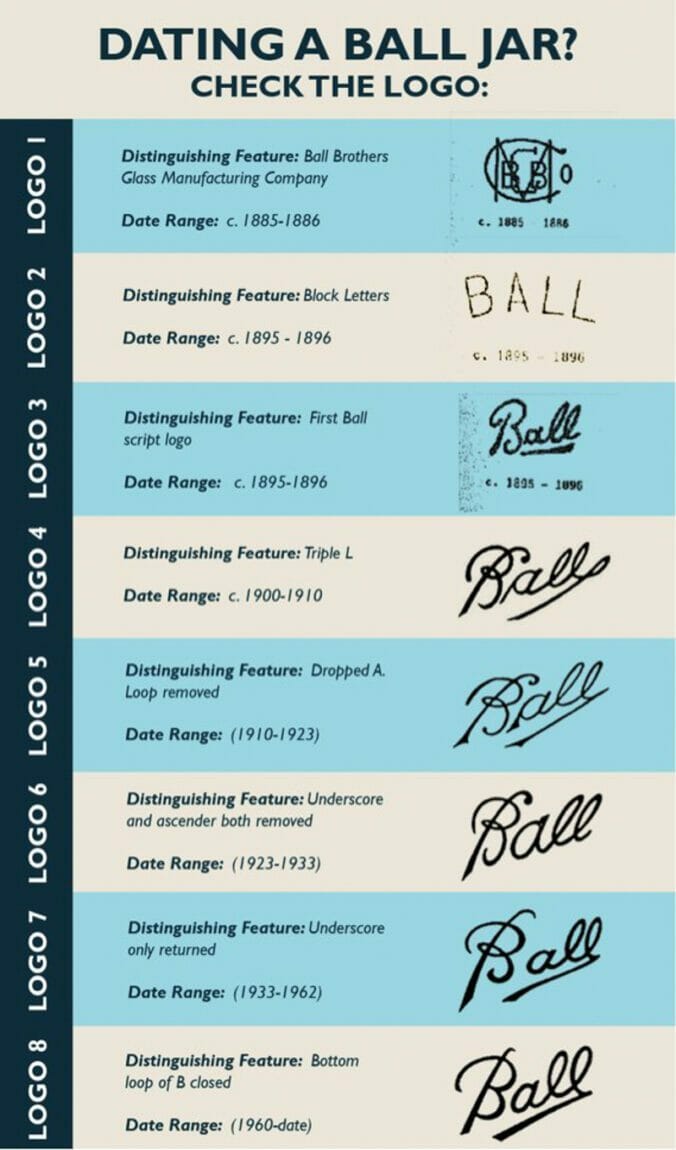 Mason jars come in a variety of sizes, each suitable for a specific canning (or crafting) adventure. Check out this Comprehensive Mason Jar Size Guide from Mason Jar Lifestyle.
The Awesome Mason Jar Craft Ideas
Grab your mason jars in various sizes, your glue, fabric, spray paint, and add some farmhouse style to your life.
#1 Pastel Easter Cakes-In-A-Jar from Playdates to Parties
These Easter egg mason jars are super cute…and a fun craft to make with your kids. Find out how to make them, and all the different ways they can be used!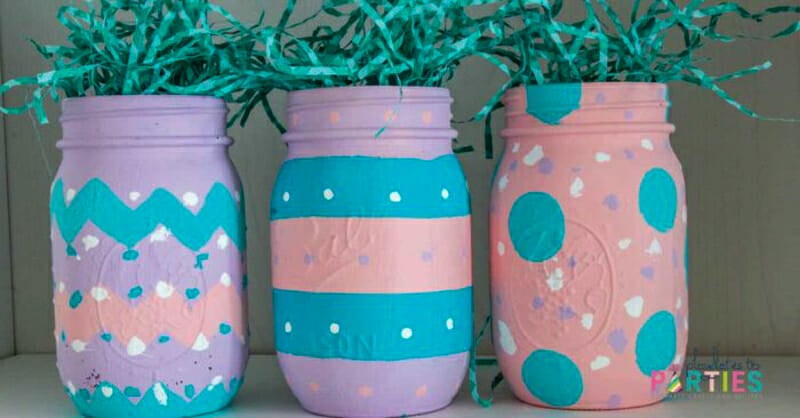 #2 Parmesan Cheese Mason Jar Shaker from Redhead Can Decorate
It's very simple. Just fill a Ball Jar with parmesan cheese, and switch the lids off of one of the store-bought parmesan cheese shakers. No more crappy plastic holding your cheese for months. See it all come together here.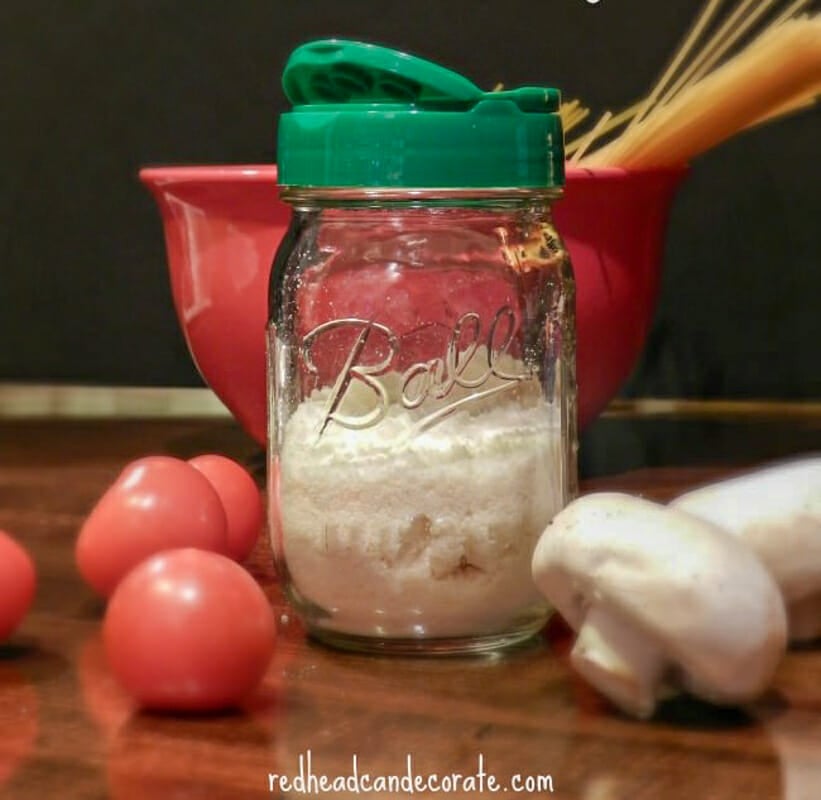 #3 DIY Mason Jar Herb Garden Planters from One Good Thing by Jillee
Do you really hate those packages of herbs they sell in the produce department? They are way overpriced and the herbs are only semi-fresh. Plus, you end up with way more than you need for one recipe. Instead of buying packages of herbs, make your own windowsill garden in mason jars.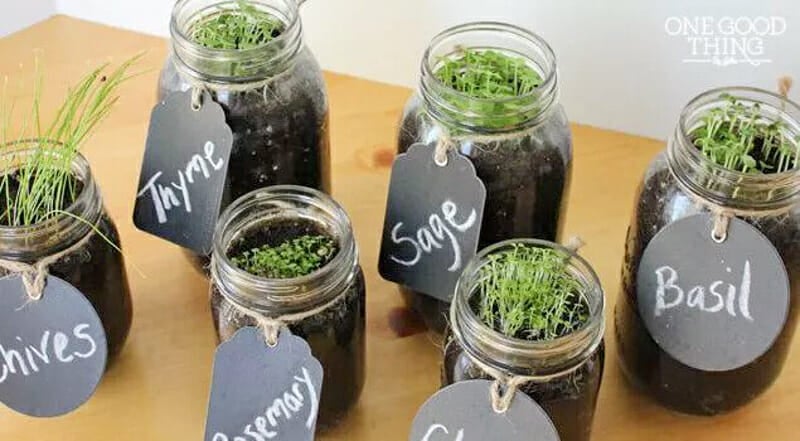 #4 Ball Mason Jar Sconce Light from Robb Restyle
New sconce lights using blue mason jars to add more cottage chic to a bathroom? Well, of course. I have those same sconce fixtures with bubble glass shades and Edison bulbs, but I think I may need to swap them out for these. Learn how to easily make them yourself.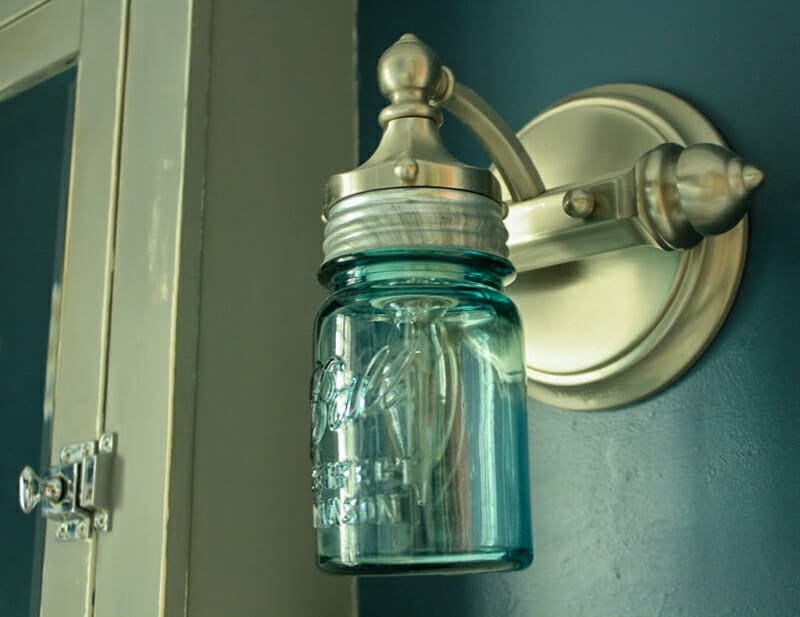 #5 Oatmeal in Jars: 1 Week of Breakfast in 5 Minutes from The Kitchn
I know you are always looking for healthy, make-ahead breakfasts, and I keep coming back to my all-time favorite: steel-cut oatmeal. With a little forethought and a few mason jars, you can make enough steel-cut oats for a whole week in just five minutes. Learn how to do it here.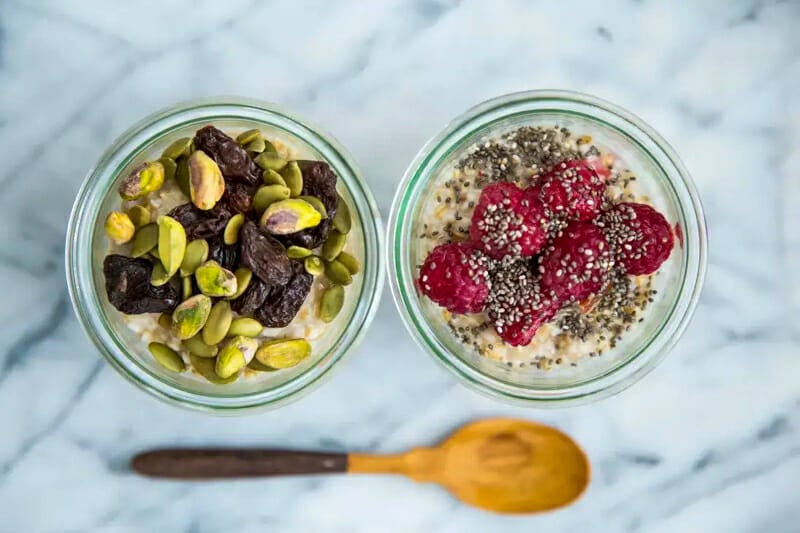 #6 An Easy DIY Dispenser from One Good Thing by Jillee
How to make your own perfectly pourable mason jar lid using the pour spout from empty milk, juice, or broth cartons. Here's how it's done.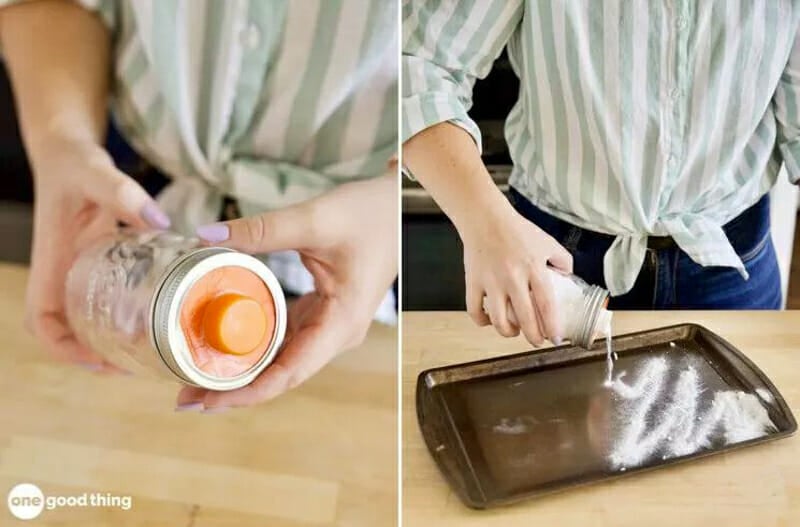 #7 Mason Jar Mini Terrarium from Kerry Michaels on About Home
Mason jar terrariums make great gifts for teachers, as housewarming gifts, or as a way to bring sunshine into the world of a friend. They thrive on neglect, so even a determined serial plant killer can keep one of these alive. These terrariums are inexpensive, and depending on the plants, can last for years. Learn how to make one here.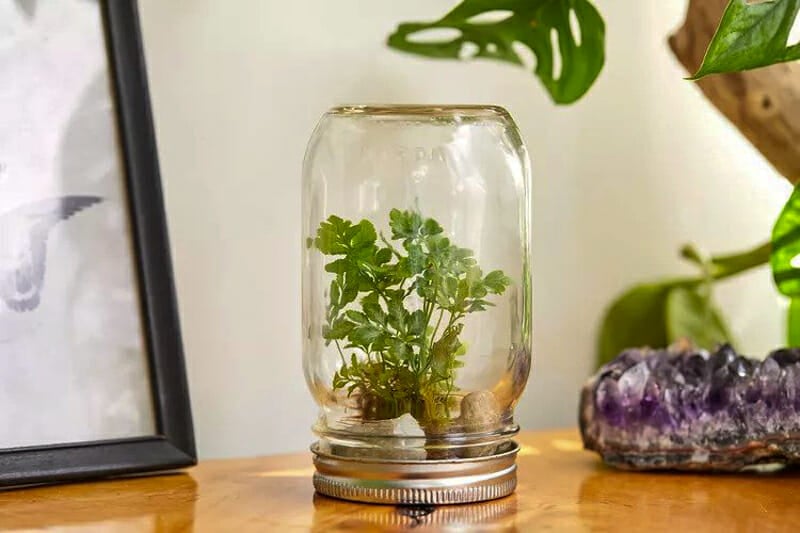 #8 Chic Solar Lights from Garden Therapy
Using just three materials and a wee bit of time, you will quickly have stylish mason jar solar lights to illuminate the garden or patio on these late summer nights. The simple tutorial can be found here.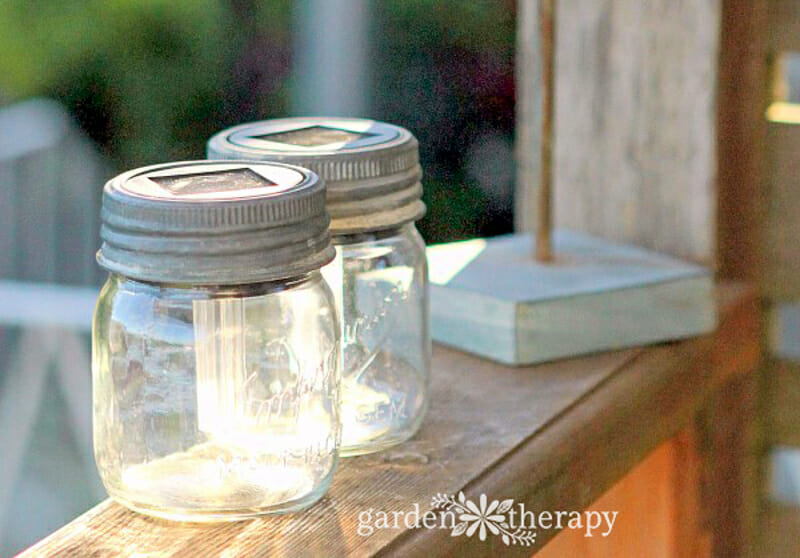 #9 Hanging Mason Jar Vase with Wire Frog from 17 Apart
Turning the caps into frog lids is a helpful trick in floral arranging — the metal grid makes the blooms and greenery stay in place exactly the way you want them and holds them that way for you. These are perfect for weddings. See these beautiful flower vases come together.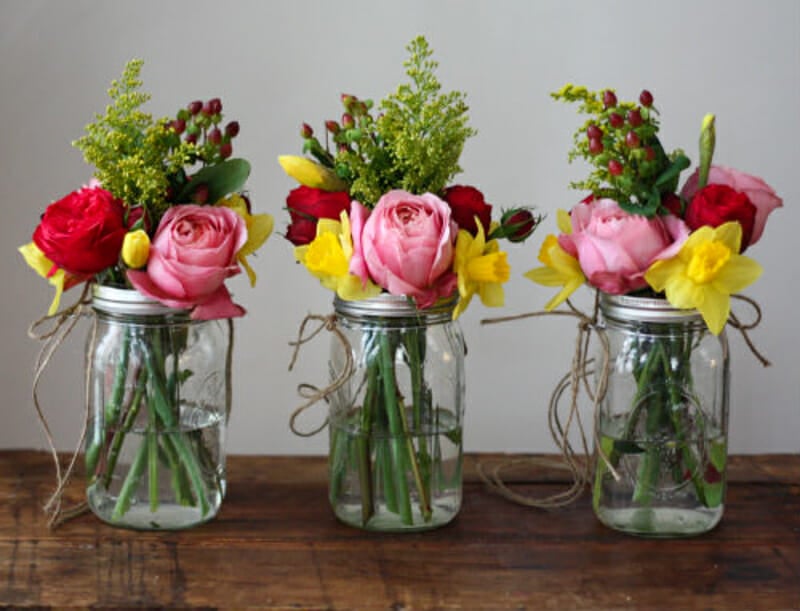 #10 Adorable "Canned Chickens" for Easter from Peky Prepping Gramma.
Peky Prepping Gramma hatched this little gift idea to present to her grandbabies on Easter and they are such stinkin' adorable mason jar gifts. See how to assemble them.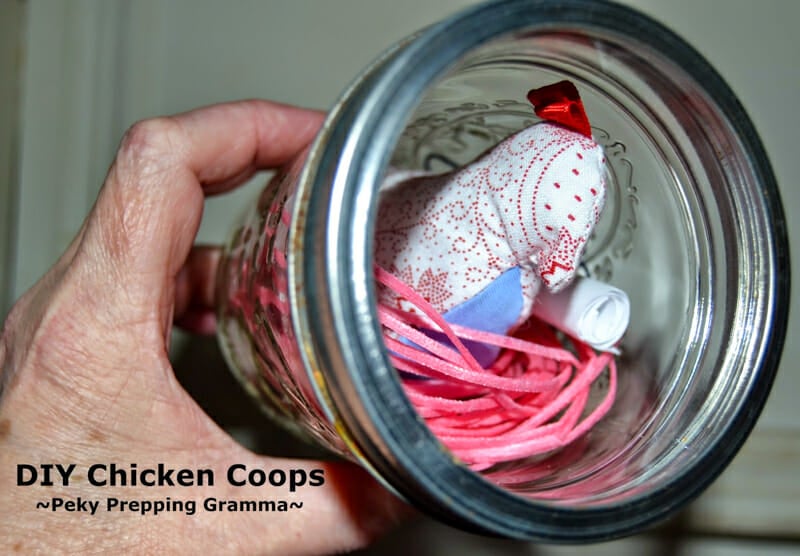 #11 Bathroom Storage Jars from The DIY Playbook
I am planning on using this tutorial with larger jars to put wooden spoons over the stove in the new kitchen. These will really help to free up counter space. [UPDATE: They worked great in the kitchen!] Learn how to make your own here.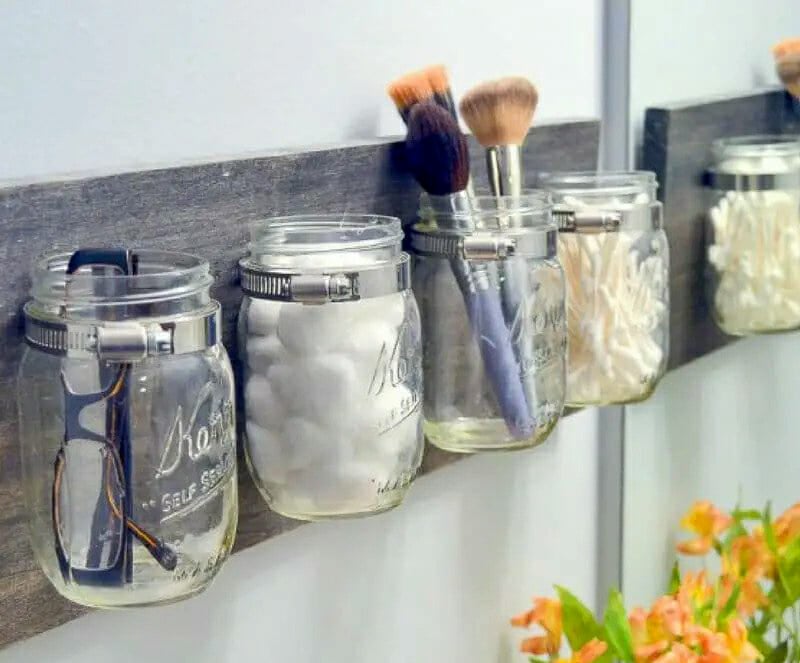 #12 Candle Holders and Decorative Jars from Attainable Sustainable
These decorative jars use 3D paint. The dotting technique used is very forgiving. You can start with patterns like flowers or starbursts, and fill in between them with more dots or do flowing lines. Kids can use this technique to make a very nice-looking end product. You could make these for holiday decor!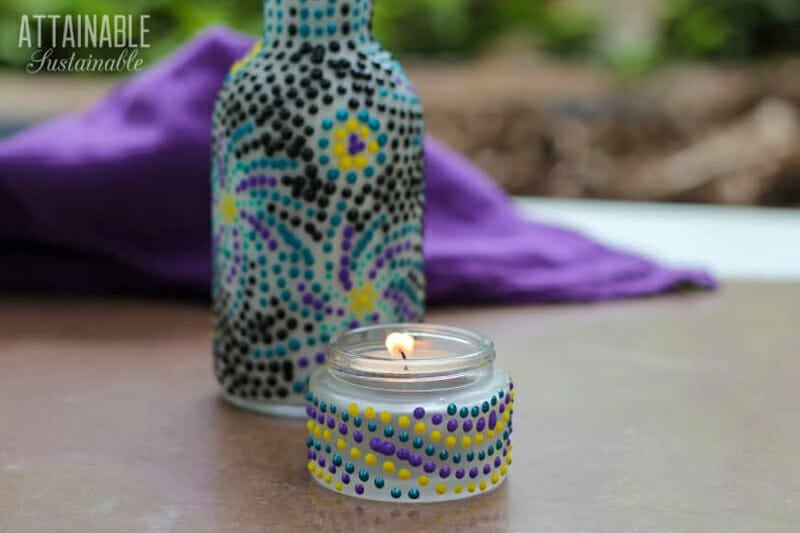 #13 Budget-Friendly Christmas-In-A-Jar from yours truly
This holiday home decor is super simple to make and costs less than $7. It's part of a roundup I did on how to do Christmas Decorating on a Budget. You can see all the crafts here.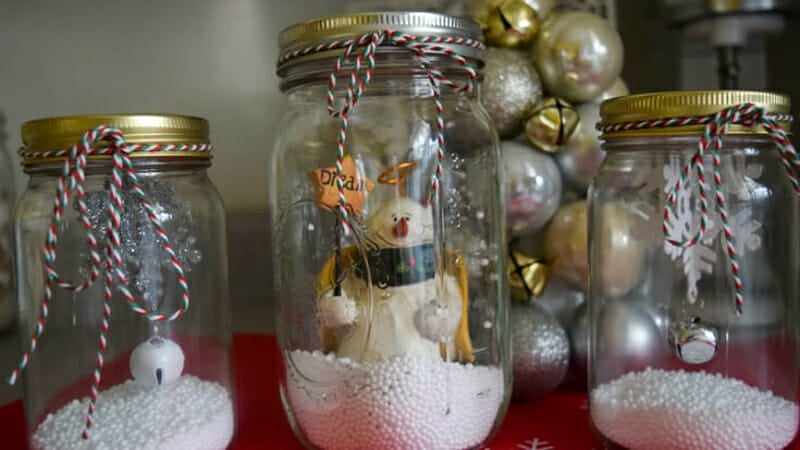 #14 DIY Mason Jar Pencil Holders from Girl, Just DIY!
Painted jars in two different sizes and some twine make for a really adorable pencil/pen holder perfect for the farmgirl's desk. Learn how to make them (or how not to) here.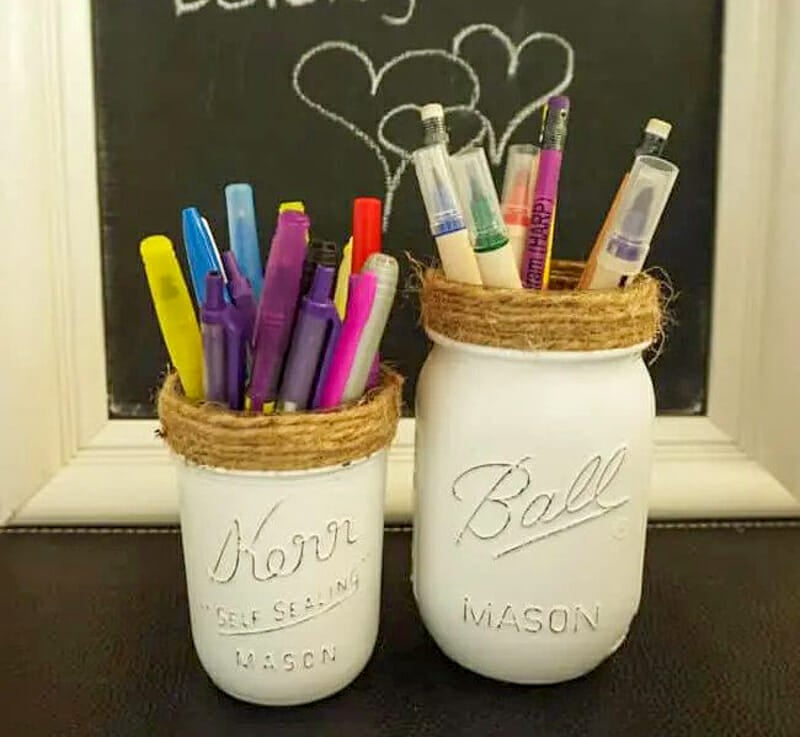 #15 Holiday Candy Jars from Lyric Lover Crafts
These cute candy jars are perfect for gift-giving or holiday craft fairs. Watch the video below to learn how to make this mason jar craft.
#16 Make a Mason Jar Lamp from The Country Chic Cottage
Make a mason jar lamp and add your own style as the lamp base. This easy craft only takes a few minutes and a few dollars to make. Add a rustic burlap shade for a perfect farmhouse style! Learn how to make it here.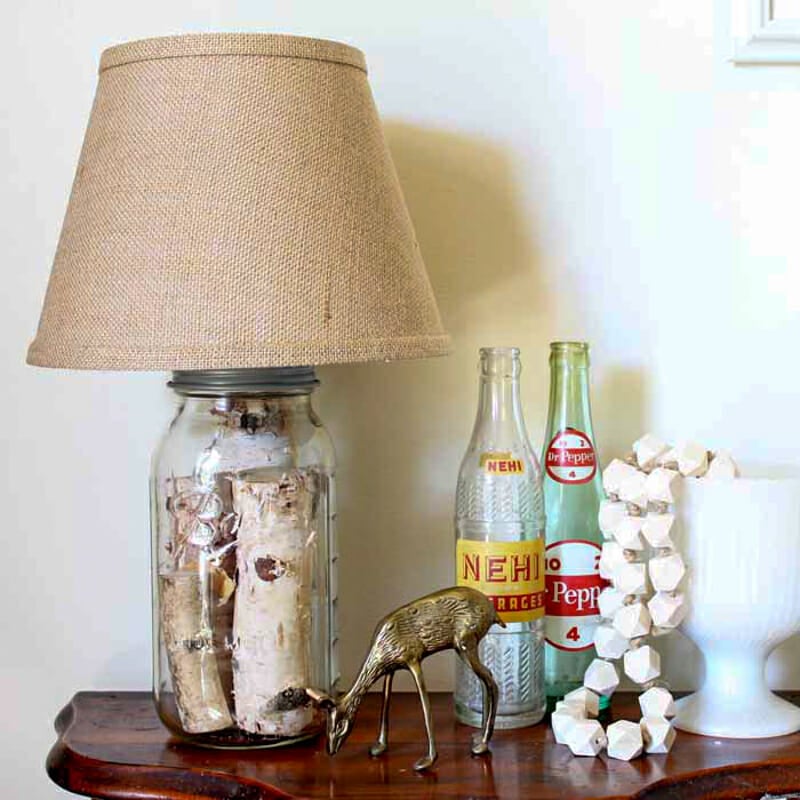 And here are a few more mason jar craft ideas:
Learning & Yearning has a neat tutorial for glass etching. She uses wine and beer bottles, but it would look chic with mason jars as well.
A spinning spice rack, luminaries, party favors/place settings with chalk paint (did you know you can make your own chalkboard paint from regular paint?), and fun calming jars filled with glitter from Untrained Housewife.
You can also purchase soap pump dispensers on Amazon to make your own farm-chic soap dispensers and shaker lids to make cute pint-sized salt and pepper shakers.
Also, be sure to check out 12+ Fun Ways to Upcycle Holiday Cards After the Season, Upcycle Pill Bottles with These 22 Fun & Creative Ideas, and 12 Uses for an Old Milk Jug. If you use your jars as chick waterers, I've finally figured out how to hang them! Check out this post here to find out how.
Do you have a great hack for your collection? Share your mason jar crafts in the comments below!