Oatmeal Raisin Breakfast Cookies
Today I'm sharing my go-to hot breakfast recipe for when I'm in a hurry. Special thanks to some really awesome sponsors, Made in Nature and Bee Raw, who brought this recipe from good to superb.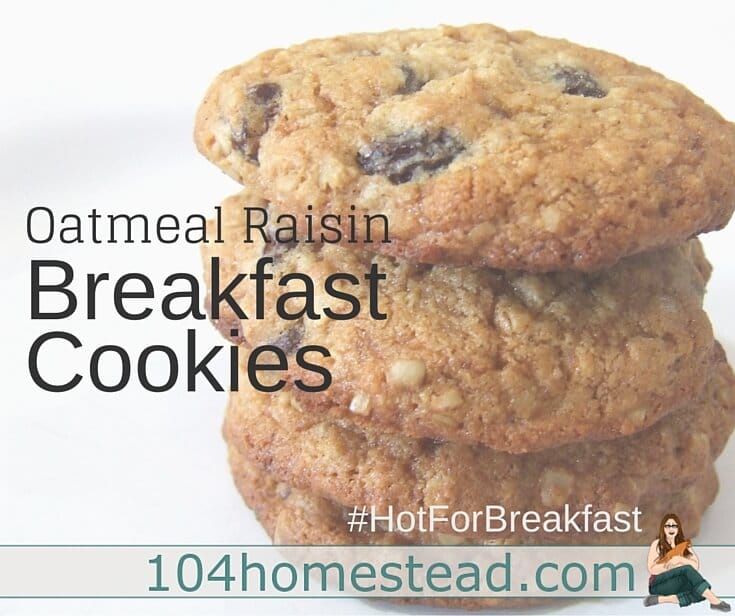 Cookies are, of course, always a big hit with kids. With the sneaky addition of flax seed and swapping out some of the oil with unsweetened applesauce, the kiddos have no clue that what they're chowing down on is H-E-A-L-T-H-Y. Even I enjoy popping a few of these in my purse as I head out the door to nibble on mid-morning.
Breakfast Cookie Recipe
Gather your ingredients. For these oatmeal raisin breakfast cookies, you'll need…
1 1/2 c. Whole Wheat Flour
1 c. Rolled Oats (not instant)
1/2 c. Made in Nature Raisins
1/2 c. Vegetable Oil
1/2 c. Unsweetened Applesauce
1/4 c. Bee Raw Honey (I used Wild Raspberry)
1/4 c. Ground Flaxseed
2 Eggs
1 tsp. Vanilla Extract
1/2 tsp. Ground Cinnamon
1/2 tsp. Baking Soda
Preheat oven to 350°F and line a cookie sheet with parchment paper.
Mix together oil, eggs, vanilla extract, applesauce and Bee Raw honey until well mixed. In a medium bowl, mix together the flour, oats, flaxseed, baking soda, cinnamon and Made in Nature raisins. Add the wet ingredients and stir.
Using a spoon, drop cookies two inches apart on the cookie sheet. Bake for 12-15 minutes, or until the cookies are golden brown. Let cookies cool for 5 minutes on the cookies sheet before moving to a cooling rack.
I like to make my breakfast cookies in advance and warm them quickly in the morning for a hot treat as the kids head out the door. How do you warm a room temperature cookie? Great question!
How to Warm a Room Temperature Breakfast Cookies
To warm up your cookies for a nice hot breakfast treat, place cookies in a circular pattern on a paper towel. Heat in the microwave for 30 seconds on high. Remove them and they will be just-out-of-the-oven warm. If your cookies have dried out a bit, just put a lightly dampened towel over them when reheating.