Sizzlin' Summer Grilling Recipes
Do you know my favorite thing about The 4th of July? It's the day I finally get out the grill, clean it up, and start whipping up my favorite grilling recipes. Once I get started grilling, it becomes practically an addiction. The poor stove top gets "put on the back burner" for months.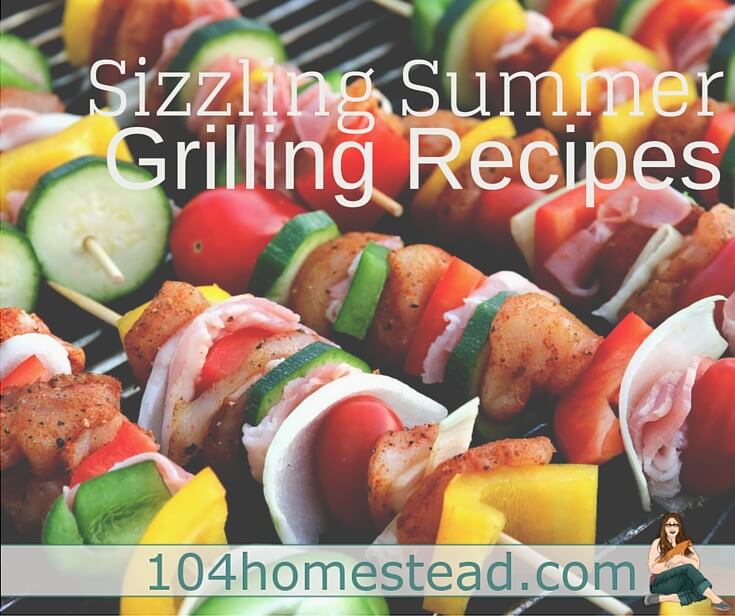 I've discovered there are loads of foods that can be cooked on the grill. Think beyond the dogs and burgers (but be sure to include them as well). Here are some grilling recipes to get you started:
Entree Grilling Recipes
Grilled Beef Heart Skewers (Recipe by Primal Palate) – Beef heart is a superfood worth considering.
Grilled Trout with Lemon Garlic Butter Sauce (Recipe by Montana Homesteader) – Simple, easy, and delicious.
Outdoor Cooking: Calzones & Kebabs (Recipes by Tessa Zundel) – I have it on good authority that these calzones are the tastiest thing you will have ever eaten.
Tequila Lime Grilled Chicken (Recipe by Better Hens and Gardens) – Tequila, lime, orange, chipotle, and jalapeno chili just screams summer.
Barbecued Jerk Zaycon Chicken Breasts (Recipe by Perky Gramma Teaches) – For chicken with a kick.
Clams & Corn on the Grill (Recipe by Learning & Yearning) – A "vacation at the lake" kind of meal.
Grilled Sides
Grilled Corn on the Cob (Recipe by Montana Homesteader) – Grilled in the husk, this corn is deliciously juicy.
Grilled Artichokes with Creamy Butter Dip (Recipe by Delish) – A simple but special appetizer for your summer cookout.
Grilled Smoky Cheddar Potatoes Foil Pack (Recipe from Betty Crocker) – Are you a potato lover? Try this cheesy grilled version.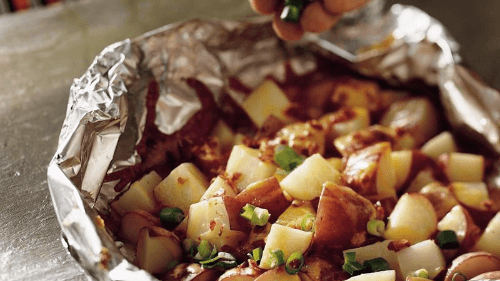 Grilled Asparagus with Lemon Butter Sauce (Recipe by Montana Homesteader) – Even better than steamed!
Peppers, Cheese & Bacon (Recipe by Homesteading on Grace) – A perfect summertime recipe.
Grilled Polenta Cakes (Recipe by Two Peas & Their Pod) – Easy to make and so tasty.
Desserts on the Grill
Grilled Chocolate Cherry Ricotta Pizza (Recipe by Marla Meridith) – Chocolate and cherries are a match made in heaven. Add ricotta cheese, nuts, pizza dough, and the fire from your grill. Pure Magic.
Outdoor Cooking: Chocolate Banana Boats (Recipe by Tessa Zundel) – An alternative to smores.
Grilled Shortcake Skewers (Recipe by Betsy Life) – Grilled fruit is underrated.
Campfire Cooking: Rob Roy Cookies (Recipe by Homestead Lady) – Each little, leaf-wrapped cookie is like a treasure or a gift to be discovered.
Cupcakes Grilled in an Orange (Recipe by Cupcake Project) – Vanilla cupcakes infused with orangey goodness.
Pina Colada Grilled Dessert (Recipe by Vegetarian Nutrition) – Pineapple, lime, and coconut are a recipe for deliciousness.
Grill Safety
Remember, grilling doesn't just mean bringing out the George Forman. You can grill on a traditional drill, a portable grill, or even an open fire. Just be sure you are practicing safety first rules. I am a firm believer that children should be taught to cook at an early age (even my preschooler helps me bake), but fire safety is so important.
"My husband likes to grill his Reuben sandwiches. I like to grill any kind of red meat… Especially steaks!" – Erica
"We usually grill the usual, burgers, steaks, pork chops, etc. We've made pizza on the grill, I need to do that again!" – Janelle
"My husband is the grill captain. He does our burgers and steaks. So we keep it pretty typical." – Julia
"Jamaican Jerk Chicken. We are having friends over for the 4th and we are having Picanha. Now that is heaven." – Dorothy
"I LOVE corn and zucchini on the grill!" – Alicia
"We're pretty plain as far as grilling, just picnic foods. Although I do like to grill vegetables and stuffed zucchini is really easy on the grill!" – Lisa
"We raise our own pork, so I'm a little biased in saying my favorite thing is grilled pork chops, but I also love grilled veggies and pineapple." – Bonnie
"Corn and zucchini. Mmmmm. Also, veggie kabobs loaded with onion, zucchini, Portobellos, etc." – Andrea
"Wild-caught salmon. Preferably with zucchini." – Christine