Homemade Applesauce & Recipes Using Applesauce
I love applesauce. I eat it not only as a snack, but I also enjoy recipes using applesauce. Don't worry, I'll share a few of my favorite recipes and ideas at the end of this post. Applesauce is very easy to make and it's preserved using water bath canning, so it's good for the beginning canner. Straight applesauce is enjoyable when you make it at home. You may think you know what applesauce tastes like, but you have no idea unless you've had it made fresh with no preservatives and gunk. Sometimes, however, I like to give it some pizzazz.
When someone offers you free apples, you don't say no. My mom came by the other day (because preserving is easier and more fun with a friend) and we went to work. I have no idea what kind of apples they were, but we had them in abundance. Here's the basics for applesauce.
Making a Basic Applesauce
Apples
You can use any kind of apple. If your apples are tart or sour, you can cut it with some sweeter varieties. Some of the best types of apples for making applesauce include Braeburn, Cortland, Fuji, Golden Delicious, Ida Red, Liberty, Macintosh, and Rome. As I said before, though, never turn down free apples, regardless of the variety. I have used dropped apples from my neighbor's tree for years.
To make 6 pints, you will need 9 pounds (or about 28 medium-sized apples).
Other Supplies
To make applesauce, there isn't much you need. To process them, you will need a water bath canner. This is the set I have and I love it. You will need 6 pint-sized canning jars with lids and rings. You can sauce your apples with a colander, but a food mill makes it much easier. This isn't the cheapest one on the market, but it's what I use and I love it. To me it's worth the extra cost to not have pieces snapping off or the mill sliding off the pot. Some people also have luck with a food processor.
Processing the Apples
Prepare your water bath before beginning the apple processing. Fill the water bath and put it on the heat. Put your empty jars in the bath to heat up. Simmer lids (optional as of 2014).
Cut and core apples so they are in large chunks. You can peel your apples first, but the skins add nutrients and create a beautiful color. Put the apple chunks in a medium/large pot with 1-2″ of water. Cover and gently boil until the apples are soft. This time can vary from 5 minutes to 20 minutes depending on the type of apple you're using.
With a slotted spoon, slowly add softened apples to a colander, food mill, or food processor. Puree them to the texture you desire. If your puree is too wet (or you prefer a thicker applesauce), return the puree to the pot and simmer until it reaches your desired consistency.
Ladle applesauce into hot jars leaving 1/2″ headspace. Remove air bubbles, wipe the rim with a damp cloth, and apply the lid and ring (finger tight). Process applesauce for 15 minutes. Remove and allow them to sit and cool before checking for a seal. Any cans that have not sealed may be reprocessed within 24 hours.
Flavor Additions
Plain applesauce made with fresh, homegrown apples is amazing, but every once in a while I like to spice things up. Give it some pizzazz. Here are my favorites from this past week of experimenting.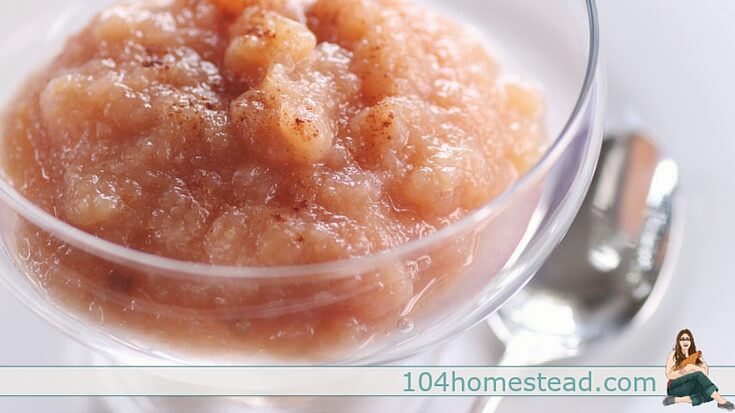 Elderberry
Have you made Elderberry Syrup to chase away winter colds & flu? Add 5 tablespoons to your apple puree. Not only will it create a beautiful, rich color, but it gives your applesauce a bit of a health boost as well.
Honey-Vanilla
My friend Tessa of Homestead Lady sent me marvelous homemade vanilla extract. It's so much better than the stuff you buy at the grocery store. I added 1 tablespoon of her vanilla and 3/4 cup of local honey to make a sweet, dessert-like applesauce.
Maple-Ginger
This one is sweet, but not too sweet. It is beyond delicious when dehydrated into fruit leather. Add 3/4 cup of maple syrup and 1 tablespoon of dried ginger. This recipe works best with tart apples. If you are using naturally sweet apples, you may want to add a little less syrup.
Think Beyond the Sauce: Recipes Using Applesauce
Applesauce is great as… well… applesauce, but it can also be so much more. The most common ways we use it is dehydrated to make fruit leather and as an oil substitute when baking.
To make fruit leather, spread the applesauce about 1/4″ thick. Dehydrate in the dehydrator at 135°F for about 12 hours or in the oven on low for 8-12 hours. Fruit leather will last in an air-tight container in the fridge for about one week and up to four months stored in the freezer.
Applesauce is an excellent and healthy oil substitute. It works best in cakes, cookies, quick breads, and muffins. You can use it to substitute some of the oil in brownies, but I've discovered if you swap it out completely, they end up crumbly. 1 cup of oil translates to 3/4 cup of applesauce.
Here are some other ways to use your applesauce:
Make a yogurt parfait with it
Mix it with granola for a fun snack
Slow cook pork in it
Top pancakes with it
Make this ah-mazing cheesecake smoothie with it
How do you like your applesauce?