Apple Crumble is a family favourite in our house both now and when I was growing up. Since our house hold went gluten free in 2012 I have struggled to find an amazing gluten free apple crumble recipe that has all the chew, crunch and satisfying sweetness of my Grandma's crumble. My Grandma made the most delicious apple crumble – chewy and crispy and so, SO amazing. Sadly it was also pretty much just white flour, white sugar and butter. So that was out of the question for us now.
Flour & Sugar
I have played with variations of this recipe for several years now, and have finally perfected it. I have swapped the white flour for rolled oats, which technically do not contain gluten, and are tolerated by most people who are gluten free. Rice flour is pretty easy to find these days, and adds to the binding ability of this mixture, you can substitute the rice flour for whatever gluten free flour blend you prefer – or if you are not wheat free you are welcome to just use ordinary wheat flour. Coconut flour helps soak up the fruit juices to avoid a soggy crumble, and adds a nice subtle coconut flavour to the mix. Brown sugar (or alternately, coconut sugar) adds an amazing caramel colour and flavour to the topping.
A Note on Butter
This recipe does contain butter, and a fair amount of it. I am a firm believer in eating healthy fats and not shying away from traditional saturated fats like butter, dripping and lard. We eat very little sugar in our house, so this crumble is considered a real treat.
For this apple crumble I use sweet eating apples as it reduces how much sugar you need. However you can use tart cooking apples if you prefer – you may just need to sprinkle them with a tablespoonful of sugar or two (or not).
Gluten Free Apple Crumble
Serves 6-8
Ingredients
Instructions
Preheat your oven to 350ºF.
Core and slice the apples (you can peel them too, if you prefer) and place in the bottom of a large casserole dish.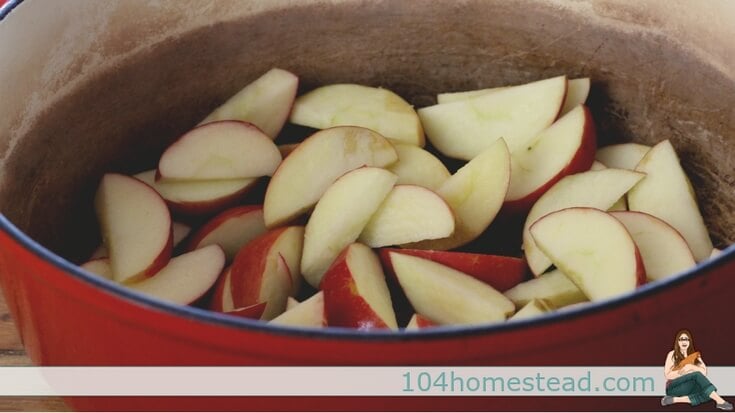 In a food processor add all the dry ingredients and pulse until you get a fine crumb. Add in the cubed old butter and pulse until well mixed and the mixture holds together when pressed.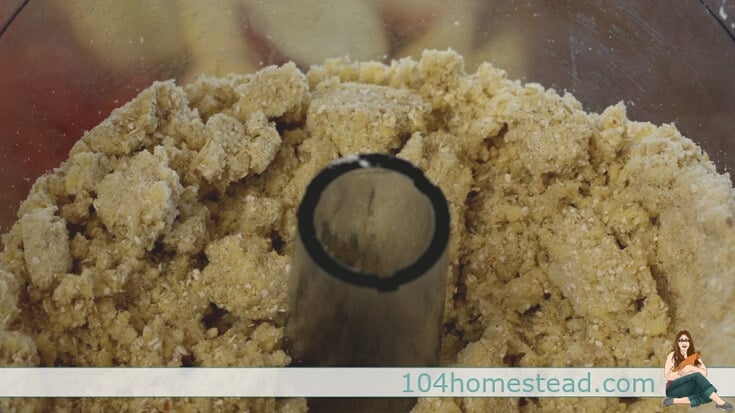 Sprinkle the topping over the apples and press down firmly.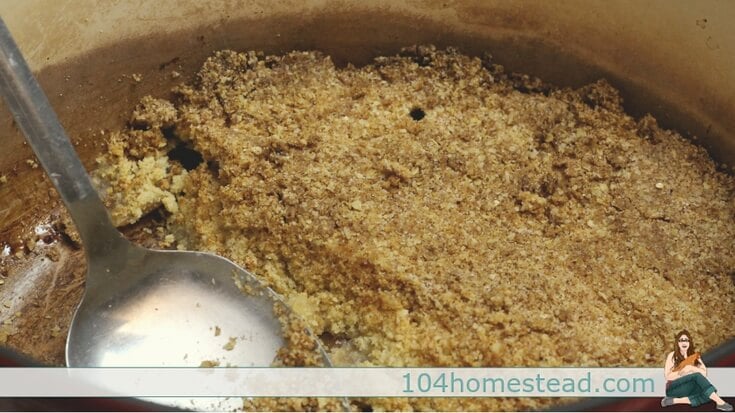 Bake for 40-45 minutes until crisp and golden. Serve with cream, ice cream, coconut cream or plain old milk (the favourite option in our house!) Store left overs in a sealed container in the fridge for up to one week. Is delicious the next day cold for breakfast.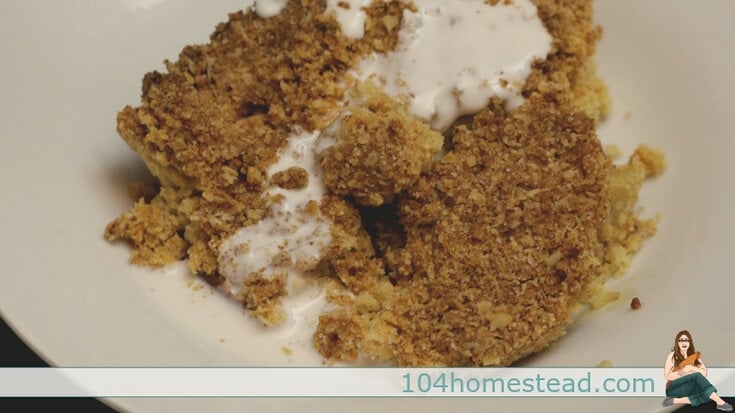 Alternatives
This crumble topping is also delicious on any fruit you like, my personal favourite is fresh or stewed apricots. Peaches, plums, nectarines, pears, quince, berries and cherries all also work beautifully. It is a great way to use up those fruits in the fruit bowl that the kids have deemed a day too old to eat.
If you're looking for more quick and easy recipes, these desserts can be made in an hour or less.
The following two tabs change content below.
Dana is a homeschooling, homesteading mama of 3 living in the south of New Zealand. She writes at
Piwakawaka Valley
, where she shares her journey starting a homestead from scratch on 10 acres south of Dunedin, New Zealand.
Latest posts by Dana Thompson (see all)