Line Drying Clothes in Winter
Did you know that you can continue to line dry your clothes throughout the year? There is even an added bonus for those of us in the northern hemisphere that I refer to as snow bleaching for your whites. So why is it that you can line dry your clothes without heat?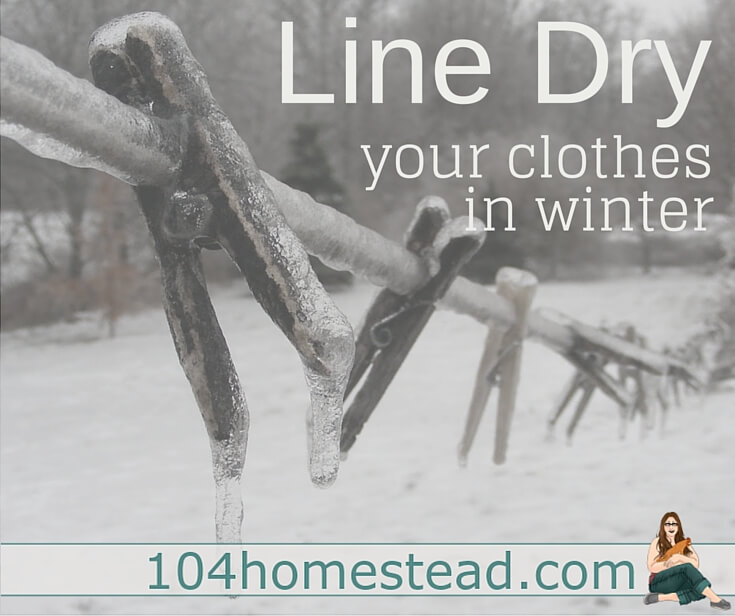 Past generations wouldn't have given line drying in winter a second thought. It was completely normal to do it. In fact, it was the only option besides drying clothing by the fire which would create quite an obstacle course of racks in a large family. So why do so many modern homesteaders seem perplexed by the idea? Why do we associate heat with drying? Maybe because we don't know enough about the topic of freeze-dried clothes.
Freeze Dried Clothes
Freeze drying is just a simple phrase we use to describe the term sublimation. Sublimation is the transition from solid to gas, bypassing the liquid phase. In other words, the moisture in your clothes turns into a gas and is just whisked away without needing to evaporate. How cool is that?
An added bonus for those of us cursed blessed with snow: You know those great UV rays that whiten our whites and reduce stains? When reflected off the snow, they are even stronger and the rays bounce, getting to all sides of the clothes without needing to turn the garments.
Save Money Line Drying
So why line dry in the winter? According to Project Laundry List, line drying saves an average of $25 a month off your electricity bill. Why save $150 a year when you could save $300?
Now I'm not going to lie. There are benefits of line drying indoors during the winter months. Possibly the biggest benefit would be staying inside where it's warm and avoiding cold and wet fingers. Another benefit is added moisture in the home, which can be helpful since homes tend to be drier in the winter months. So maybe consider line drying just a few items outdoors. Maybe just your bedding or other large items that take up space in your kitchen.
Nifty Indoor Line Drying Options
If you aren't sold on trudging through the snow to hang your clothes, here are some really neat ideas for hanging clothes indoors, especially when space is limited.
DIY Drying Rack by Sawdust Girl
DIY Project Ideas: 10 Laundry Drying Racks by ApartmentTherapy
DIY Built-In Laundry Racks by Me & My DIY
plus…
Drying Clothes in Humid Locations by Farming My Backyard
Have you tried line drying in the winter? Let me know about your experiences.