Starting from Scratch: Teri's Homesteading Journey
"Homesteading, to me, is a mindset and a skill set. Developing homesteading skills takes time and effort.  But more importantly, it's important to develop a can-do attitude and to cultivate relationships that foster interdependence, even when we're striving for self-sufficiency."  -Teri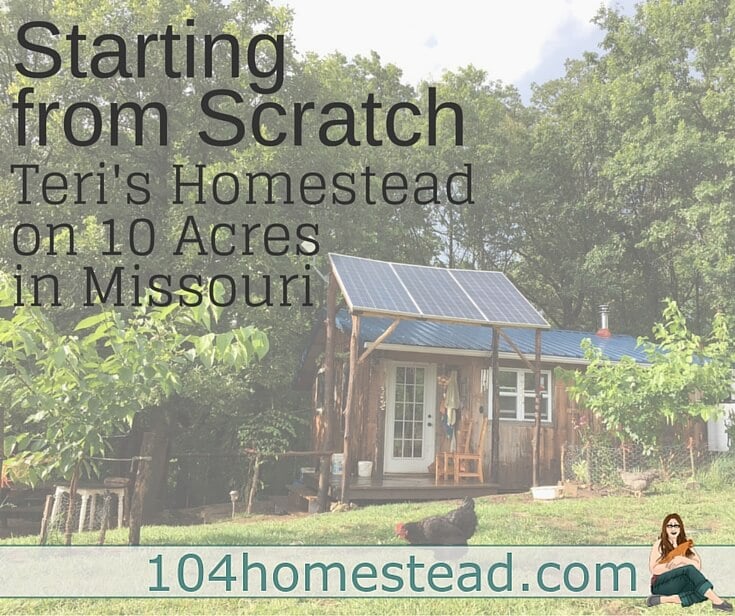 Homesteader Profile: Teri lives on 10 acres in Missouri with her family of four. She is the writer of Homestead Honey, and today, she is sharing her homesteading journey with us. She is also the author of Creating Your Off-Grid Homestead. If you are interested in going off-grid, I highly recommend this book.
Teri's Homesteading Journey
Hello, and thank you to Jess for inviting me to share my homestead. My two children, ages 5 and 8, and my husband and I live in rural Northeast Missouri, where we are building an off-grid homestead from scratch on 10 acres.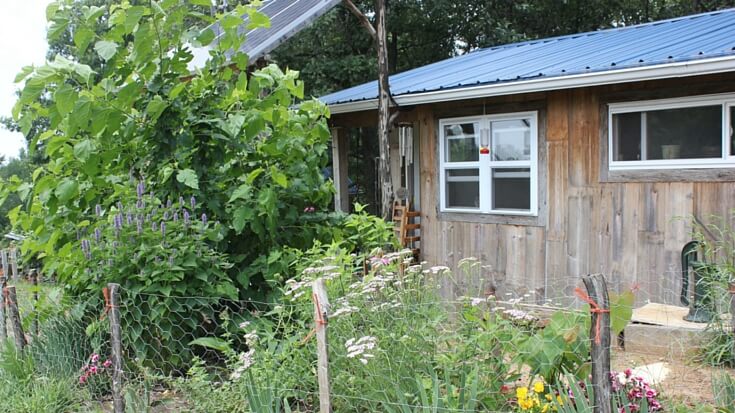 Our homesteading journey began in Oregon in 1999. After several months of living and working at a sustainability education center, my husband and I were eager to get started on our own homestead. For 13 years, we rented the most wonderful creekside house on 30 acres and slowly built a livelihood that included chickens, ducks, dairy goats, pigs, bees, gardens, and fruit trees. We learned SO much through sheer trial and error!
The call to steward our own piece of land was great, and in late 2011, we moved to Missouri to join two other families on a newly formed community land trust. We each own 10 acres, and we co-own another 30 acres of forest, pasture, and pond.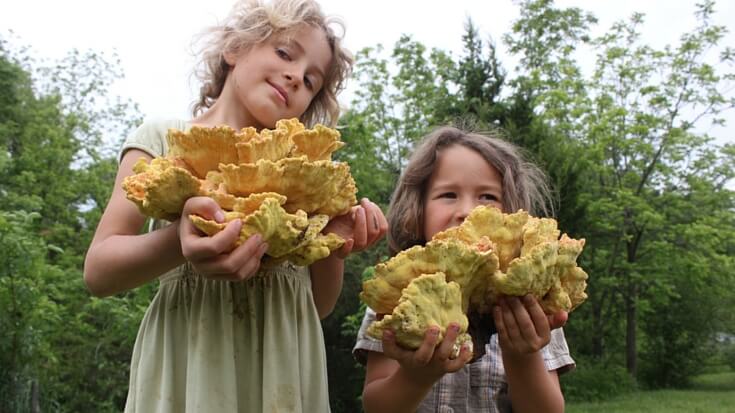 We started with absolutely no infrastructure, camped on the land when we first arrived and lived without electricity for over a year as my husband built a 350-square-foot tiny house and several outbuildings. I feel so grateful that my husband is a skilled builder and that we spent 14 years "practicing" skills before finally having a homestead of our own.
We currently have two gardens totaling around 1500 square feet, and we've planted upwards of 125 fruit trees and native edibles. We have a small flock of ducks and laying hens, two Jersey milk cows, and a few pigs and lambs for meat.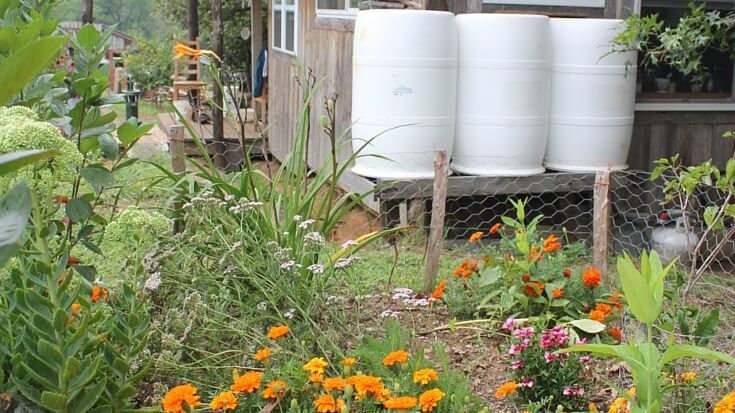 We recently installed a solar electric (photovoltaic) system to power lights and a chest freezer, but we still make do without running water or an indoor bathroom! Moving to a raw piece of land and starting a new homestead from scratch has been the biggest adventure and challenge of my life.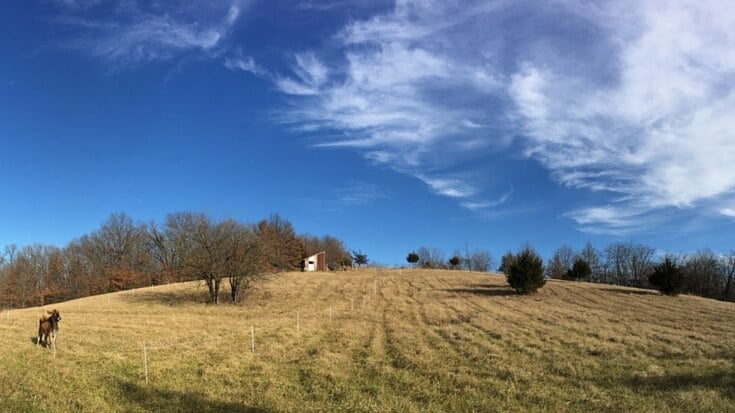 Teri's Advice for Farmsteaders
You can do a lot of homesteading on very little land; in fact, the bulk of our homestead—the gardens, orchards, chicken coops, cow and sheep pasture—all sits on just over 4 acres. The rest of our land is forested, which provides us with shade, firewood, tappable trees for making syrup, mushroom and berry foraging, and raw materials for building. If you opt for a homestead that is over 5 acres, think about whether or not you will be able to maintain that acreage. It is a lot easier to manage a forest than cultivated land.
That said, I love having the freedom to roam over our acres and go hiking, swimming, skating, and skiing on our land with my family.
A Little More on Tiny House Living
In the last 40 years, the average American house size has increased from 1,400 to 2,700, even though the average family size has decreased. Australia is the only country to surpass the U.S. in average house size, and Canada is right behind us. The mindset is that the bigger, the better. Now, not only do homes need a kitchen, bath, living room, and a few bedrooms, but they also need game rooms, offices, extra rooms for company, and mancaves. But do we really need these things?
Many people are starting to turn to tiny houses to lower their impact on the environment and soften the blow of home ownership on their wallets. Tiny houses are exactly what they sound like. They are tiny houses that have only the essentials. Do you have trouble imagining yourself living in less than 160 square feet? I did, too, until I saw some of these tiny houses…
Quaint Tiny Houses
I'm not sure I could live in something like this with my children, but it sure it cute. It would, however, be a darling office space. I love the front porch. Some tiny houses have wheels and are portable. Others are stationary and often completely off the grid.
This tiny house is built the same way as a traditional house, just on, well, a tiny scale. The big windows on the only available wall make it light and bright. This house looks like a little retreat from the real world. And with a garden out back, who needs the real world?
It can be hard to find a place to build your tiny house, especially if you aren't willing to move to the country. These creative homeowners found a spot to squeeze into their tiny houses. I bet the neighbors don't complain about their houses being too small.
Ingenious Tiny House Design
Tiny houses can be built out of traditional materials, such as wood frames or RV frames, but some individuals are thinking out-of-the-box, or in-the-box, actually. Shipping crates are readily available and cost next to nothing. These homes represent upcycling at its finest.
This tiny house, located in Minnesota, is constructed of two 20′ shipping containers. It is partially powered by solar panels and sports a water collection system.
This mom from California just couldn't handle rent any longer. She spent $4000 building her very own container home.
These Mainers are amazing. I've had a chance to chat with them a bit in the past. With nothing but two shipping crates (purchased on eBay) and a dream, they are doing amazing things. You can follow their journey on The Ark Haus.
The Berzins Family
A lot of people view tiny living as a workable solution for single people, young couples, or retirees, but what about families? Just like Teri, Hari, and Karl Berzins will tell you, it is completely doable. In fact, they will help you along the way. They are the owners of Tiny House Family, where they blog about living in a 168-square-foot home with their two children.
Could You Do It?
So, do you think you could do it? What would it take to get you to downsize your life for a smaller footprint? What luxuries would your tiny house need? Share in the comments below.