---
Heads up! I link to products and services that I love from time to time. More often than not I have an affiliate relationship with these providers. What does that mean? I might make a small percentage from any purchases you make, but don't worry, you won't pay even a penny more. Thanks for supporting The 104 Homestead. You can see our full disclosure statement here.
My very best friend in the whole wide world is Fijian Indian and she makes the best curries. This is my take on her chicken curry. They don't have fancy names like what you see in Indian restaurants, but this is so yummy, it doesn't need a fancy name.
Surprise your Guests with a Traditional Fijian Indian Curry from Scratch
This curry uses masala – which is a fancy word for simply a spice blend, this is not what you might buy in a little packet in the supermarket labelled Garum Masala. Instead you can buy a pre-made batch from your local Indian store, or alternately use this recipe below. It makes quite a lot, and each batch of curry only uses 2 Tablespoons, so it will last you quite a while. In Indian families, their own masala recipe is passed down from generation to generation, with the elder women getting huge batches made to their specific recipe, then they share it out among their children and grandchildren.
Masala Recipe
1 cup coriander seeds
1/4 cup cumin seeds
3 teaspoons fenugreek seeds
(lightly roast the above 3 ingredients in a frying pan on low heat), set aside
1 cinnamon stick, broken up
2 teaspoons cloves
5 whole green cardamom pods
2 teaspoons black peppercorns
20 dried curry leaves
1 star anise
2 teaspoons turmeric powder
Place all the ingredients in a spice grinder or a mortar and pestle and grind to a fine powder. Store in a sealed jar. For best flavor, use within a year.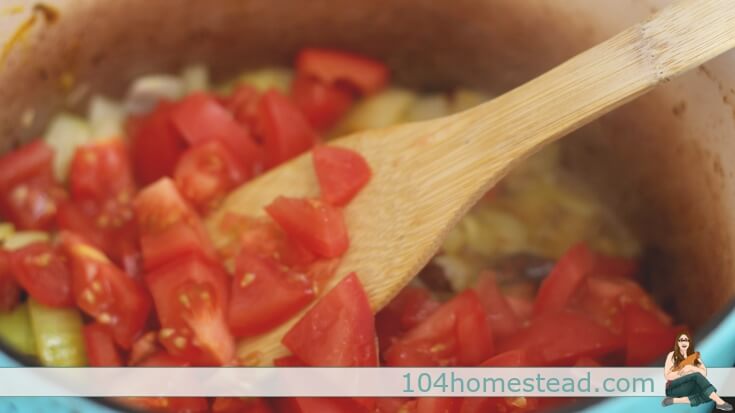 Traditional Fijian Indian Curry
4 lb Chicken – Thighs are best or use a whole chicken cut up
2 medium brown onions
2 medium tomatoes
6 cloves of garlic
2 inch piece of ginger root
2 long red chilies
2 Tablespoons coconut oil/butter/fat
2 Tablespoons masala
2 teaspoons cumin
1 teaspoon turmeric
1 teaspoon salt
Remove the skin from your chicken and then using a heavy knife or clever, cut your chicken into 1-1 1/2 inch cubes – leave the bones in and chop through them as needed. The marrow adds amazing depth to the flavor. You can use boneless, skinless thigh meat if you prefer.
Chop up your onions and tomatoes into small cubes.
In a mortar and pestle combine the garlic, salt, ginger and chilies (fresh or dried, discard the seeds for less heat). Mash them until they are a paste.
In a large pot over a low heat cook your onions in the oil until they are starting to caramelize.
Add all the spice paste, masala, and dried spices. Cook through from 2-3 minutes.
Add the chicken and the tomatoes and stir well to coat.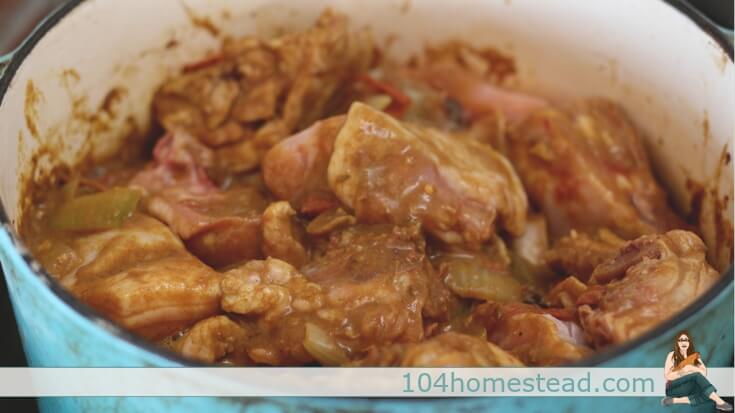 Cover with a lid and cook on a medium heat until the juices come out of the chicken (10-20 minutes), then continue to cook and stir intermittently until the mixture dries out somewhat and allow it to brown the chicken slightly on the bottom of the pot (40-60 minutes).
Add 1/2 – 1 cup of water or chicken stock and bring it to the boil. Cook for a further 10 – 15 minutes.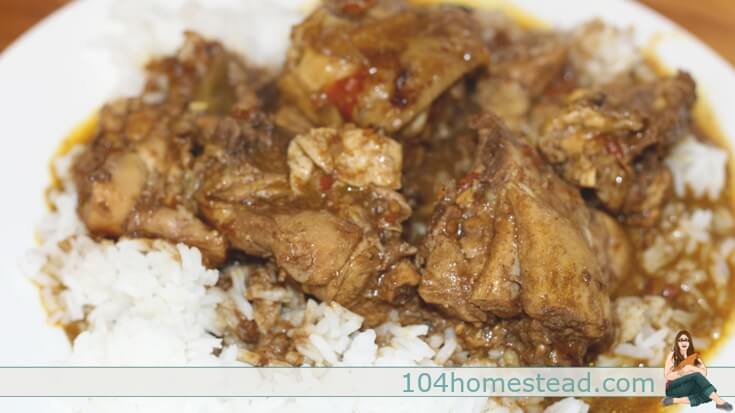 Serve with roti or naan bread, dhal, and some steamed rice. If you need some help making bread, look no further.
Serves 4-6. Takes 1 1/2 hours from beginning to end but it is really worth the wait! For another great rice dish, check out Something From Nothing Fried Rice or An Easy Broccoli Rice & Cheese Casserole.
The following two tabs change content below.
Dana is a homeschooling, homesteading mama of 3 living in the south of New Zealand. She writes at
Piwakawaka Valley
, where she shares her journey starting a homestead from scratch on 10 acres south of Dunedin, New Zealand.
Latest posts by Dana Thompson (see all)