Something From Nothing: Fried Rice
Hi, I'm Alexis from Bean and Bee. I write about sustainable living in the suburbs, whether it be growing your own food, making less toxic choices for your home, or reducing waste. Today, I'm sharing one of my favorite recipes that you can make with a few staple ingredients and whatever leftovers you have on hand – fried rice!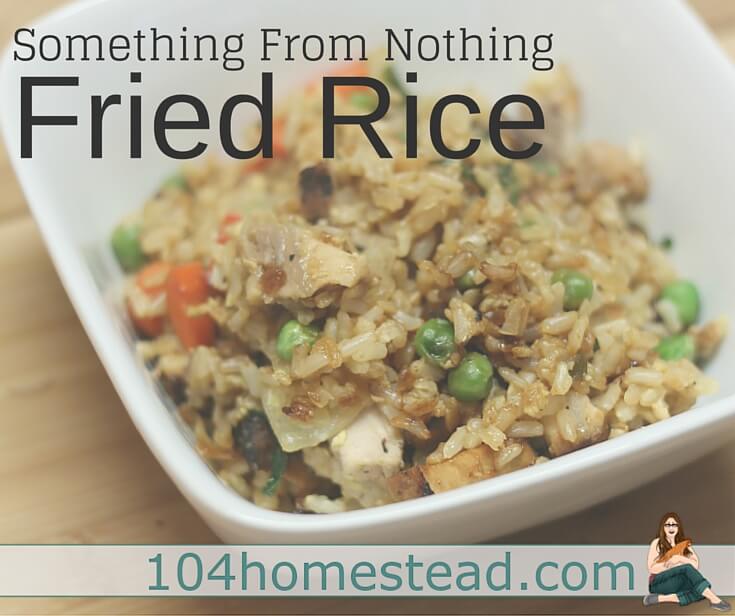 This is a one skillet dish, so clean up is easy. Since this fried rice recipe makes use of a lot of leftovers, your refrigerator will have more room as well. I usually make it when we haven't been to the grocery store in a week and we are down to random bit of food. "Something From Nothing Fried Rice" is a crowd-pleaser in my home. My kids will actually happily eat whatever veggies work their way into the mix and it's heavy enough that my husband and I feel satisfied after a bowl.
Cooking this meal is more art than science, but there are a few essential ingredients.
Rice (leftover is perfect) and soy or teriyaki sauce are key. You also need a protein – eggs work well, as does leftover meat. In the version shown in the pictures, I used two eggs and a leftover grilled pork chop from the night before. One of the beautiful things about this dish is you can use up food that otherwise wouldn't be enough to make another meal out of.
Less food waste saves you money and reduces the amount your household sends to the landfill. Less waste in the landfill means less creation of methane, a dangerous greenhouse gas that contributes to global warming. Who knew a recipe could save the Earth?
Let's get started!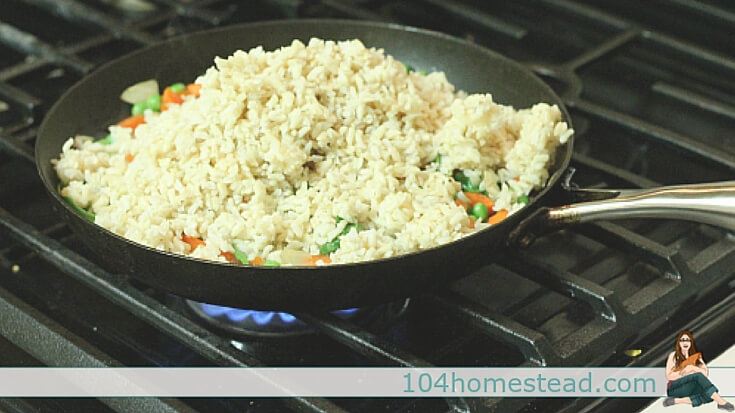 1. Gather Ingredients
Essential Ingredients
Cooked Rice (estimate about a quarter cup of rice per serving)
Soy or Teriyaki Sauce
Protein – Egg and/or Meat
Flexible Ingredients
Use what is about to go south in your vegetable drawer, these are just suggestions.
Onions (I prefer white, yellow, or green)
Peas
Leafy Greens
Carrots
Celery
Red or Green Bell Peppers
2. Prep Ingredients
Dice your meat, if you have some, and any vegetables you're using. If you're using eggs, scramble them in a bowl and set aside.
3. Begin Cooking
Brown your onions in a large skillet.
Add vegetables and cook about halfway though.
Stir in the rice.
Add sauce to taste by drizzling over the vegetable / rice mixture and allow to cook for 1 minute. It's okay if it gets a little crisp on the bottom.
If using egg, make a well in the middle of the rice and poor the egg in. Allow the egg to cook halfway through before mixing into the rice and vegetables.
Add the diced meat, if using.
Let the mixture cook a few more minutes, stirring occasionally until all proteins are heated through.
Once heated through, remove from heat and serve in bowls. If you like it a spicy, drizzle a little Sriracha on top.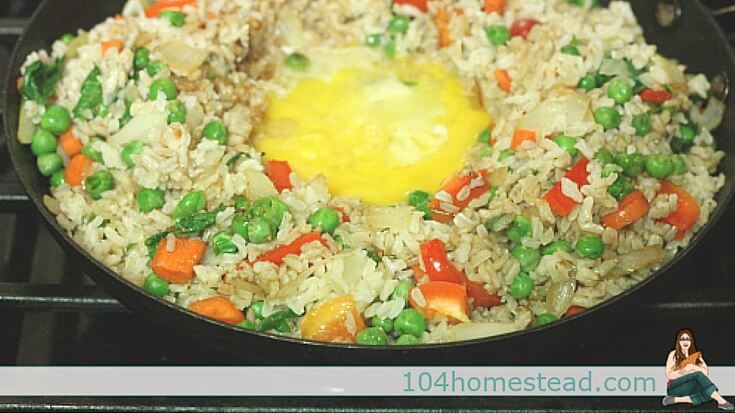 Enjoy!
For the version pictured, I used leftover brown rice, 2 eggs and a grilled pork chop, onions, frozen peas, and leftover green salad (arugula, red pepper carrots, cherry tomatoes). It made enough for two adults and two children with some leftover.