Water Bath Canning Recipes and Frequently Asked Questions
I think water bath canning is the place to start when you first learn canning. Check out these FAQs and recipes to get you started.
It wasn't until 2013 that I really got into canning. My mother is a canning guru, and I enjoyed the benefits of her knowledge and skills. I'd send off a basket full of dirty raw carrots and receive back perfectly canned carrots. Although I saw no real problem with this arrangement, I did think it was high time to learn the magical art of canning.
Let me start by saying that until recently, I thought canning was just canning. I didn't realize there were different kinds. I'm hedging my bets that a few of you are just like I was: unaware. Today we are talking about water bath canning.
Water bath canning is just like it sounds. You are bathing the cans in water versus pressure canning, where you use steam pressure to can. I think water bath canning is the place to start when first learning. You don't necessarily need a fancy pot, and there is no risk of blowing a lid through your kitchen ceiling (just kidding… for the most part).
I was a bit nervous when I canned independently for the first time. People throwing around a word like botulism does tend to unnerve you. I really didn't want to be a headline in the paper.
Woman Takes Out Entire Family with Unsafe Can of Carrots
Honestly, though, it's really not that hard. If you have someone in your life who is willing to mentor you, spend some time canning with them. If you don't have a mentor, check for local classes. My friend Kathie at Homespun Seasonal Living offers classes in her community, and I'm sure there are others. If you can't find an actual person to teach you, Ball's Blue Book Guide to Preserving is like the canning bible. According to my mother, Guide to Preserving comes out annually. You should always get the latest edition because canning practices (such as changes in canning lid procedures) are always evolving. I used the Ball Blue Book Guide to Preserving to make spicy pickles yesterday, all by myself.
Water Bath Canning FAQs
Do I have to use a special canning pot for boiling water bath canning?
Any large pot will do, but canning pots make life a bit easier. The bigger the pot, the better it maintains a constant temperature.
Can a pressure canner be used on a flat-top stove?
It depends on your stove and the pot you are using. Pots with rippled or textured bottoms don't make good enough content to heat properly. Some stove burner areas aren't large enough to handle the space needed for a canning pot.
Can I double stack jars in a water bath canner?
You can, but use caution. Adding that many cool cans to the pot may cause the temperature of the water to be too much. The time it would take for the water to return to temperature may result in mushy canned goods.
Can food be re-canned if the lid doesn't seal properly?
Canned food can safely be re-canned if it's done within 24 hours. Remove the lid and check the jar-sealing surface for imperfections. Use a new lid and reprocess.
Can I only can things I've grown?
You can can foods from your own garden, your friends' gardens, the farmer's market, and even grocery store fresh produce. I highly recommend only using organic produce from the grocery store since things may have been applied to non-organic produce to preserve freshness that can't be rinsed off in the sink (gross, right?!)
What is hot packed? What is raw packed?
Raw-packing is using uncooked food. In the case of pickles, raw packing preserves crispness. Hot-packed foods are boiled and cooked before canning. Carrots are a great hot-packed food as they soften before being canned.
Is head space important?
Proper headspace allows for proper vacuum sealing. Too little headspace and the contents of the jar may bubble out. Too much head space prevents the jar from sealing.
How long does canned food last?
Canned foods last for about a year if kept in a cool, dark, dry location. Here is more information about how long you can expect your canned goods to last.
Water Bath Canning Recipes
Since I am new to all of this, I am directing you to the people I deem professionals. Many thanks to all the wonderful bloggers with canning experience who are sharing with us today.
Jams & Jellies
Serviceberry Lemon Balm Jam from Homespun Seasonal Living
Orange Marmalade from Simply Canning
Seedless Elderberry Apple Jam from Our One Acre Farm
Strawberry Rhubarb Jam from Angels Homestead
Gingerly Green Tomato & Vanilla Apple Jam from Homespun Seasonal Living
Homemade Hot Pepper Jelly from Better Hens & Gardens
Dandelion Jelly from Simply Canning
Melon Star Anise Jam from Homespun Seasonal Living
Fruits & Vegetables
Really Crispy Dill Pickles with Additives from The 104 Homestead
Spiced Peach Slices from Untrained Housewife
Spicy Lemon Pickled Beans from Timber Creek Farmer
Pickled Beets with Apple Cider Vinegar & Honey from Montana Homesteader
Pickled Asparagus from Untrained Housewife
Spiced Brandied Peaches from Homespun Seasonal Living
Salsas & Condiments
Roasted Corn Salsa from Mrs. Wages
Nectarine Maple Vanilla Butter from Homespun Seasonal Living
Zesty Salsa from Untrained Housewife
Annie's Green Tomato Salsa from Mother Earth News
Maple Syrup from Our One Acre Farm
Canning Salsa from Homespun Seasonal Living
Are you ready to get started?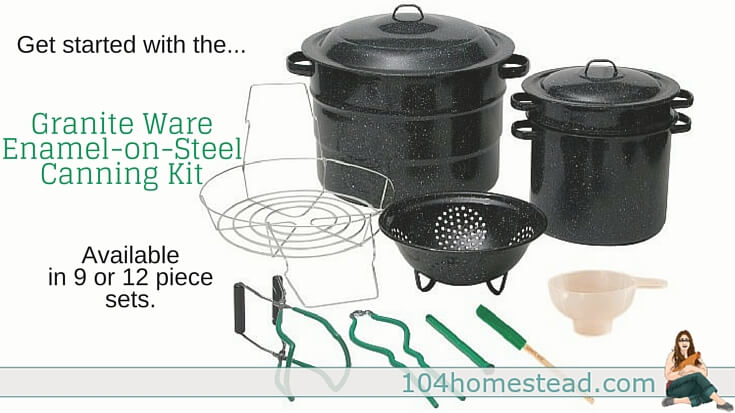 This canning kit from Granite Ware is perfect for starting your water bath canning experience. It has all the essentials you could need. There is a 9-piece set that includes a 21-quart canner, canner lid, jar rack, 9″ colander, lid wrench, funnel, tongs, jar lifter, and magnetic lid lifter and a 12-piece kit that contains a 7 1/2 quart blanching pot with lid and drainer insert.
If you've found value in this blog post and enjoyed reading it, why not share it with your Pinterest community? Pin the image below and spread the love!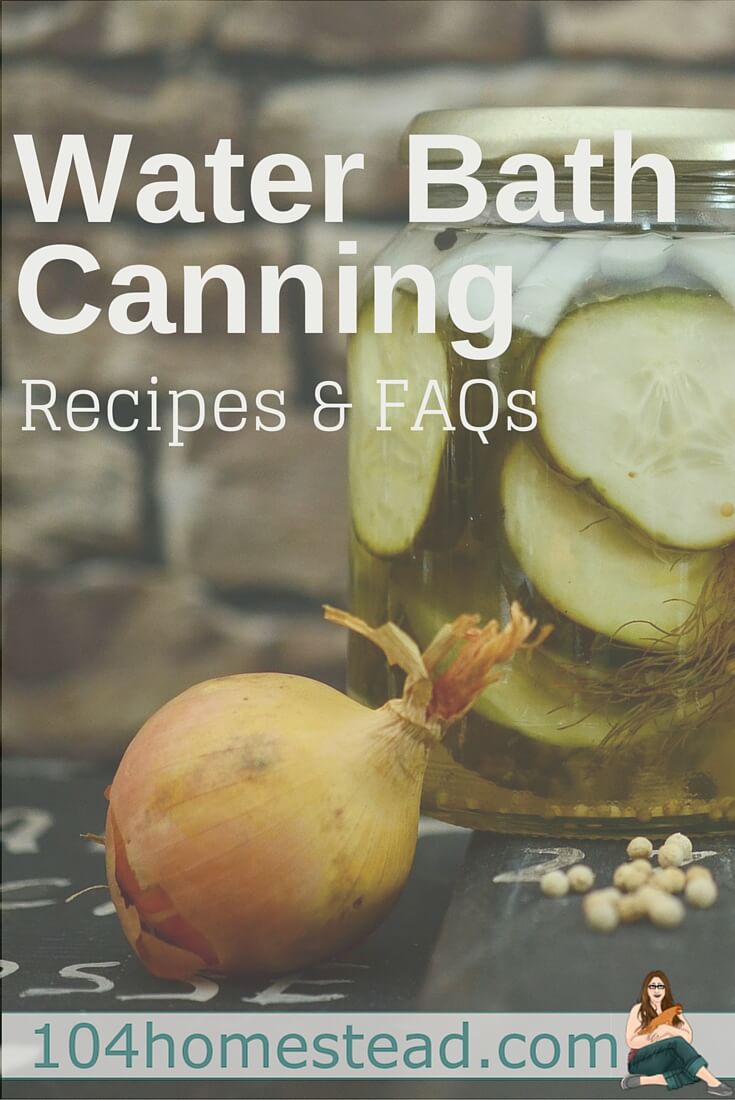 I urge you to give canning a try. It is so rewarding, and it's a great skill to be able to pass on. If you are anything like me, you will spend hours gazing lovingly at your cans, all lined up in a row. Happy canning!
What is your favorite food to can?