Create Any Custom Color Homemade Chalkboard Paint in 2 Simple Steps
Homemade chalkboard paint allows you to turn surfaces into slates for writing and drawing. Learn how to make chalkboard paint in any color.
Chalkboard paint is amazing stuff. I discovered it a few years ago when we did our middle son's bedroom and now I am discovering new ways to use it. In addition to Mommy's Command Central I built in the kitchen, I also have chalkboards in all three kids' rooms, on my entry closet doors (for leaving messages and reminders to one another), and on my big storage jars, which I use for flour, sugar, etc.
After two years of purchasing Rust-Oleum chalkboard paint, I discovered that you could make your own. You can create any color you want. The sky is the limit. In fact, sky blue is the color we are using for today's tutorial.
So how do you make chalkboard paint?
Making chalkboard paint takes only 2 ingredients and less than 5 minutes. You'll be painting everything you own in no time at all!
Step 1: Make the Chalk Paint
Combine acrylic paint (mix colors to create one you love) and white non-mixed non-sanded grout at a rate of 1 part grout to 8 parts paint. In other words, 1 cup of paint would require 2 tablespoons of grout because there are 16 tablespoons in a cup.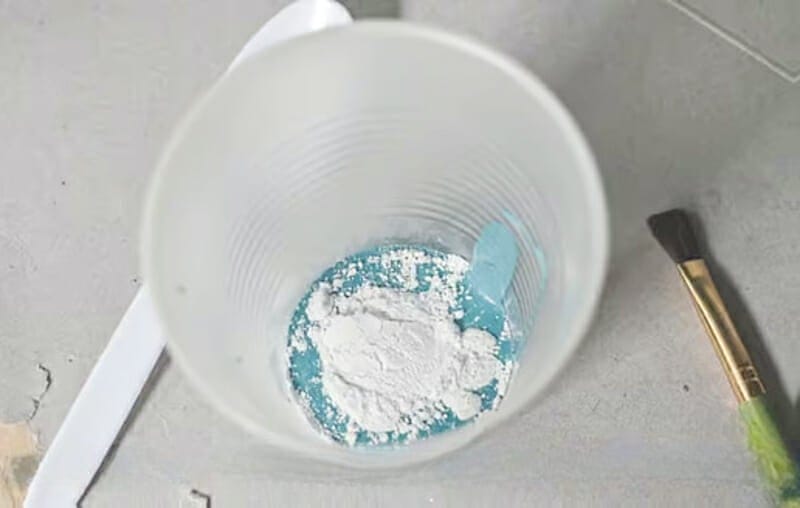 Stir the grout into the paint until no lumps remain. Because the grout is very powdery, you should do this in a well-ventilated area. Your homemade chalkboard paint is done!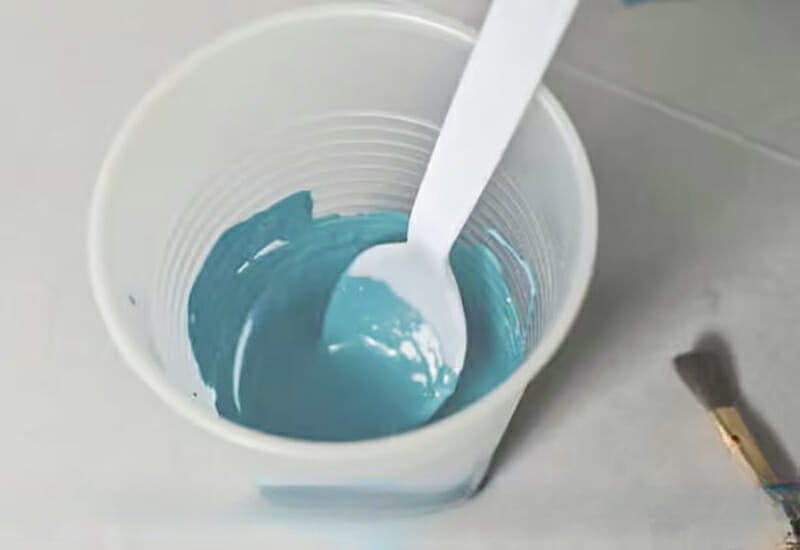 Step 2: Prepare Your Surface
Paint onto practically any surface: drywall, concrete, wood, glass, metal, etc. You'll want to make sure you're painting a smooth and clean surface. If you're only painting a section of a larger item or area, painter's tape will keep the chalkboard paint where you want it.
If you're painting a dark surface with a light color, you may want to prime the surface before beginning. I recently discovered they have magnetic primers at many craft stores. That could be a fun option for fully functional chalkboards you're using for home/work organization.
Step 3: Get Painting
It may take 3 or 4 coats. I recommend lightly sanding between coats so you get a smooth surface. Use fine-grit sandpaper, like 150 or 180 grit.
Step 4: Prime Your Chalkboard
When it's dry, prime the surface by rubbing the side of a piece of chalk over the entire surface. You want to rub up and down and then side to side. This is going to create a lot of dust, but it makes all the difference in the world.
When you're done, wipe down your chalkboard and you are ready to write!
Chalk pens and chalk markers are easier to use than old-school pieces of chalk. You can find them in a variety of colors on Amazon.
Cleaning Your Chalkboard Paint Projects
When you are ready to remove your old art, the best cleaner in the world is Coke (yes, the soda). It removes the dusty haze, doesn't wash off the paint, and leaves no sticky residue. Who would have thought?
Simply dampen a microfiber cloth with Coke and wipe the chalkboard surface clean.
9 Homemade Chalkboard Paint Ideas
So now that you know how to make your paint, let's get some inspiration so you can kick your creativity into gear:
#1 Table TLC
Liz Marie had a table that needed some TLC. She decided to transform it into a fun table for her friend's toddler. See more here.
#2 Funky Flower Pots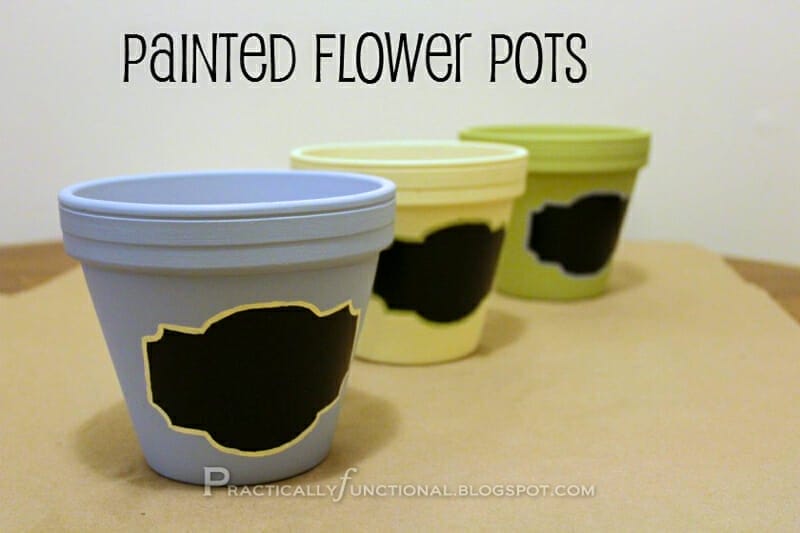 Practically Functional wanted to add a springtime feel to her home. I think she nailed it with these pastel terracotta flower pots. Make sure you read her tutorial for sealing the pots so your hard work doesn't wash away in the rain. See more here.
#3 Creative Coffee Mugs
Elsie Larson of A Beautiful Mess made some really cute chalkboard mugs. You can doodle on them or write your name on them so your significant other stops drinking out of the wrong mug. Elsie bakes hers with "special" chalkboard paint, but I tried it out with the homemade paint and got the same result. See her tutorial here.
#4 Charming Cooking Appliances
Is your crock pot a sight for sore eyes? Yeah, Jane from Outside of the Crayon Box had the same problem. With nothing really left to lose, she tried her hand at chalkboard painting it. See more here.
#5 Visionary Vases
These wooden vases from Decor & The Dog are really cute and super easy to make with some pieces of wood and chalk paint. You can see her instructions here.
#6 Stimulating Storage Solutions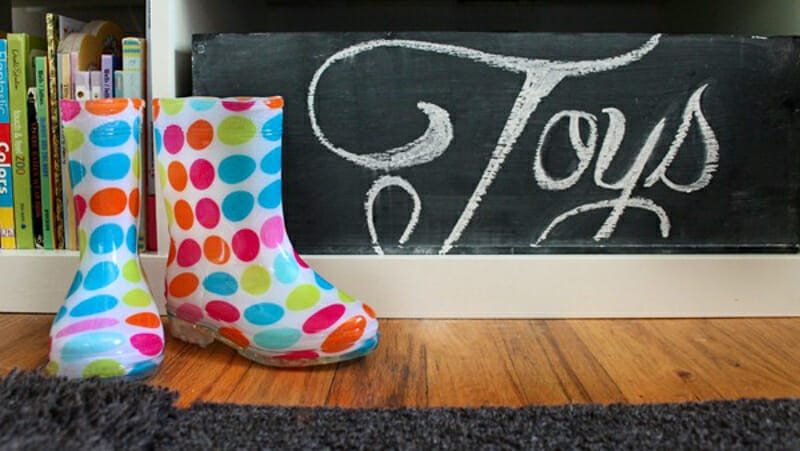 Transform (and organize) your children's playroom with chalkboard paint. I love how it looks chic enough to fit in an adult space. My kids have stuff throughout the living room in substantial primary-colored plastic containers. I'd much rather have something like this. See the tutorial here.
#7 Wonderful Walls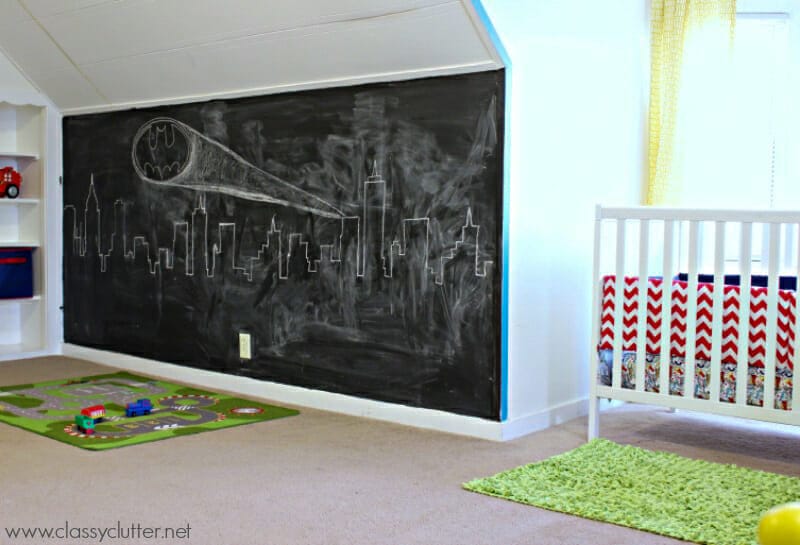 Classy Clutter painted an entire wall with chalk paint for fun family graffiti. She shares the things she wished she knew before she did it. Get her pearls of wisdom here.
#8 Divine Dresser Organization
This one warms my OCD heart. Our drawers change seasonally. Sometimes a drawer has swimsuits, other times it has thermal wear. With this setup, our dresser could change with the seasons. Holly Mathis will talk you through the process here.
#9 Pretty Planters
Need a simple and easy craft for this weekend? This DIY Chalkboard Planter is super easy and oh-so-cute! It's perfect for indoor herb gardens to cheer up your home during the long cold garden-free winter.
For more crafting ideas, check out Upcycle Pill Bottles with These 22 Fun & Creative Ideas and 16+ Enchanting Mason Jar Craft Ideas You'll Love to DIY.