Christmas Decorating on a Budget: Santa-Approved Holiday Crafts
Are you looking for Christmas decorating ideas? Then look no further. Four adorable projects that cost under $10.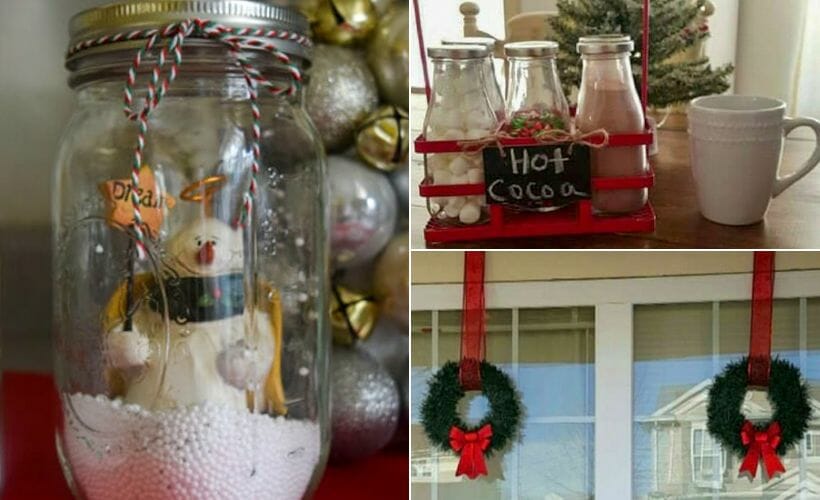 Christmas decorating and holiday season crafting. Two of my favorite things. In fact, around here I pretty much decorate for any holiday that we celebrate. It might actually be a part of my family's DNA. My sister and I often compare notes about treasures we have found or ways we can save a buck while creating some holiday decor for our families.
This past weekend I took a trip to the big ole city; a 2½ hour drive for me. Rural life problems, the struggle is real. But mama needed an afternoon away. And guess what? Dad survived. The kids survived. Mama sipped on her Starbucks while cruising the aisles of Target without distractions. It was glorious. Can you tell, I don't get out very often?
While there, I took care of errands and made a few stops at various shops on a mission to find inexpensive Christmas decorations and craft projects. I'll be taking you along the ride as I show you how I made a few very easy Christmas crafts; all while keeping within my budget. I gave myself $25 to fulfill this task. Hopefully, you find some inspiration below.
First stop and probably the biggest success. The Dollar Tree.
Budget-Friendly Christmas-In-A-Jar & Ornament Tree
I picked up these mason jars, faux snow, and 2 packs of snowflake ornaments to create a tiny winter wonderland – all for $4.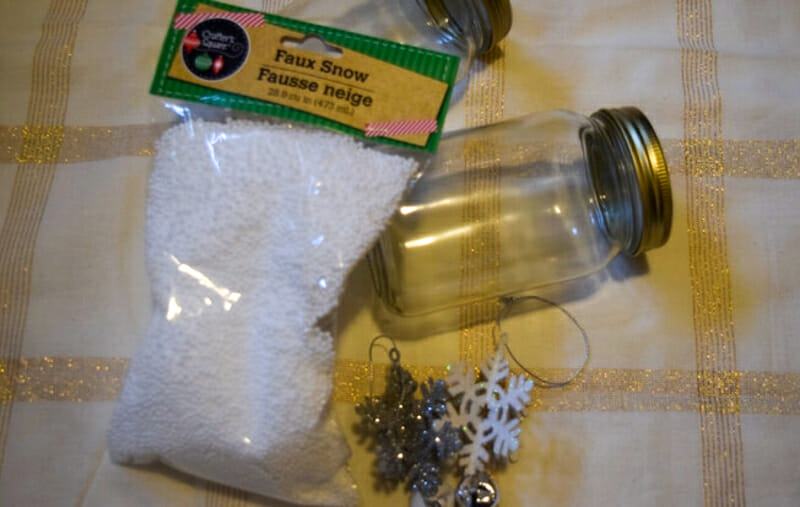 A 12-pack of ornaments and floral foam for $3 total.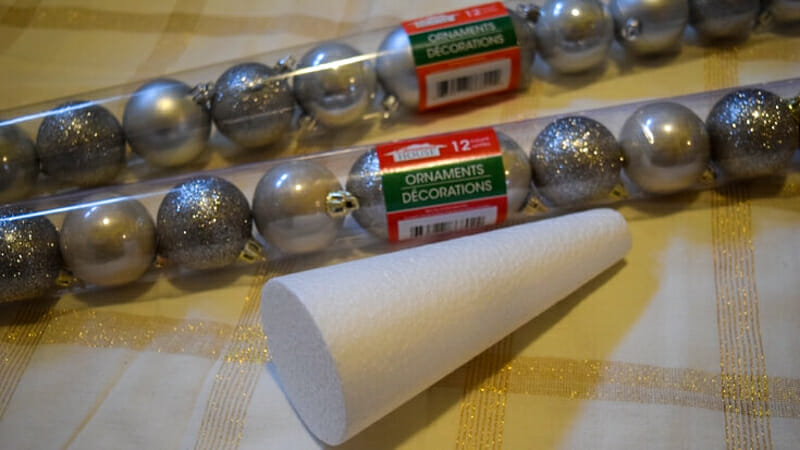 Using my hot glue gun, I glued the ornaments to the inside of the lids, then I added a little faux snow to the inside of the jars and Christmas-colored twine which I already had to the lids. The snowman and larger mason jar, I already had on hand, but you could easily duplicate this by using little Christmas ornaments on the inside of the jar. Some glitter can be mixed in with the faux snow for added sparkle.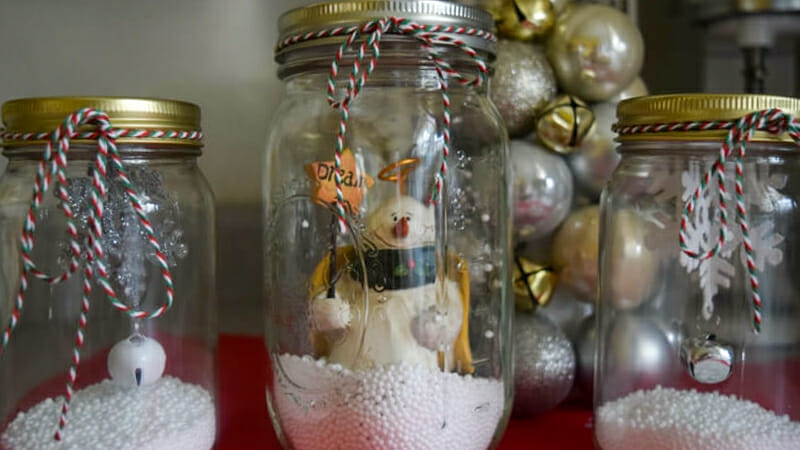 Next, I glued the ornaments around the outside of the floral foam and made an ornament tree (pictured behind the jars) and I added bells which I already had on hand to fill in the holes. These make excellent centerpieces. I have the ornament tree on my dining room table and guests always comment on how cute it is. I keep my little holiday jars on the mantel with garland woven around them.
Total cost for these two projects: $7!
If mason jar crafts are your thing, I have a whole bunch more!
Budget-Friendly Wreaths
For this wreath, I found the ribbon, greenery, and floral picks at Dollar Tree for $7. This is a wire wreath similar to the one that I used for only $3 at the time of posting and the "Noel" sign is from Target for $3. Wreath total cost: $13!
This wreath is really simple to make. First, use the greenery and wrap it around the wire wreath. I used floral wire to secure the greenery in place, you can use twisty ties or something similar if you don't have floral wire on hand. No need to buy it just for this project. Unless you plan to make more crafts and goodies with it. Then, go for it.
Next, I wrapped the ribbon around the wreath and secured it all in the back with my hot glue gun. After that, I placed my floral picks in places that needed to be filled in and secured them with floral wire.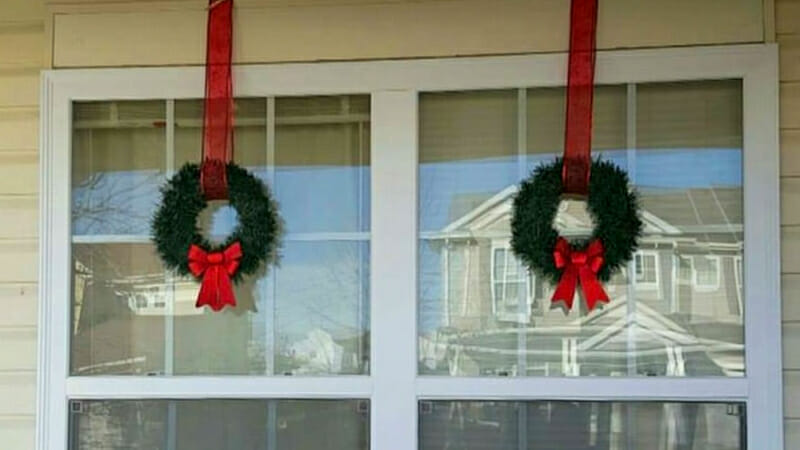 These wreaths were also purchased at Dollar Tree for $1 each, the bows were $1 each and the ribbon was $1 for a roll. If you wanted, you could attach a few pinecones (free). They look darling on the front door and hanging in front of the living room windows.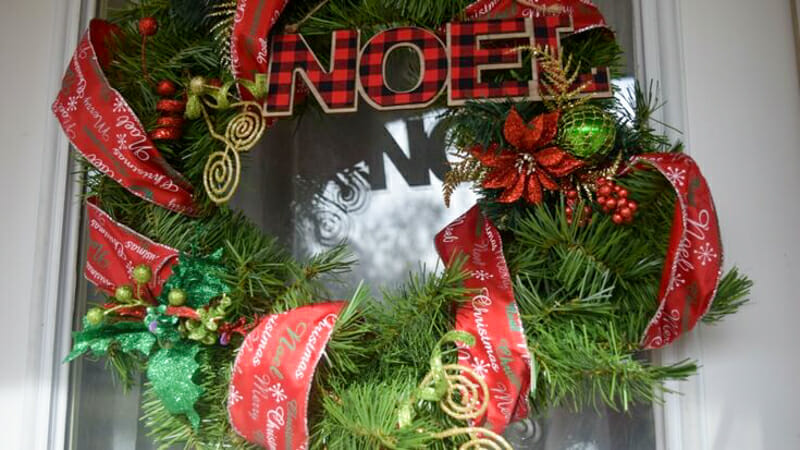 Total cost for two outdoor window wreaths: $5!
Lastly, check out this super cute project (not really Christmas decorating, but too cute not to share) that my friend put together from Target's One Spot.
Holiday Cocoa Gift Set
These items are currently stocked in Target's One Spot, but can easily be duplicated by heading to a nearby craft store, such as Hobby Lobby. The vintage-style milk bottles were sold in a pack of two for $3, the red milk bottle crate was $5 and the cost of hot cocoa and marshmallows were a couple of dollars. So, this project could easily be duplicated for a little over $10!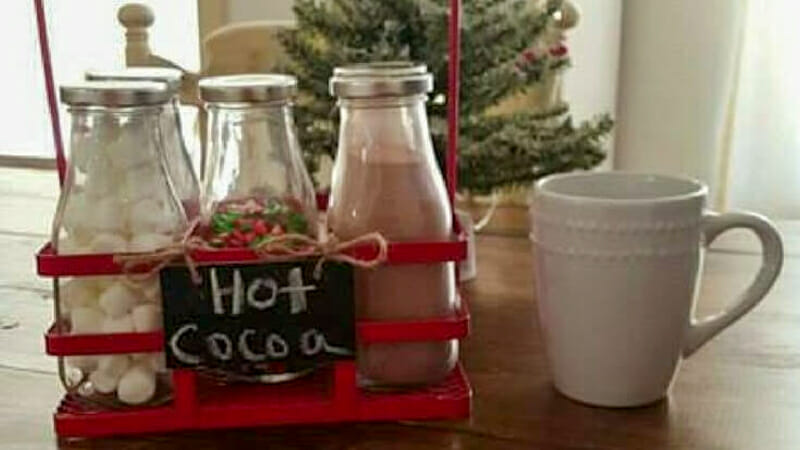 I have searched for similar items around the internet and they are quite expensive and could easily blow a budget if you need to stick with one. I found this white wire basket that would be another alternative and they have different sizes available at the time of posting.
You can save a few dollars by making your own cocoa mix, just mix the dry ingredients together and write the remainder of the recipe on a cute notecard.
Total cost for a cocoa gift set: $10
Tips for Sticking to a Christmas Decorating Budget
Another helpful tip – shop those after-season clearance sales. I hit up Target every year after Christmas and stock up on things I'll use such as Christmas cards, wrapping paper, bows, ribbons, Christmas lights, glass ornaments, and decorations. I give myself a budget and buy only the things that I really need or fully intend to use in a DIY project. At 75-90% off it can easily get out of hand for me; confession from a rehabilitated shopaholic. That's why keeping a budget and living frugally is important to me. Plus, there's just so much satisfaction in creating something for such a great bargain, especially this time of year. Who's with me?
Oh, and in case you were wondering, this was not a sponsored post for Dollar Tree or Target; I just love them that much. They really do have cute pieces that can be transformed into adorable Christmas decorating projects that provide holiday cheer all while staying on a budget!