A Meadow of Bee-Friendly Flowers
Native bee populations are suffering. No one is quite sure why this is happening, but many believe it is due to disease, nutrition, stress, and pesticides. That's why I want to chat about bee-friendly flowers.
I hope you all are already using natural alternatives in your gardens and around your homes instead of pesticides. Some past posts that you might find helpful in steering away from these pesticides and chemicals include Organic Amendments, Grocery Gardening, and Natural Insect Repellents.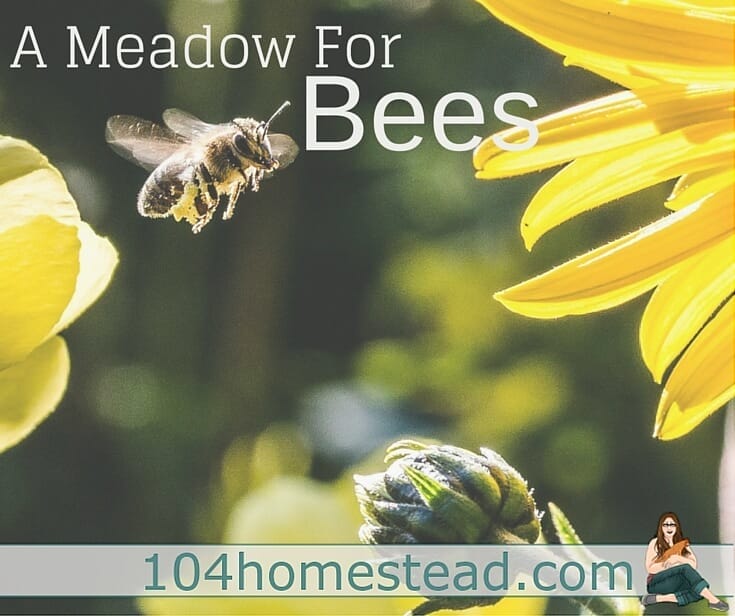 Another way we can help out our native bee population is to plant bee-friendly flowers. I like to have a variety spread throughout the yard. This year we are adding to our efforts of having a proper bee habitat on our homestead. We are creating a small meadow of native bee-friendly flowers. It may not be much, but a 20′ x 20′ meadow plot can feed many bees.
To get started, you can get a big box of Wild Flower Mix at most garden stores. These contain many of the plants that bees enjoy. Your other option is to hand select some of the great bee-friendly native plants that grow well in your area.
Bee-Friendly Native Plants
Asters
Black-Eyed Susans
Blazing Star
Caltrop
Creosote Bush
Current
Elder
Golden Rod

Huckleberry
Joe-Pye Weed
Lupine
Oregon Grape
Penstemon
Purple Cone Flower
Rabbitbrush
Rhododendron

Sage
Scorpion Weed
Snowberry
Stonecrop
Sunflower
Wild Buckwheat
Wild Lilac
Willow
This list is not all-inclusive, but this is a good list to start from. Your local nursery should be able to assist you further in selective native plants for your area.
Bee-Friendly Flower Meadow Tips
Choose Several Colors
Bees prefer flowers that are blue, purple, violet, white and yellow. Plant a variety so you can attract a variety of bees.
Include Flowers of Various Shapes
Bees come in a variety of shapes and sizes. The more shapes and sizes you provide in the way of flowers, the more bees you can accommodate.
Think "All-Season"
By having flowers that bloom during different seasons, you will be providing the bees with food when they need it.
Want to do more?
Consider making a whole native bee habitat. A fellow Mainer and friend, Samantha of Runamuk Acres, has written How to Create a Native Bee Habitat in Your Backyard. This ebook contains 10 ways you can help your native bees. It's certain to inspire.
Don't forget! These helpful guys are the reason why many of our vegetables produce food for us. Don't you think we should give back?