Tips for Making the Best Chocolate Chip Cookies You've Ever Made
Chocolate chip cookies are a classic cookie recipe, so everyone's tried them and has an opinion. Here are a bunch of tips and tricks to bring this beloved treat into the 21st century.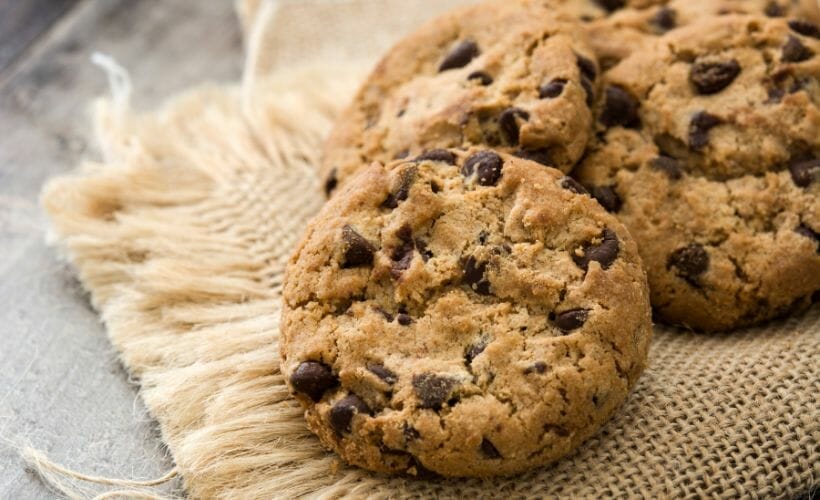 My readers are such brilliant people. I had asked in a recent post on Facebook what their tips for the perfect chocolate chip cookies are. They did not disappoint! Here are some of the tips and tricks they shared for chocolate chip perfection. Be sure to also check 8 Tricks for Extraordinary Cookies from Scratch for my own tips.
Recipe Adjustments for Amazing Chocolate Chip Cookies
Butter Adjustments
Cream the room-temperature butter with the sugar.

Jessica B.
Creaming butter and sugar together adds pockets of air to the batter. This air puffs up the cookies as they bake, giving them a lighter and more appealing texture. You should use room-temperature butter for the same reason. At room temperature, that solid fat is whippable, which again, adds air to the batter.
Additionally, using room-temperature eggs improves the batter as well since the whites and yokes break down and incorporate better.
Use half lard and half butter.

Michelle L.
The oilier the food, the more likely it will be harder when it cools, so cookies made with butter will be crisper and cookies made with lard will be chewier. However, lard has 20 percent less saturated fat than butter; it's also higher in monounsaturated fats, which are good for cardiovascular health. Butter has a better flavor than lard, which has very little flavor. Mixing half and half can give you the perfect balance.
Flour Adjustments
Use oat flour instead of all-purpose flour.

Deanna B.W.
Oat flour gives your cookies a crumbier and chewier texture. Oat flour is a little bit sweeter than all-purpose flour as well.
Use bread flour in place of all-purpose.

Erica G.
By swapping in bread flour for all-purpose flour in cookies, you raise the protein, enabling more gluten formation and higher liquid retention in the dough. This translates into more chewiness.
It's All About The Chocolate
Use chocolate chunks instead of regular morsels and eat them right out of the oven with a cold glass of milk.

Jacquie G.
Chocolate chunks melt smoother and more evenly, and set up firmer, threading beautifully — and evenly — into the dough. Chocolate chips, however, are designed to hold their shape even in the highest heat. So when baked, the tiny peaks simply dip into the dough creating tiny pockets of chocolate ponds rather than streams.
My partner insists that bittersweet chips make for the best chocolate chip cookies ever and that's a hill he's willing to die on. Bittersweet chocolate contains 70% cacao and has less sugar than semi-sweet chips, so they have a deeper flavor.
Recipe Add-Ons to Enhance Your Chocolate Chip Cookies
Add-Ons to Improve Your Dough
Increase the amount of salt to balance the sweetness.

Kelley N.
Salt enhances the flavor of the other ingredients in your cookies. Without salt, cookies would taste flat and very sugary. Most importantly, salt makes cookies chewier because it strengthens the protein in the cookie dough.
A little cornstarch.

Heather H.C.
Cornstarch binds with the liquids in your dough, so this makes your cookies spread less. It will also help them be soft and tender! If your recipe doesn't call for cornstarch, add a teaspoon or two to the dry ingredients.
Dry pudding mix!

Bridey E.
This one was an incredibly popular tip that got mentioned quite a few times. Vanilla seems to be the preference among my Facebook followers.
In my research on this topic, I discovered it's actually used as a substitute for starch, which lowers the gluten ratio in a flour-based recipe. Lower gluten means your cookies won't be tough and will instead be tender. Instant pudding is an ingredient that is fairly common in most homes, so it is sometimes used as a substitute for cornstarch. It has the added bonus of having additional sweetness and flavor.
1 teaspoon of gelatine gives them a really nice texture and chew.

Kelly W.
To use gelatin, you first need to hydrate or "bloom" it in cold water, then add it to your recipe. If you just sprinkle a packet straight into your mixture, it will clump and remain grainy. You can learn more about the process here.
Add-Ons to Improve Your Flavors
Add a little canned pumpkin! It makes them so fluffy and can't taste the pumpkin.

Michelle Q.R.
Pumpkin purée acts as a sweetener, a creamy moisturizer, and a fat substitute in baking. It doesn't adjust much to the flavor, but it can give your cookies a more pleasing texture.
Add a cup of shredded coconut.

Dave A.
Shredded coconut adds a robust, nutty flavor to your cookies. Sweetened coconut is generally used in sweet recipes.
A little grated orange zest.

Wendy G.
Orange and chocolate are a match made in heaven. The orange gives your cookies a little extra "zing." Pro Tip: With your fingers, meld the orange zest into the sugar before adding it to the dough. This will help incorporate the flavor throughout the cookies.
Regular plain bacon with no other flavors in it. Dice it up and put some in. The salt works with the chocolate chips somehow.

Michele B.
It's official, Michele B. is everyone's friend now with this amazing suggestion. In fact, she inspired me to play around in the kitchen. Check out the bacon chocolate chip cookies recipe I created. It has the bittersweet chocolate the boyfriend loves and the bacon takes them to the next level!
Jump to Recipe
Chocolate Chip Cookie Baking Tips
How to Handle the Dough
Rest the dough at least 30 minutes before baking.

Amy S.
The primary reason for a brief resting period is to distribute the liquids in the recipe throughout the chocolate chip cookie dough. While the dough sits it turns from loose and soft to more scoopable.
Put the dough in the fridge for a few hours before you cook and you will get perfect circles.

Irene C.
Chilling cookie dough before baking solidifies the fat in the cookies. As the cookies bake, the fat in the chilled cookie dough takes longer to melt than room-temperature fat. The longer the fat remains solid, the less the cookies will spread.
Cookie Sheets & Time
Use a silver cookie sheet.

Barbara D.
Light-colored cookie sheets bake more evenly and reduce browning on the bottom of your cookies. This might be a good time to discuss that cookie sheets are not the same thing as baking sheets. Baking sheets are also called jelly roll pans and they have 1/2″ sides all the way around. Although you can use baking sheets for your cookies, actual cookie sheets allow for more airflow around the cookies resulting in a more even bake.
Don't overbake. Cookies will continue to bake a bit after taking out of the oven.

Frances C.
People often wait for the center of their chocolate chip cookies to set. That leads to overbaking. Once the cookies' edges are a little bit browned and set, it's time to take them out. Let them stay on the sheet for at least 5 minutes to let the bottoms continue baking gently. This will ensure the bottom of the cookie releases and it's also the perfect technique to get soft and chewy (but not raw!) cookies.
Cool your cookie sheets between batches.

Sandra S.
If you put that cookie dough on a hot baking sheet, the butter begins to melt prematurely, which wrecks its even distribution in your recipe. The bottom and edges of your cookies will begin to spread, leaving the center of your cookies undercooked.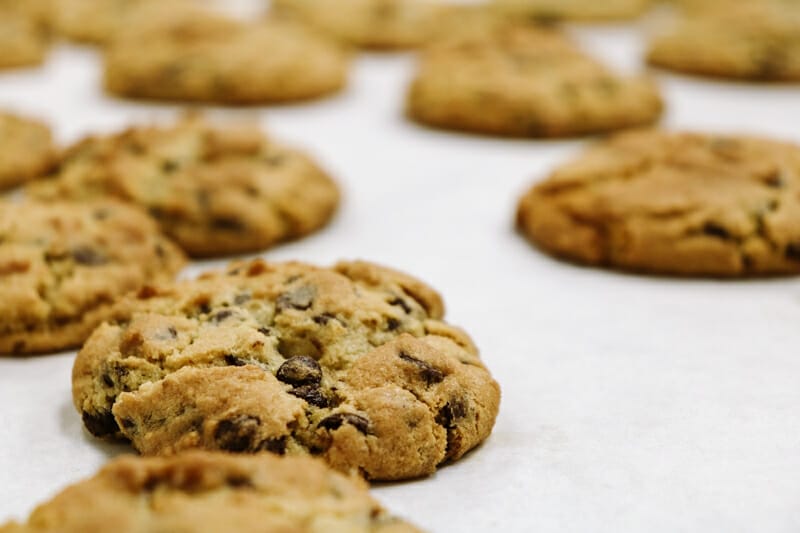 Storage Tips
Post-Baking: Keep a piece of white bread in the storage container to keep them chewy. Be aware though, people will try to eat the bread ? DO NOT EAT THE BREAD!

Jessica B.
Why does this work? The cookies will absorb moisture from the bread, which keeps them nice and soft.
My Newest Chocolate Chip Cookie Creations
Thanks for the inspiration, Michele B.!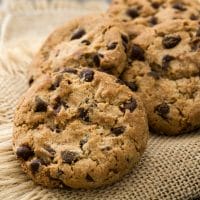 Jessica's Heavenly Bacon Chocolate Chip Cookies
Take your tastebuds on an adventure with this amazing sweet and salty chocolate chip and bacon cookie recipe.
Print Recipe
Instructions
Preheat the oven to 350°F. While it's heating up, cook bacon to crisp.

In a medium size bowl, stir together the flour, baking soda, vanilla pudding mix, and salt with a whisk.

2 c. All Purpose Flour,

2 tsp. Dry Vanilla Pudding Mix,

1 tsp. Baking Soda,

1/2 tsp. Salt

In a large bowl, cream the butter, bacon grease, and both sugars with a hand mixer or a stand mixer. Add the room-temperature eggs and vanilla extract. Mix until well combined.

1 c. Butter,

1/4 c. Bacon Grease,

1/2 c. Granulated Sugar,

3/4 c. Brown Sugar,

2 large Eggs,

2 tsp. Vanilla Extract

Gradually stir the flour mixture into the creamed butter until just combined. I recommend stirring in the flour by hand with a wooden spoon and being careful not to over-mix.

Gently fold in the chopped bacon and chocolate chips. Allow the dough to chill in the fridge for at least an hour or in the freezer for 15 minutes.

6 slices Regular Bacon,

2 c. Bittersweet Chocolate Chips

Form chilled dough into balls and squish them down just a bit on the pan. I like to use a cookie scoop that holds about 2 tablespoons. It was totally worth buying. If you use a cookie scoop or small ice cream scoop, don't round off the dough. Make sure it's smooth and flat on the bottom. Place the cookie dough balls onto a parchment paper-lined baking sheet spaced 2″ apart. Do not crowd them!

Bake for 8-10 minutes until the edges of the cookies are just slightly browned.

Allow the cookies to sit on the baking sheet for 5 minutes and then move them to wire racks to cool completely.
Nutrition
Calories:
297
kcal
|
Carbohydrates:
28
g
|
Protein:
4
g
|
Fat:
19
g
|
Saturated Fat:
12
g
|
Polyunsaturated Fat:
1
g
|
Monounsaturated Fat:
5
g
|
Trans Fat:
0.3
g
|
Cholesterol:
44
mg
|
Sodium:
245
mg
|
Potassium:
142
mg
|
Fiber:
1
g
|
Sugar:
16
g
|
Vitamin A:
264
IU
|
Vitamin C:
0.1
mg
|
Calcium:
58
mg
|
Iron:
1
mg
If you need more cookie-cooking help, be sure to check out 8 Tips & Tricks for Extraordinary Cookies.