How to Make an Adorable Turkey Handprint T-Shirt with Your Kids
This fall, make this adorable turkey handprint craft with your kids. Plus, a bonus poem to save your child's handprint for years to come.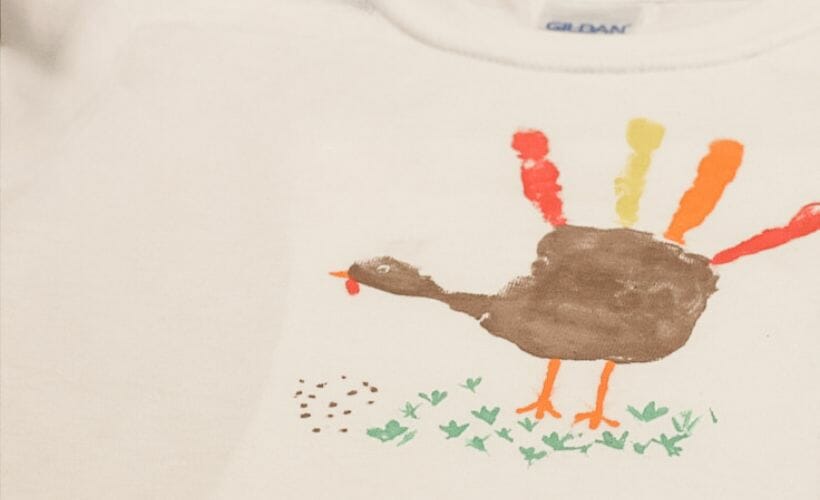 T-shirt painting is super fun and super easy, especially when you have little ones. It's a great way to make something with them and for them, that is one of a kind. Today, we're going to make a turkey handprint t-shirt for your little one to wear for Thanksgiving. Then scroll down for more handprint turkey crafts and a printable freebie.
This fun Thanksgiving craft also makes a great keepsake or gift for family and loved ones.
How to Make a Turkey T-Shirt
Supplies
White T-Shirt
Acrylic Craft Paint (in brown, black, white, yellow, red, and orange)
Fabric Medium
Freezer Paper
Paint Brushes or Small Sponges
Toothpicks
Amazon has fabric medium and they have craft paints for less than $3 each.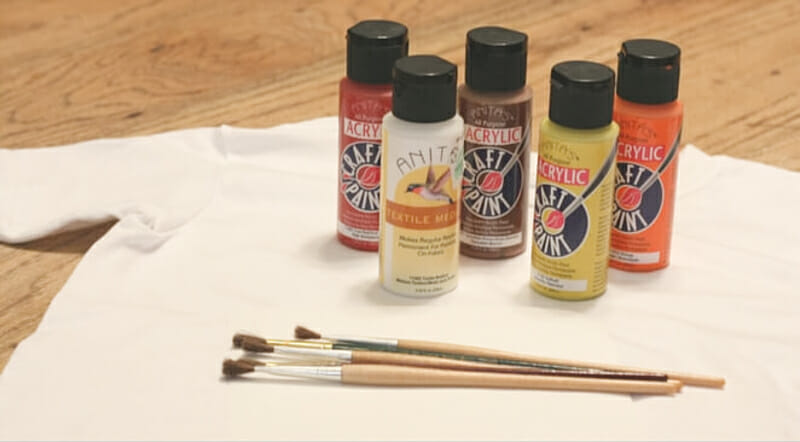 Here is a tip for working with little ones – your craft isn't going to be perfect and that is great. That being said, I like to do one or two practice hand prints on plain paper so I can explain to my child what we're trying to do. No frustration allowed, this is a fun craft.
Instructions
Cut some freezer paper and put it inside the shirt – shiny side up (this is important). Mix each color of paint with some fabric medium. I usually use a glass plate or pie pan as the paint washes right off, but you can use a disposable plate if you want.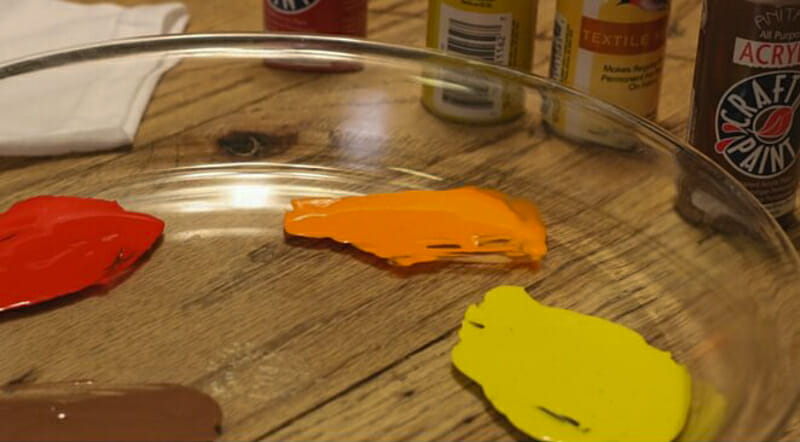 Paint the brown on the child's palm and thumb and paint each finger a different color. I chose to use red twice, you can do yours however you want to. Press the child's handprint onto the t-shirt.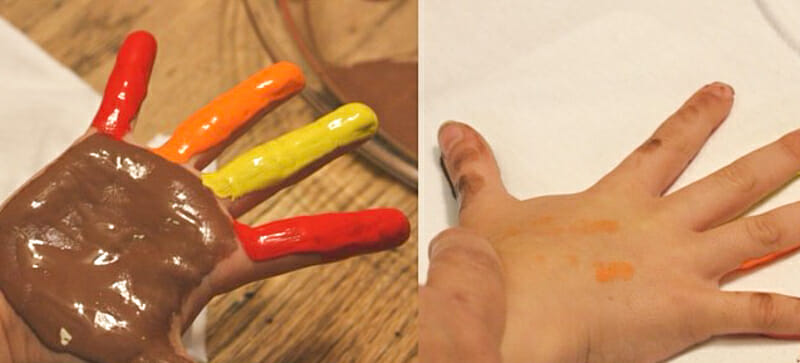 Lift the child's hand carefully and this is what you have…a multi-colored handprint. The brown paint on the thumb and palm represents the turkey's body and head. The fingers represent the turkey's feathers.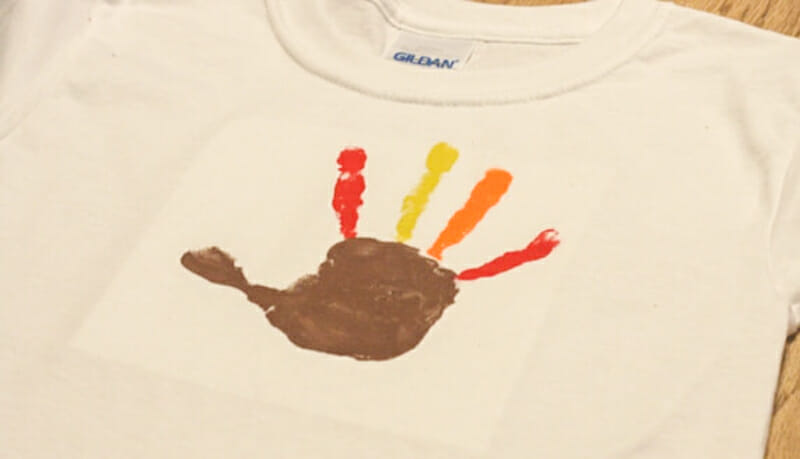 Add legs, a beak, an eye, and a wattle to make the handprint a turkey. My daughter wanted to add grass and seeds for her turkey to eat. So, we used a toothpick to do that. She's 5 and pretty careful (for a 5-year-old) so I dipped the toothpick in the paint and we did a few grass tufts together. Then I let her do it by herself, reminding her that more is not always better 😉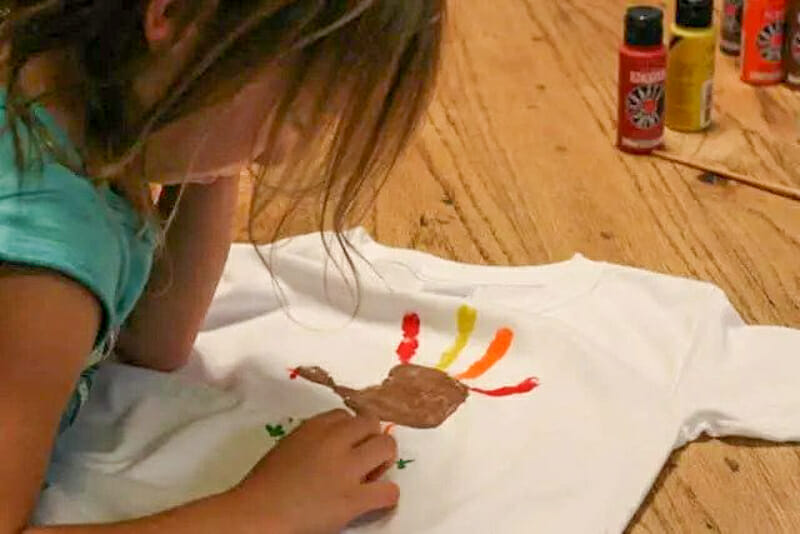 Let dry for several hours. The paint will be fully cured in 24 hours. Remove the freezer paper and show it off.
Note from Jessica: I made these last year with my kids and all three (ages 3, 9, and 14) had a great time. This is a fun project for kids of all ages. My preschooler insisted on adding googly eyes to his.
Other Handprint Turkey Crafts
While you already have your hands covered in paint, why not try out a few of these other crafts?
Handprint Tree of Thanks Gratitude Craft for Kids by Fun Handprint Art
Construction Paper & Feather Turkey Handprint by The Best Ideas for Kids
Clothespin Turkeys by iHeart Crafty Things
Candy Corn Turkeys by Frogs, Snails, and Puppy Dog Tails
Thankful Paper Plate Turkey Craft by Sunshine & Summer Breeze
Traced Hand Thanksgiving Coloring Cards by Fun Handprint Art
Turkey Headband Craft by Simply Today Life
Construction Paper Turkey Feathers with Handprints by Mama Smiles
Bonus Thanksgiving Poem
After finishing your t-shirt, place your child's painted hand in the space provided in the turkey poem below.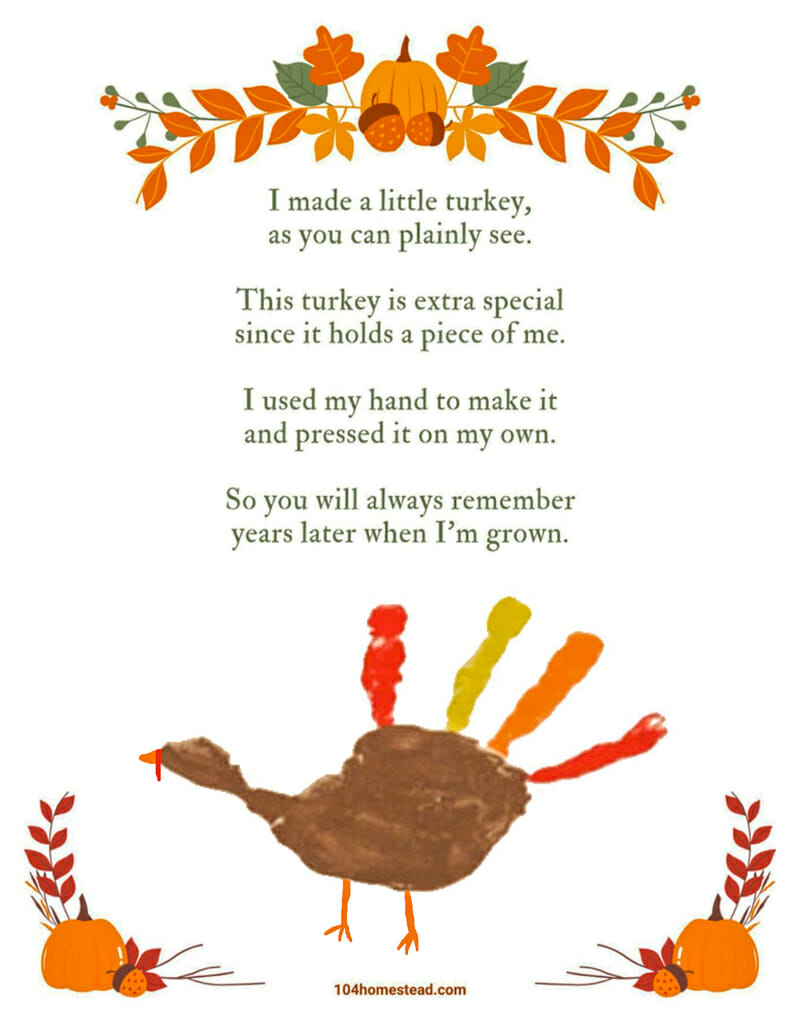 Click the image above to download your free turkey handprint poem and simply print it on a piece of white paper or some cardstock.
Get more crafting and DIY project ideas here.