Your Guide to Healthy Houseplants
My strength is not in houseplants, but as I mentioned before, growing indoors is something everyone should do. I do much better with my outdoor gardens (maybe because nature is there to prevent my neglect). If you've read 7 Tips to Home & Garden Show Success, you'll know that I have killed more houseplants than I care to admit to. I am, however, always improving. These five tips have helped me keep my plants happy and healthy.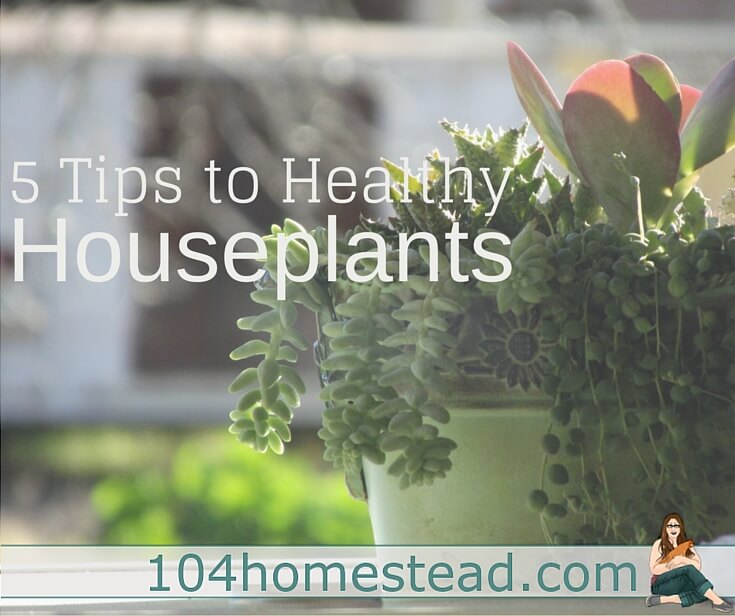 1. Don't Over Water
Sadly, this is the number one killer of all houseplants. In our desire to have happy healthy plants, we tend to be a little heavy-handed with the water. Don't feel bad. You're heart was in the right place and we've all done it.
It's a little-known fact that plants take in air through their roots. When they sit in a constant soggy state, they drown. Instead of drowning your beloved plant, wait until the top 1″ of the soil is dry before watering. When you do water, pour slowly and stop when the water begins to trickle through the drain holes in the bottom of the pot. Your pots do have drain holes, right?
2. Drain, Drain, Drain!
Have you ever seen that white buildup on your pots? It's salt build-up and it's usually most visible on terracotta pots. Don't think that just because you don't see it, it isn't happening. With ceramic and glass the salts wont leach through, but they are still there.
Salt build-up is also related to watering. If you don't water the soil from top to bottom then the salt levels will increase. There is a reason your fern doesn't live in the ocean, plants don't like high levels of salt. By watering as suggested above, you will flush the salts out when you water. Self-watering plant pots seem like a good thing for brown thumb indoor gardeners like myself, but they do more harm than good.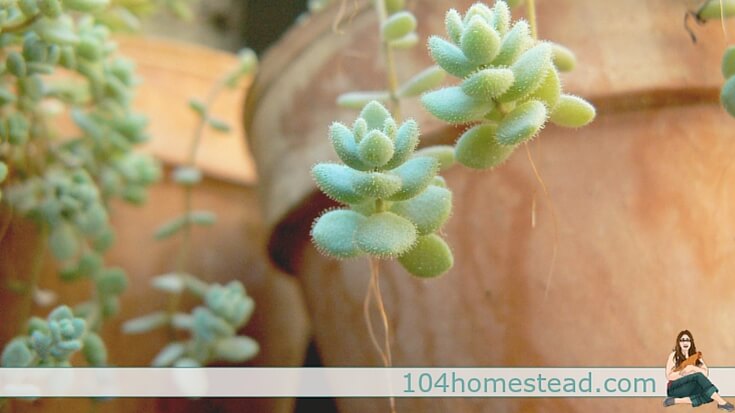 3. Understand Humidity
Much like low humidity dries out our skin, the leaves of your plant can suffer dryness in low humidity. You'll know you have a humidity issue when the tips of the leaves start browning and getting crispy. Humidity is an easy problem to fix. You can either place your pot and drip tray in a platter of water (so the plant is not sitting in the water but is instead surrounded by water) or you can mist your plant daily.
I've found that my plants appreciate a tropical vacation to the bathroom during shower night from time to time. The steam from the shower perks even the saddest plant up.
4. Understand Pest Problems
Not sure if you've got a pest problem? Look for discolored or curled leaves and plants that look limp despite watering. You don't have to be an entomologist (bug person), but you should know the most common houseplant pests:
5. Prevent Pot Bound Plants
Growing Herbs Indoors
I have several run-of-the-mill houseplants, such as jade, spider plants, aloe, but my favorite indoor plants are herbs. Lemongrass is by far the easiest because you don't have to worry about over watering. It grows in water. Chives, mint, oregano, and parsley are great indoor herbs as well. They are fairly tolerant of neglect and you can find a lot of use for them in the kitchen. Thyme and rosemary are also nice additions, but they can be more difficult to grow indoors. I haven't had success with rosemary indoors or out, but my mom has pulled it off, so I know it's possible.
Hopefully with these tips you will be well on your way to happy, healthy houseplants.