If I Can Do It, So Can You: Jessica's Homestead
"Homesteading to me means providing for my family instead of relying on mass distribution – be it the foods we eat or the products we use." -Jessica
Homesteader Profile: Jessica is a married mother of three. She is a writer (The 104 Homestead) and stay-at-home mom. Jessica lives on 1/4 acre in Maine. She maintains approximately 850 square feet of gardens (growing zone 5B).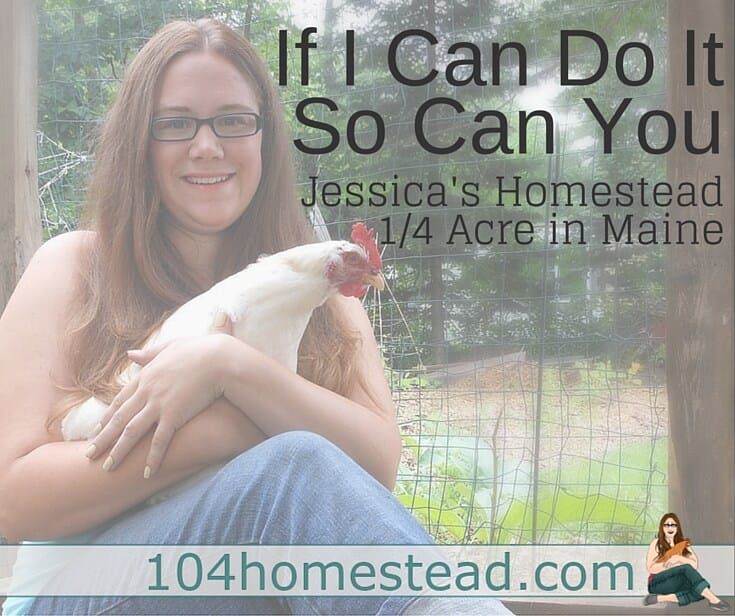 Jessica's Homesteading Journey
I had been interested in DIY and frugality for a very long time. I had gotten into gardening when I purchased my first home. What drove me from a hobby to a lifestyle was a book I read called Mini Farming: Self-Sufficiency on 1/4 Acre. The author showed me that I could do so much with the land I have. What I considered a small property was actually loaded with possibilities. The only thing I had to contend with was land restrictions and neighbors because my home is right in town.
In addition to my gardens (which I am always adding to), I also have a small crab apple tree that allows me to make apple butter and jellies. I hope to add more fruit trees along my property line because they are both attractive and functional. Keeping things aesthetically pleasing is important when you live right in town with close neighbors. I try to landscape with the foods we grow. I train sugar snap peas on the mailbox and sneak herbs into my perennial beds out in front of the house.
On my small homestead I raise a variety of poultry. My current flock consists of two Swedish Blue ducks (a hen and a drake), nine adult hens of various breeds (I love a colorful egg basket), one small chick who hatched out this winter, and nineteen eggs in the incubator. My plan is to add another duck or two as well as Coturnix Quail this summer. I'm very excited about getting into quail breeding. The eggs from our birds more than covers the needs of our family.
I run a little roadside farm stand that I have open from spring to fall. In it, I sell excess produce from the gardens and any extra eggs we have. It is run on the honor system and I have yet (knock on wood) to be ripped off. I sell eggs year-round to my most loyal customers. This year I am partnering with my local health food store to sell some of my surplus eggs and produce. I am always looking for new ways for our homestead to pay for itself. As it stands, our egg sales cover the cost of the chickens and our produce sales cover the cost of seeds.
Many changes have been made inside my home as well (beyond the occasional chicken in the kitchen). I try to line dry all of our laundry, even in the middle of the winter. I also stock our home with natural DIY cleaners and daily use products that I make from scratch. We have learned to reduce waste by using unpaper towels and recycling or re-purposing what we use to consider trash. Nothing goes in the trash can until it has been used to the best of its ability. Many things that use to be thrown away are now composted. We have our compost bin in with our chickens, so they break down things quickly to make beautiful, rich compost for the gardens.
Possibly the biggest change in our home is the interaction with our children. I have discovered that there are endless opportunities to educate our children in simple living, self-sufficiency and those great "old-fashioned" skills. My hope is that some day they'll pass this wisdom on to their own children.
Jessica's Advice for Urban Homesteaders
My biggest piece of advice would have to be, you can do whatever you set your mind on. You might not be able to do things the traditional way. Urban homesteading requires a bit of creativity, but it's completely worth the effort and planning.