I don't know about you, but I love the taste of sourdough. The crisp crust with tangy interior. Yum! I still haven't managed to master making sourdough breads, but these fabulous recipes certainly have me inspired to try a bit harder. Maybe dealing with starter isn't as difficult as I thought. It certainly seems worth the effort (as so many good things are).
Getting Started with Sourdough
Picky to Plenty shows how to make bread that isn't a brick.
One Ash Farm & Dairy Homestead is keeping it real about the struggles of making sourdough.
The Farmer's Lamp gives us a simple and easy way to make a starter for the bread.
Homesteading on Grace also shares her technique for doing sourdough.
Finally, Simple Life Mom lets us in on the various benefits of consuming sourdough. Healthy reasons to eat bread? Oh, I'm won over!
Simply Sourdough Recipes
Cheesy Garlic Crackers
These crackers are described as tasting like garlic cheesy bread in a cracker. Recipe by Common Sense Homesteading Also worth checking out are these Pizza Flavored Whole Wheat Crackers.
Ultimate Cornbread Muffins
If you have any sourdough starter sitting around feeling neglected next week, here is unique recipe you can use to make the Ultimate Sourdough Cornbread Muffins for your dinner. Recipe by Homestead Chronicles
Pancakes
Think outside the sourdough box with these yummy-sounding sourdough pancakes. There are a variety of ways to sweeten them, including using honey or maple syrup. Recipe by Simple Life Mom
Pizza Crust
I will admit, I love pizza. There are so many things you can do with it. Thin crust, thick crust. White sauce, tomato sauce. Meat, veggie. This sourdough pizza crust is by far my favorite crust, but it will take most of the day to rise. The result is a crust with great flavor and texture. Recipe by The Not-so-Modern Housewife
Breakfast Pitas
If you're new to naturally leavened breads and are just making friends with your sourdough starter, these easy breakfast pitas are a great place to begin. Pitas are pleasing and tasty even if they flop. Recipe by Homestead Lady
Breakfast Cake
For your first forays into using sourdough, start with sweets. They're generally pleasing to the taste buds, and no one is too disappointed if your efforts don't turn out exactly the way you planned. Here is a simple sourdough breakfast cake made with wholesome ingredients. Recipe found on Hobby Farms
Flax Seed & Oatmeal Bread
When this comes out of the oven there is such a wonderful aroma that fills the kitchen. Then within minutes the song of bread begins as the crust is contracting and cooling making that wonderful crackling sound. I make believe my breads are on stage with Pavarotti singing a Puccini opera arrangement that concludes with a standing ovation that lasts for 15 minutes. Recipe by House of Bakes
Biscuits
I know this is not a real sour dough recipe. But it tastes real. There's no starter to keep up with so you don't have to feel guilty about letting it go bad. Or feel like you have to make it because you have the starter. So maybe we should call this "guilt free sour dough biscuits"? Recipe by SchneiderPeeps
Black Bean Chipotle Bread
Bread tends to dilute the flavors somehow, on top of that some ingredients may not play well with flour and yeast in the dough. This one is a winner though. Black bean really adds great flavor, as well as makes the crumb very moist. The amount of chipotle pepper and other spices are just right, noticable but not overwhelming. Recipe by The Fresh Loaf
Sugar-Free Breakfast Cookies
Sugar free cookies for breakfast? They're also egg and fat free, fyi. Perfect for when you're in a hurry. Oh, oh – I almost forgot – they're also naturally fermented (sourdoughed) beforehand to make them super easy on your tummy and extra good for you. Recipe by Homestead Lady
Soft Pretzels
So soft… so fresh… so delicious and thankfully, so easy. They do take a while to make but are really pretty simple (just some waiting around for stuff to rise and such). Give 'em a try and let me know what you think. Recipe by Five Little Homesteaders
Emma's Chocolate Chip Muffins
Our Farm Kid-Emma is such a great baker. She just loves to cook and is getting quite good at it. It makes this momma's heart smile to see her learning and succeeding at something she loves to do! She has dubbed Monday mornings as "Muffin Mondays". She makes some of the most delicious muffins ever! Recipe by The Flip Flop Barnyard
Bagels
After many attempts at making bagels, I finally found a great whole wheat-yeast recipe from my friend Gina. But then my sourdough started taking off and I found I was making most of our bread with my sourdough starter. Recipe by An Oregon Cottage
No Knead Bread
Not only is it wonderfully tasty and sour, but it is really easy to make. I'm sure you've heard of the no knead bread craze, but it has changed my world in bread making! Not only is it easier, but it makes some of the best bread I've ever had. Recipe by Grow Forage Cook Ferment
Brownies
Think sourdough is just for bread? Think again. These amazing sourdough brownies are based on the "Impossible Brownie Pie" recipe in GNOWFGLINS Sourdough A to Z e-book. Recipe by Common Sense Homesteading
Italian Sun-dried Tomato Ciabatta
This is a great tasting bread with so many possibilities. I like to just eat it with butter, but it's also great with a grilled chicken breast and melted provolone. It would also be great with some cranberry sauce and leftover turkey breast. Recipe by The Not-so-Modern Housewife
Zucchini-Blueberry Quick Bread
The green goodness of zucchini, an itch for sweet blueberry muffins, and the joy of sourdough went out on a date last night after putting the kids to bed. This is the awesomeness that was born of their rendezvous. Recipe by They're Not Our Goats
Easy Pancakes
I can pretty much confirm that sourdough pancakes are the closest I will ever come to heaven until God calls me home, baby! They are seriously that good. Recipe by The Easy Homestead
English Muffins
My new favorite way to use sourdough starter is by making english muffins. Enjoy them while they're hot! Honestly, one of the most delicious things I've had recently. You will NOT be disappointed. Recipe by Five Little Homesteaders
No Knead Pizza
If you have no other reason to make your own sourdough starter, I'm telling you now, this is it! This pizza has changed my life, and I know it will change yours as well. I promise! I'm not going to say that making this no knead sourdough pizza is as easy as ordering out from your local pizzeria, but I really think that you'll be surprised by how easy it is. Recipe by Grow Forage Cook Ferment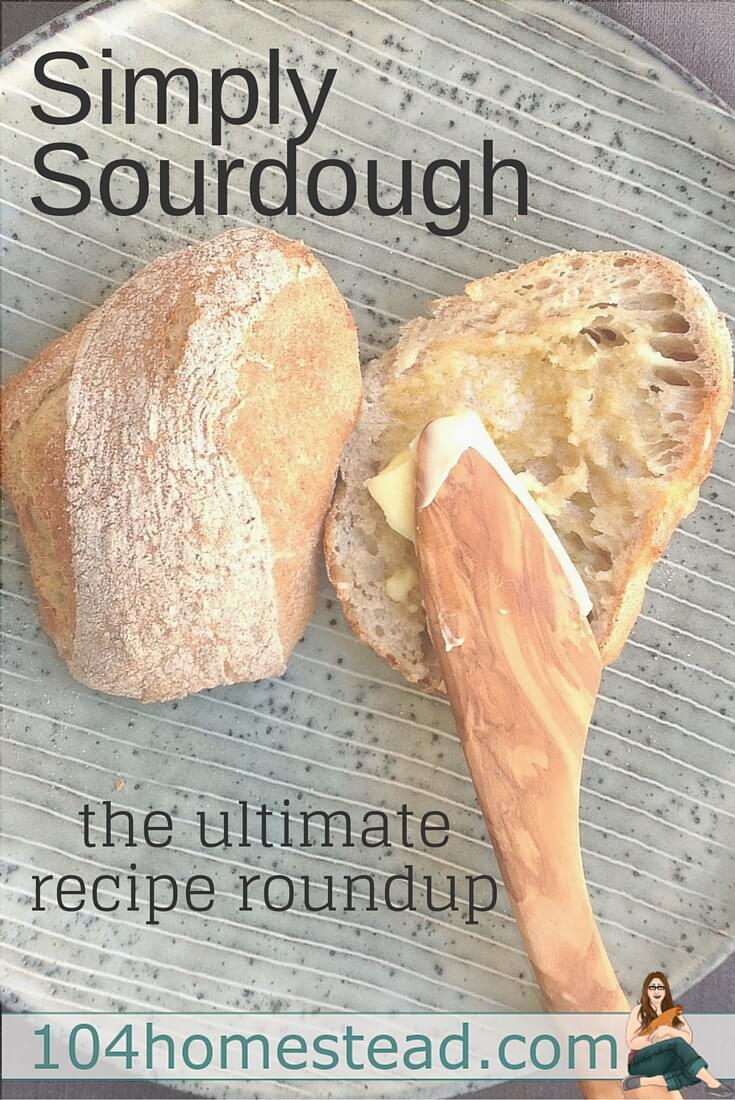 The following two tabs change content below.
I am a non-traditional homesteader. What is a non-traditional homesteader? I'd like to think we are the people who don't fit the mold; figuring out how to live the life they want. A homesteader's life.
Latest posts by Jessica Knowles (see all)