For those who are unaware of the term mama cloth, it refers to reusable menstrual pads made of fabric. Many women choose mama cloth because it is free from harsh chemicals and more comfortable to wear. In December of 2014, the Food & Drug Association decided to enforce registration of these items, even those made by work at home moms if they intended to sell them.
This registration costs the maker thousands of dollars each year. While those prices may be a drop in the bucket for large manufacturing companies, the small mom and pops can't afford the price tag and are being forced to stop making mama cloth. Since most women purchase their mama cloth from small mom and pop stores or WAHMs, they are angry. They have every right to be.
Dear FDA,
There has been a lot of talk about you on the internet lately. Your enforcement of the regulation stating that menstrual cloths are a medical device really has a lot of ladies with their panties in a twist. You see, you've had this regulation on the books for a while now, updating it to include mama cloth, a reusable menstrual cloth product, back in April of this year. Now all of a sudden you are telling work-at-home-moms to fork over the fees and putting small business owners out of business.
I'm sure you must have a very good reason for your actions. You always do. It must be that you want to protect the users of these products. There must be all sorts of terms that must be met in the name of safety. Oh, you don't? Okay, so they can be made in any fashion with any materials and that's fine. So what is your reason for this regulation? Why do the makers have to pay out almost $4,000 a year to make and sell mama cloth?
In the event of National Crisis we need to be able to locate these devices.
For the record, FDA, we ladies are pretty savvy. If there were a national crisis, I'm sure we could come up with some pretty nifty ways to keep aunt flo at bay. An unregulated tee-shirt would probably do the trick. Or, as we've all had to do at some time in our menstrual lives, toilet paper comes in handy. No one is lining up at the menstrual pad tent when FEMA comes. We tend to be a bit more focused on food and shelter.
Well, maybe you are cracking the whip with all things that could be deemed medical devices. I'm sure you are strictly regulating the manufacturing and sales of things like anesthesiology devices, cardiovascular devices, and surgical devices. These are things that actually go inside out bodies. No? So let me just get this straight: You have absolutely no good reason to be putting hardworking individuals out of work. You have no justification for crushing the little guy. You are so busy regulating things that don't need to be regulated that you don't give a damn about products that should be regulated. Shame on you FDA. Maybe you should just stay out of our underpants.
Signed,
The Ladies
The Regulations for Menstrual Products
I want everyone to take a look at the regulations for these products. Section 5 is especially interesting. To sum it up, they don't tell you what is required. They recommend you tell people what your product consists of and what it will do. You know what I feel is the real kicker here? Small business owners and WAHMs rarely have anything to hide. They tend to be pretty transparent when it comes to materials and engineering of their products. It's the big-name corporations that hide the fact that their tampons contain pyridine (a carcinogen) and their pads contain chloroform (a carcinogen, reproductive toxicant and neurotoxin).
We The People currently has a petition out asking the FDA to lower or eliminate the regulation fees associated with mama cloth. If you are interested in signing, you can do so here.
Items exempt from Medical Device regulations.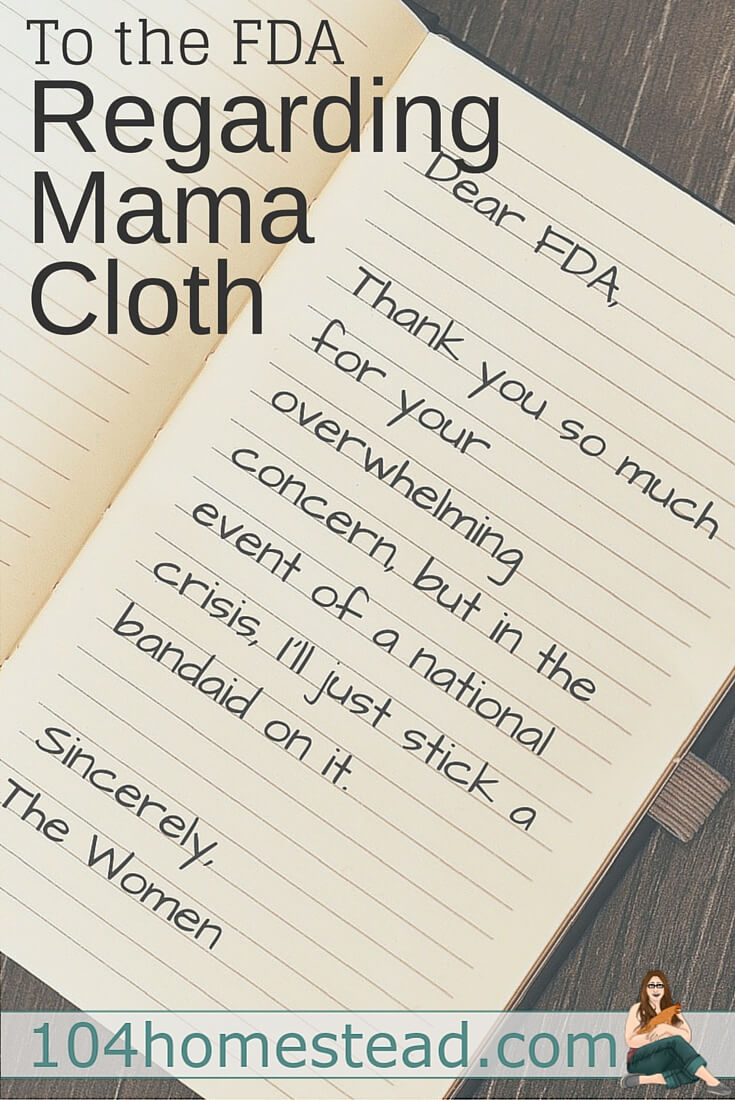 The following two tabs change content below.
I am a non-traditional homesteader. What is a non-traditional homesteader? I'd like to think we are the people who don't fit the mold. I am a busy mom on a small bit of property with not a lot of financial resources, but I am figuring out how to live the life I want. A homesteader's life.
Latest posts by Jessica Lane (see all)