Make a DIY Flea Collar with Essential Oils for Your Dog
Flea collars can be expensive, and the chemicals are gross. So why not make your own DIY flea collar using essential oils?
Estimated reading time: 5 minutes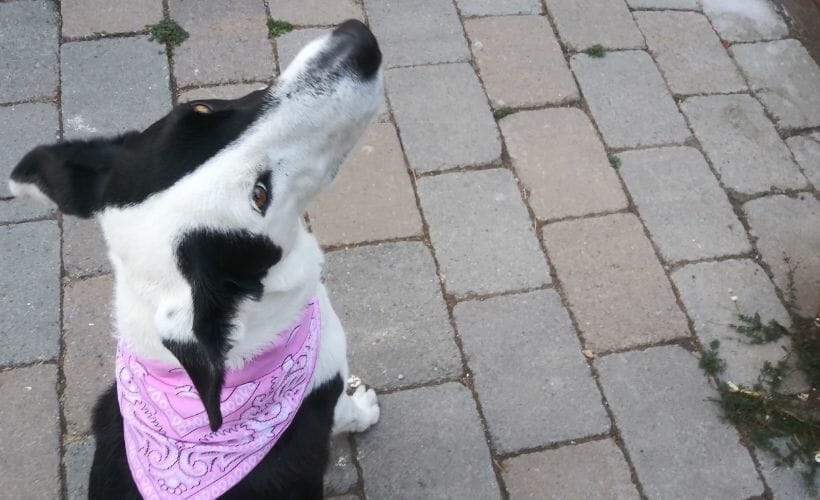 The gross stuff in dog food is bad, and I'm not sure about you, but if the chemicals aren't enough to turn you off of commercial flea remedies, the smell certainly leaves one wanting a better alternative. A great alternative involves using essential oils that repel bugs. Because I prefer not to put essential oils directly on animals, essential oil flea collars are the perfect solution for us. They cost very little to make, and they are pretty too!
Check out this essential oil flea spray for pet beds and furniture. It will keep you bug-free and it smells simply wonderful.
Jump to Tutorial
This post may contain paid links. If you make a purchase through links on my site, I may earn a commission.
What kind of collar can you use?
Making your own flea collar can be an economical and creative option for pet owners looking for a more natural way to keep their furry friends safe from pesky pests. Depending on the fabric type and the essential oils used, flea collars have the potential to be a stylish accessory as well as a safe form of pest prevention.
For the DIYers, various tutorials are available online for making your own essential oil flea collar. You can create a traditional collar by adding a few drops of essential oils to an existing pet collar or make a sophisticated bandana from some scrap fabric and pinking sheers. The best part is you don't need a lot of skill or expensive materials to get started.
I like to use bandanas so our pups can match the seasons and be washed with the regular household laundry as needed. Here are some collar patterns I've used and had success with, in case you want to get a bit fancier:
No matter which style collar you choose to use, cotton is the best material to select. It holds essential oils better than synthetic materials like polyester and nylon. Just keep in mind if you are using yarn, cotton yarn lacks the stretch of acrylic, so adjust the length of the finished product accordingly.
The Flea-Repelling Essential Oils
Many oils repel insects, but when it comes to fleas, two have worked the best for me – rose geranium and lavender. By blending these two together, you can create a pleasant scent that is also an effective flea repellent.
Rose Geranium Essential Oil
Ah, the sweet scent of rose geranium. It's no wonder why this fragrant flower has been an integral part of herbal remedies and even incorporated into cosmetics for centuries. Yet, beyond its known benefits for humans, rose geranium has an added bonus that can prove to be invaluable for pet owners: it can keep the dreaded fleas away.
This is because the tiny pests rely on their powerful sense of smell to detect hosts. If a host smells anything that's out of the ordinary, the fleas will usually stay away. Rose geranium has a strong scent that throws off its receptors, making the host unrecognizable.
Studies have shown that applying a few drops of rose geranium may reduce flea populations by up to 85%. You can purchase Rose Geranium Oil here.
Lavender Essential Oil
Lavender is an all-purpose oil frequently used on our homestead, and it also fits the bill when it comes to our flea collars. Research done by the University of Ohio showed that lavender essential oil not only repels fleas but it interrupts their hatching cycle. Further research has indicated that lavender repels as effectively as DEET when used at a 10-20% dilution.
You can purchase Lavender Essential Oil here, and I recommend buying it in bulk because you'll find hundreds of uses for it.
How to Make Your Essential Oil DIY Flea Collar
Are you ready to see how easy this is? In one hand, hold your collar. In the other, apply 3-5 drops of each oil. That's it! You can put all the drops in one spot or space them out around the collar. I prefer the latter.
Refresh the collar with your essential oil blend whenever the smell dissipates. I usually switch out my dogs' natural flea collars weekly during the summer because they get grubby playing outside with the kids. I rotate between two for each dog, so on Sundays, I take the old bandana off, toss it in the wash and put the second one (fresh with oils) on them.
A Note on Cats
This DIY flea collar is not suitable for cats. Cats have highly sensitive skin and senses of smell. For a DIY cat flea collar, check out this tutorial from Is That Your Cat. She uses lavender oil as well as cedarwood, thyme, and citronella. She also utilizes alcohol and carrier oil to prevent sensitivities.
Flea Spray for Furniture
Do your furniture and pet beds need a little love too? This simple essential oil flea spray recipe is perfect for furniture, pet beds, and even fabric items that need a bit of extra love (not meant to be sprayed on Fido).
Essential Oil Flea Spray
Check out this essential oil flea spray for pet beds and furniture. It will keep you bug-free and it smells simply wonderful.
Print Recipe
Ingredients
½

c.

Distilled Water

¼

c.

Witch Hazel

4

drops

Lemongrass Oil

2

drops

Rose Geranium Oil

2

drops

Lavender Oil
Instructions
Simply put the ingredients in a glass spray bottle.

1/2 c. Distilled Water,

1/4 c. Witch Hazel,

4 drops Lemongrass Oil,

2 drops Rose Geranium Oil,

2 drops Lavender Oil
Notes
Not for use directly on pets.
Does it work on ticks as well?
Yes, it does! Both of the essential oils in this collar work wonders as tick repellents as well. Regardless of your flea and tick remedy, furry friends should always be checked regularly for ticks. The fact of the matter is that no flea and tick product is 100% effective. This is especially true if you've been journeying into the woods.
So instead of grabbing a chemical-laden collar to keep fleas and ticks at bay, try a pleasant-smelling essential oil DIY flea collar and cuddle your pup close. You may also want to try out this homemade dog shampoo.