Yes, my dog is spoiled rotten. I make her shampoo for spa days and I use homemade flea collars on her to spare her nasty chemicals. We even make her food. Sometimes her dinner is fancier than mine. Yes, I get jealous at times, but she's given me 16 years of companionship so she's totally worth it. That's why I like to thank her with homemade dog treats.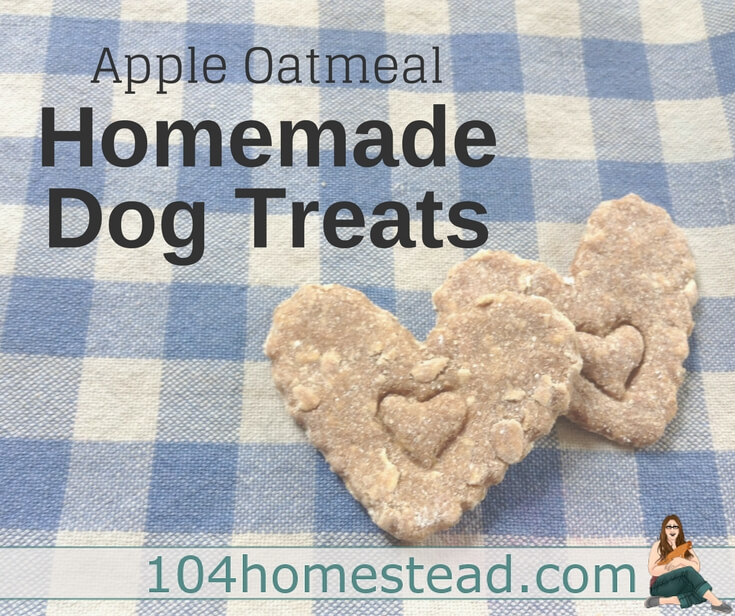 The best thing about homemade dog treats is that you control the ingredients. Even in this recipe, there are ways to adapt the recipe to suit your dog's needs. For example, if your dog has wheat allergies, you can substitute the whole wheat flour with coconut, chickpea, or brown rice flour. Homemade dog treats are also fresher. Because they are made fresh, they don't need to be loaded with preservatives.
Used long term, [artificial preservatives] can add a notable risk of toxicity to any dog food. For example, ethoxyquin is one artificial preservative to watch for on a label. That's because ethoxyquin is not only used as a preservative but also as a pesticide — and as a hardening agent for making synthetic rubber. Ethoxyquin has been under investigation by the FDA as a possible cause for certain liver and blood problems. Yet ethoxyquin is still commonly found in many popular brands of dog food and treats. – Dog Food Advisor
Before You Treat Your Dog
Moderation is important no matter what kind of treats you're feeding. It's also important to know your dog's allergies. When in doubt, talk to your veterinarian before you start making treats for your dog.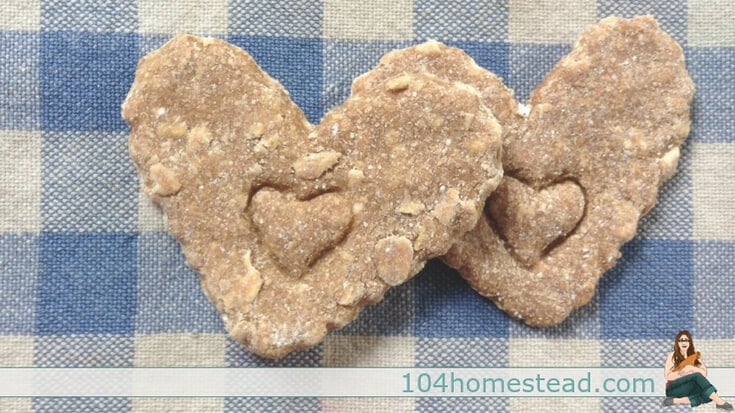 My Apple-Oatmeal Treat Recipe
Ingredients
1-1/2 c. Rolled Oats
1/2 c. Whole Wheat Flour
1/4 c. Water
1 tbsp. Honey
1 Apple
1 Egg
Directions
Peel apples and puree them (or use homemade applesauce)
Mix oats, flour, egg, apple puree, and water together. Stir in honey.
Roll out dough to 1/4″ thick. Cut with cookie cutters or simply cut into bite size pieces with a sharp knife and move to a non-stick pan.
Bake at 350°F for 20 minutes or until cookies are lightly browned on the bottoms.
Homemade treats will last a week or two on the counter. To keep them fresh longer, you can store them in the fridge (for up to 2 month) or the freezer (for up to 8 months). No matter where you choose to store them, be sure they're in an air-tight container.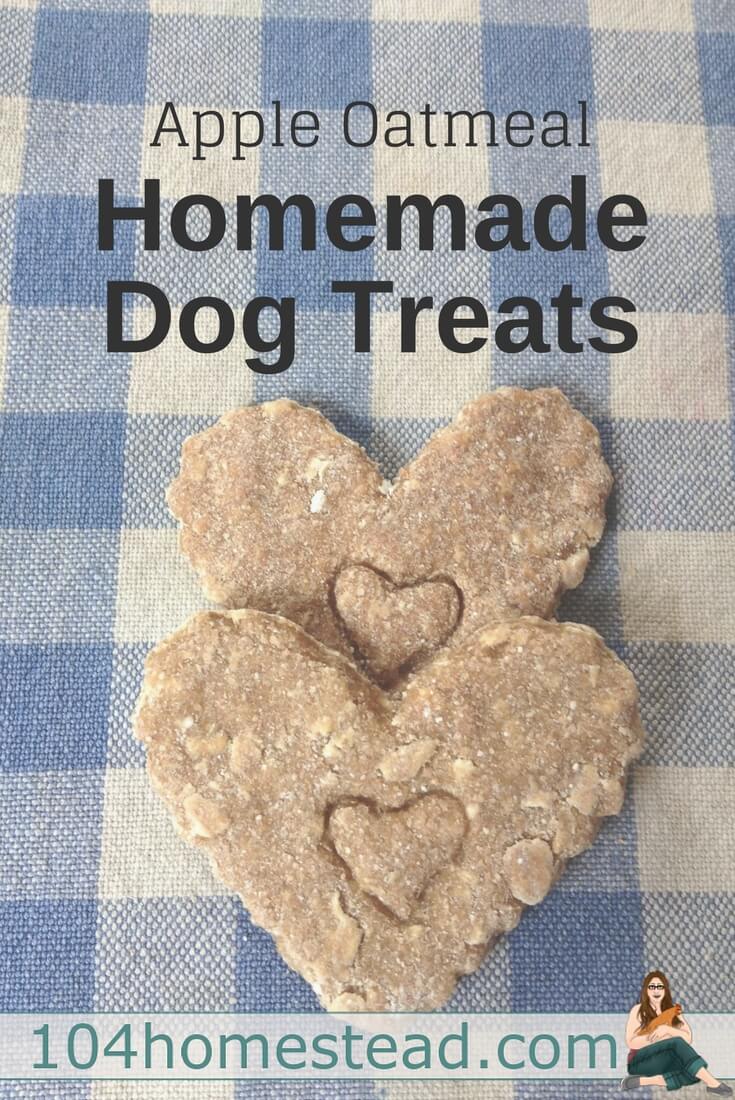 The following two tabs change content below.
I am a non-traditional homesteader. What is a non-traditional homesteader? I'd like to think we are the people who don't fit the mold; figuring out how to live the life they want. A homesteader's life.
Latest posts by Jessica Knowles (see all)