Make Washing Soda with Baking Soda & Heat
Washing soda is great for DIY cleaners, but it's hard to find locally. Did you know you can make your washing soda using baking soda and an oven?
I was all ready to make my homemade cleaners for the month, and I realized I was out of washing soda. I drove out to Wal-Mart (where I am usually lucky enough to find it), and the shelves were empty where the washing soda usually sits. I went back the next week, and they were still out. I tracked down a friendly Wal-Mart associate, and he informed me that they would no longer be carrying the washing soda, but hey, they had plenty of baking soda. Does he realize these two things are not the same?
After checking out stores throughout the county, I realized I may no longer be able to purchase my washing soda locally. Amazon is great, but I hate the wait. Bummer…
To say I was discouraged would be putting it mildly. As a last resort, I checked out this little podunk hardware store near my house. She told me that they didn't have any, but she remembers her nephew making some as part of a science project for school. She couldn't remember the details, but she was pretty sure it was just heated-up baking soda. It can't be that easy. They aren't the same thing, remember?
Washing Soda is Baking Soda?
I rushed home and hopped on my trusty Google search. Lo and behold, all you have to do is heat up baking soda in the oven. It really is the same thing… sort of. I made it, and it actually works. I've cleaned with it, and it actually cleans. Color me surprised! Today, I'm sharing the pearls of wisdom with you:
Heat your oven to 400ºF
Put baking soda onto a cookie sheet or glass pan in a thin layer (no more than 1/4″ deep)
Place the cookie sheet (or two) in the oven and wait for an hour to an hour and a half.
Stir occasionally with a wooden spoon (rubber spatulas will melt – ask me how I know)
Remove when it's finished
Converting Baking Soda into Washing Soda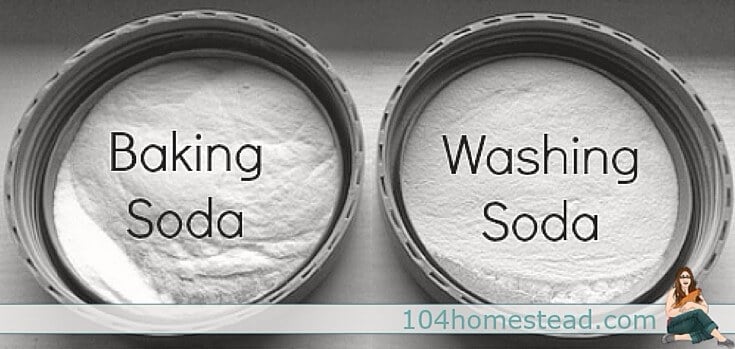 So, how do you know when it's done converting? Just use your eyes. It's subtle, but you can tell the difference. Baking soda is fine and powdery. It also appears a bit shiny. Washing soda is dull and grainy.
When you're done making washing soda, you can use any of your leftover baking soda to clean your stove top and oven.
The Science-y Stuff
For those of you who care about the chemistry, this is for you. For the rest of you, feel free to scroll down and pin the image below to save for later or share with your friends.
When baking soda (sodium bicarbonate) gets heated, it turns into washing soda (sodium carbonate) + Carbon Dioxide + Water.
2NaHCO3 + Heat = Na2CO3 + CO2 + H2O
What is washing soda used for?
Also known as soda ash or soda crystals, it's a solvent used for removing stains. As the name suggests, it's most commonly used for washing laundry. That's not the only use. Here are a few other ideas.
Prairie Homestead has a cheap and easy liquid dish soap recipe that I've fallen for. We use the dishwasher for most of our dishes, but if I forget to run it, I'm stuck hand washing. This works up really fast and only costs pennies.
Root Simple shows you how to scour cotton for dyeing by soaking it with washing soda.
One Good Thing by Jillee has 39 other uses for washing soda if you still need ideas.