Eureka! After scouring the internet and testing recipe after recipe, I have finally created a laundry detergent recipe that I like. It's powerful and I swear it performs better than any commercial laundry detergent I've ever used. The best part? I know how to pronounce everything that goes into it. Being a powder, there is no melting, pouring, setting, or other obnoxious steps. Simply measure, mix, and you're good to go.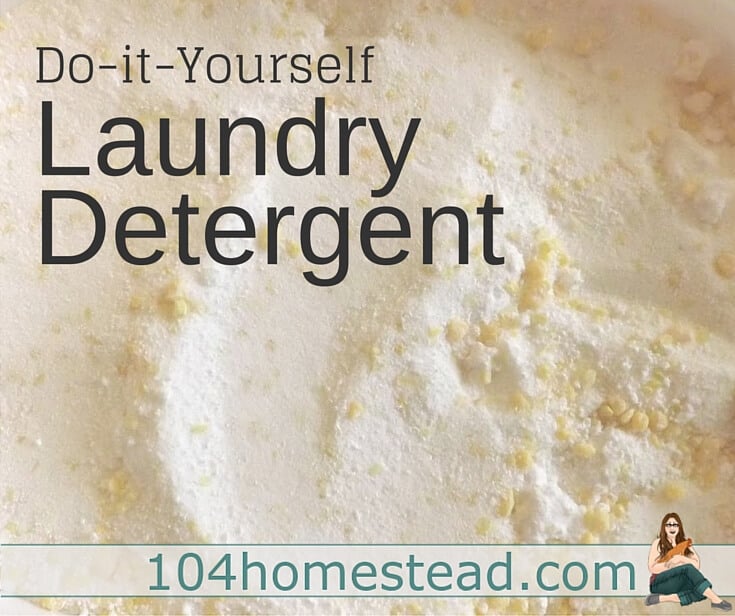 Making My Laundry Detergent Recipe
Ingredients
Some readers have mentioned switching out the Fels-Naptha with homemade soap and having good results. I put it to the test recently and can report that it does work well. I also tried making a batch with my homemade melt and pour soap and it did great as well.
Simply mix it into a container of your choice using 1 part Fels-Naptha, 2 parts borax, and 2 parts washing soda. I find the Fels-Naptha is easy to grate with a vegetable peeler or cheese grater, just make sure it's not going to be used with food again later because your cheese and veggies will taste soapy. Some people prefer to put all of the ingredients in a food processor. Again, make sure it's one you've set aside for crafty purposes only.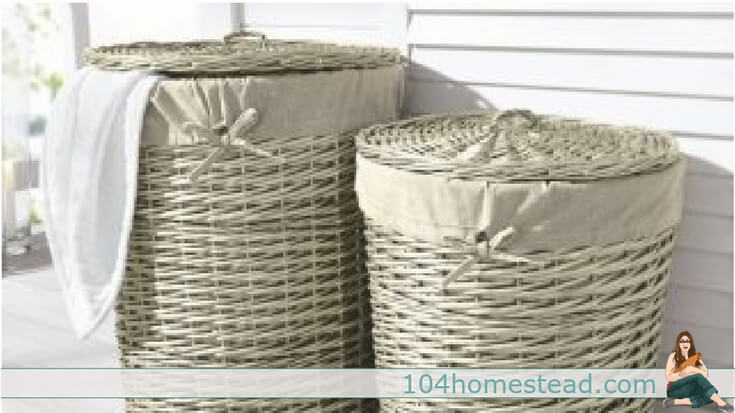 Using This Homemade Laundry Detergent
To use, add 1 tbsp. per medium/light wash load, 2 tbsp. per large/heavily soiled load. This recipe is HE safe using only 1/3-1/2 the above-recommended amount. For front loaders, make sure the soap is finely grated and use the same amount as you would in an HE top loader. Using a whole box of washing soda, a whole box of borax, and three bars of soap makes enough detergent to last my family of five (with two young boys) about six months.
Some other great laundry-related stuff to check out:
This awesome book, The Busy Mom's Guide to Taming the Laundry Monster, is a great resource for getting laundry under control. I hate doing laundry and it often gets out of control. After reading this book, it's a bit more manageable.
The "one size fits all" laundry systems of the past don't really fit "all". What is needed is a system that is as unique as the family. With grace and humor, the author encourages the busy mom to be intentional about her system. – Amazon
The Not-so-Modern Housewife's post on Liquid Laundry Detergent, which is practically the same, but in liquid form.
Can't find washing soda locally? Check out How to Turn Baking Soda Into Washing Soda. Also, make sure you check out our other DIY Cleaning Recipes.
UPDATE I'm not sure how long this has been available on Amazon, or how long it will last, but they now offer a Laundry Soap Kit that has all these ingredients.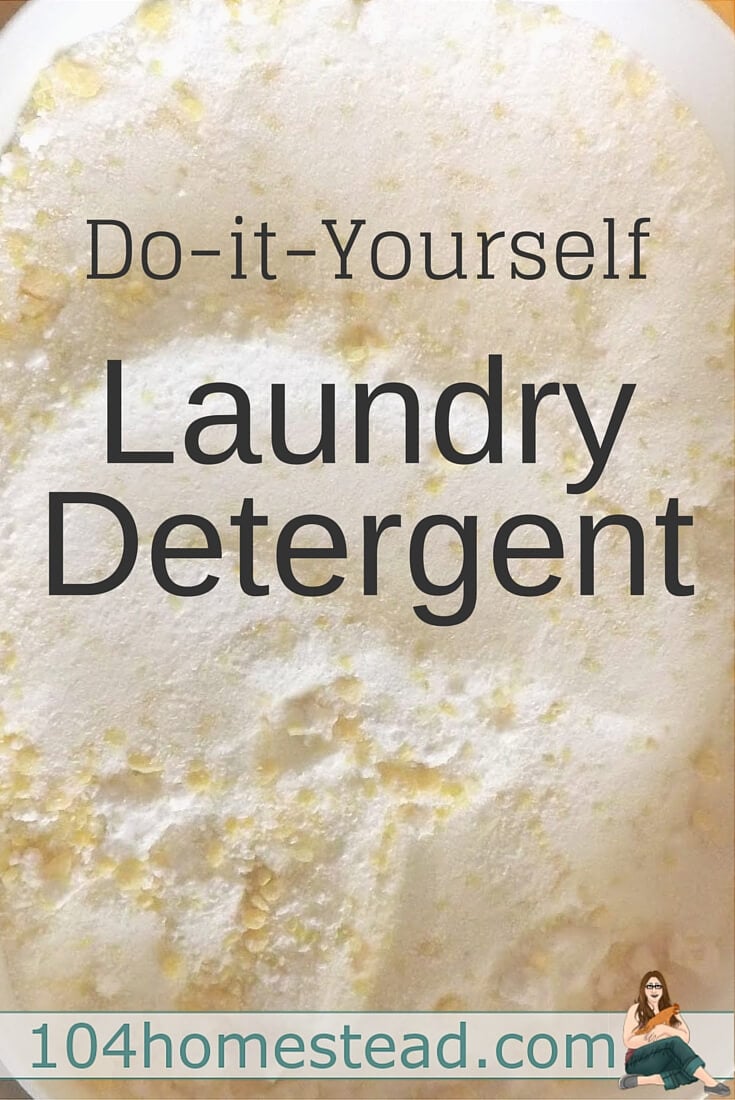 For more DIYs and simple living advice, subscribe to The Homestead Helper, the newsletter that will teach you how to homestead where you live.
The following two tabs change content below.
I am a non-traditional homesteader. What is a non-traditional homesteader? I'd like to think we are the people who don't fit the mold. I am a busy mom on a small bit of property with not a lot of financial resources, but I am figuring out how to live the life I want. A homesteader's life.
Latest posts by Jessica Lane (see all)