6 Funny Facts About Quail
Keeping quail is an experience that I believe every homesteader should enjoy. If it's not for all these reasons, or even these delicious quail egg recipes, it's because they are so darn funny. I did a lot of research before I got Coturnix quail. I knew how many females I needed for each male. I knew how to incubate them and brood them. I had the right setup prepared and the right foods on hand. I thought I was ready. That was before they arrived. Many things the quail do will scare the bejeezus out of you when they first do it. That's why I felt it was my duty to give you a heads up with these funny facts about quail.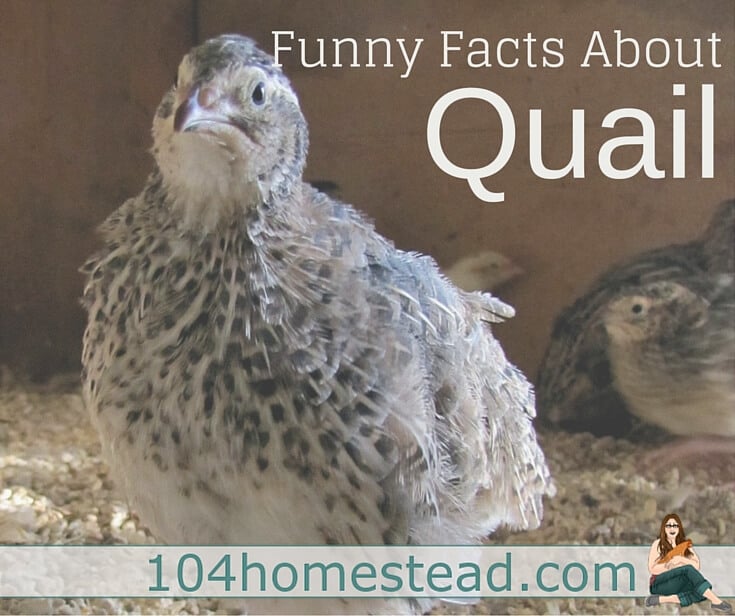 Funny Fact #1 – They Look Dead When They Sleep
It starts from the day they hatch. They splay out like a puppy, usually on their bellies, but sometimes on their sides or back. The first time I looked in the brooder and saw it, I thought the heat lamp had cooked them all. When I opened the lid to check them, they all popped up like little kernels of popcorn. Even as adults, they continue to do this.
Funny Fact #2 – They Cry When You Leave
Never have you heard such a woeful sound. After visiting the brooder or giving out treats the the grownups, they will cry upon your departure. It's a sad mewing sort of sound. Often it starts with one, but others will join in. Before you know it, there is a whole flock of crying quail.
Funny Fact #3 – They Walk Backwards to Poop
One evening while collecting the final eggs for the day, I discovered one of my quail walking backwards all over the run. I figured he sustained some sort of head trauma or was under attack from some weird virus. After frantically searching online, I discovered he was just constipated. The quick backwards shuffle you see from time to time is the quail eliminating. I'm not sure why, but it is what it is.
Funny Fact #4 – They Are Acrobats
A favorite activity of all my children is feeding the quail goodies from the garden. They hold them up to the top of the run and the quail will hop up to get the treat. The will also scale up and down their log at an astounding pace.
See my son feeding treats to our hopping quail on Instagram.
Funny Fact #5 – Eggs Just Pop Right Out of Them
Chickens have an egg laying process. They find the perfect nest, arrange it to suit their preferences, and sit there anywhere from 20 minutes to more than an hour. Ducks have a routine as well. The find the perfect place that you will never look, create a small hole, and sit for about 15 minutes before burying it (again, to keep you always wondering where the heck the eggs are). Quail just pop out eggs as they walk along. My quail's favorite location is in the dusting bowl while they dust themselves. They don't even try. They sit there flinging dirt all over the place and when they get up – plop – there's an egg. No need to build a nest box for these guys.
Funny Fact #6 – The Roosters Always Surprise Themselves
When young male birds first crow, they almost seem surprised by this newly acquired ability. With quail, this surprise never goes away. My males who have been crowing for more than a year are still taken aback every time they do it. I'm not sure how to describe what a surprised quail looks like, but trust me, you'll know it when you see it. Every time one of the males crows, I instantly think of Steve Urkel. Did I do that?
Hopefully this eases your mind a bit when you go out to the coop and see your quail acting oddly. They are just weird little birds.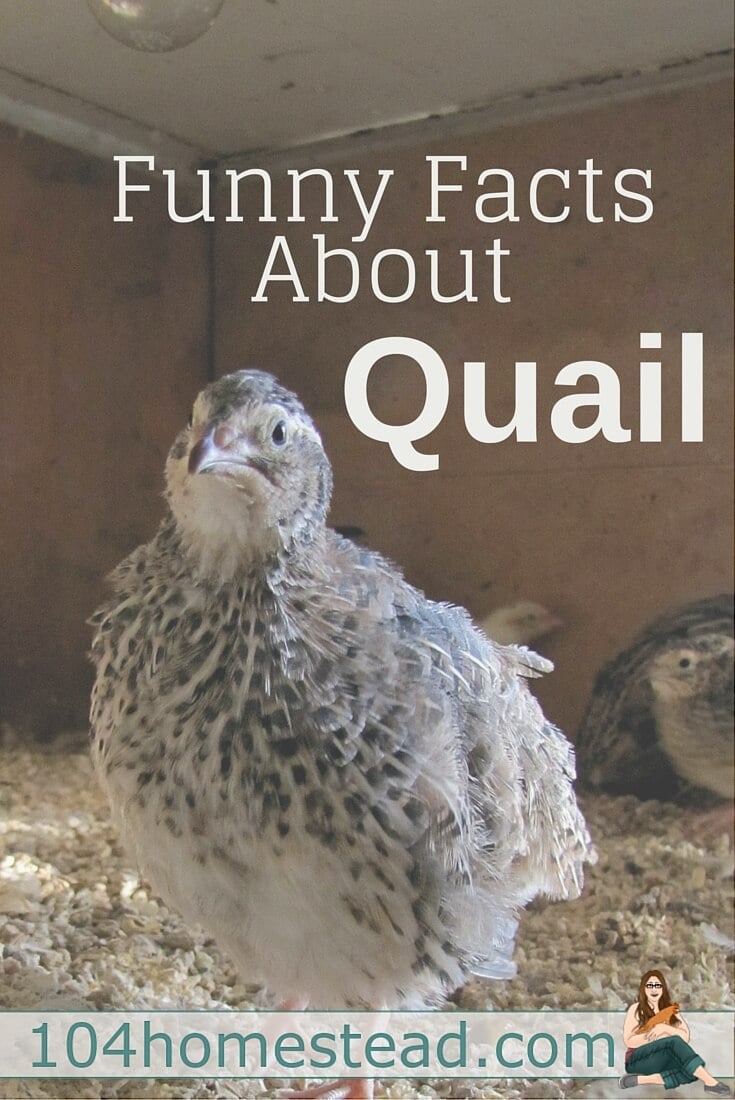 The following two tabs change content below.
I am a non-traditional homesteader. What is a non-traditional homesteader? I'd like to think we are the people who don't fit the mold. I am a busy mom on a small bit of property with not a lot of financial resources, but I am figuring out how to live the life I want. A homesteader's life.
Latest posts by Jessica Lane (see all)