21 Gardening Hacks to Make Your Gardening Experience Easier
Gardening is a rewarding hobby, but it's not always easy. It's also not always cheap. I tend to enjoy my hobbies much more when I figure out a better way. So, as the last hack post of the week, I give you Gardening Hacks. I am sharing my top ten favorite tricks that I've picked up along the way, as well as several from some of my amazing blogging friends.
My Top 10 Favorite Gardening Hacks
Need to Dry Herbs?
Lay them out on a sheet of newspaper on the seat of your car. Leave them there with the windows up and they dry quickly and evenly. Plus, your car will smell nice. This works even better than using warm in the oven, which often over-dries them. Just remember to close your windows when you drive with them.
Save Your Cooking Water
Often times it's loaded with great nutrients, so why would you want to dump it down the drain? I keep a 5-gallon bucket handy in the kitchen to dump recycled water and every morning I use it to water the plants.
Remove Salt Residue
1 part white vinegar/1 part rubbing alcohol/1 part water ◄ all you need to get salt residue (the white stuff) off of terracotta pots.
Go Native
Choose native plants for your gardens. They cost less (or may even be free if you can find cutting or seeds) and because they are from the area and are accustomed to local weather, they should be low-to-no maintenance.
Upcycle
Upcycle what you have for your garden. A screen door can be an excellent trellis. Fallen tree limbs make great bed borders. Old windows serve an excellent second purpose as a cold frame.
Keep Your Nails Clean
Scratch a bar of soap before gardening to prevent dirt from getting under your nails. When you come in to wash your hands, your nails will be sparkly clean.
Water at the Right Time
Water garden beds in the morning and potted plants in the afternoon. Potted plants tend to dry out quickly in the late afternoon sun. By watering in the afternoon, you are loading them up so the water is handy during the worst of the temperatures. Garden beds need time to absorb water before the noon heat arrives. By watering in the morning, water has a chance to soak down to the root level.
Measure With a Shovel
Use your shovel as a measuring tape. Lay out your shovel next to a yardstick or measuring tape and mark the feet and inches with a permanent marker. When you are working on a project you won't need to stop and go find the measuring tape (which is never where you left it).
Make it Rain
Create a rain barrel to help with watering. This is especially important if you pay for water. Be sure to check with local code enforcement before harvesting water. Some places can be weird about that stuff.
Keep Your Nursery Pots
Save nursery pots to protect small plants when you have an unexpected frost. Just put the pot over the plant and it will help shelter it. Nursery pots are also great for marking the location of plants like hostas that die back, so you don't accidentally disturb them in early spring.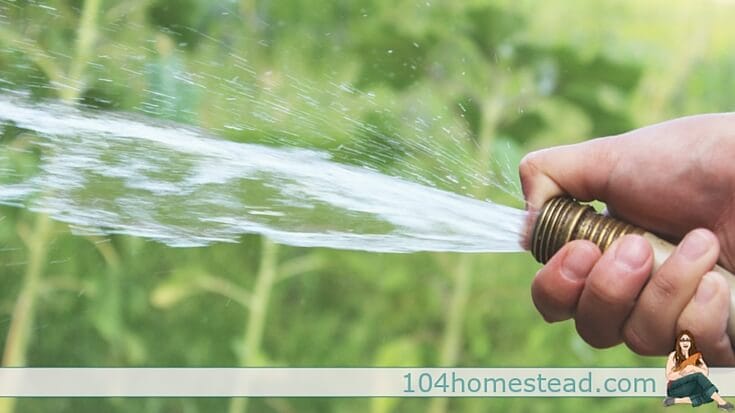 My Friends' Favorite Gardening Hacks
Have you had an Ah-Ha! moment gardening? Share your trick here or join in the discussion over on our Facebook Page.