Rabbits are wonderful creatures. They have so much to offer and in the grand scope of things, they require very little care. Rabbits can be kept indoors or in a hutch in the backyard. They come in all sorts of sizes and colors. The fur can be long or short. The reasons for getting rabbits fall into four major categories. Today I'm going to talk about those reasons.
Reason #1: Getting Rabbits for Fiber
Angora wool is amazing for fiber artists. It is excellent for spinning and weaving. Angora wool can also sell for a pretty penny. So which breeds are best for fiber production?
English Angora One of the smaller of the angora breeds (at 5-7 lbs) this angora produces ample quantities of wool. It does tend to be a high maintenance rabbit.
French Angora This rabbit produces wool that is a bit coarser than its English cousin, but it also requires less maintenance. The French weighs in at 7 1/2-9 1/2 lbs.
Giant Angora This is "the big one" in the angora world as the name implies (at about 10 1/2 lbs). The Giant is white with ruby eyes.
Satin Angora About the same size as the French, this angora's wool has a silky sheen to it. Unfortunately, it doesn't produce nearly as much wool as the others.
Jersey Wooly Although not actually an angora breed, this rabbit produces angora wool. It's a dwarf breed (only coming in at about 3 1/2 lbs), but it is a great starter rabbit.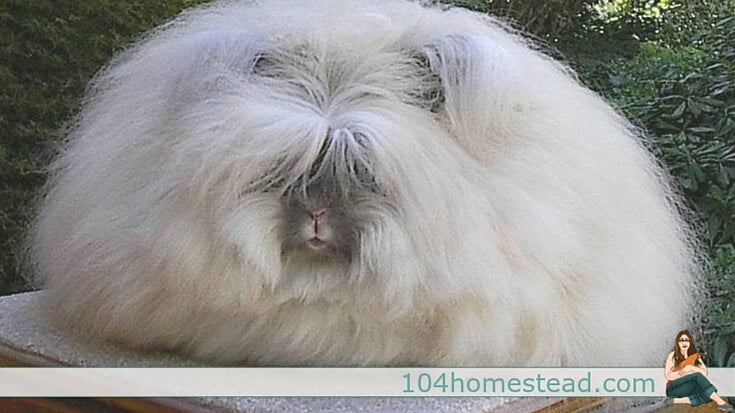 Angoras require frequent, sometimes daily, grooming to keep them in pristine condition. Three to four times a year you collect the wool by shearing or plucking. There is a bit of controversy regarding plucking. Many people say that it is painless since the hair is being shed, but some disagree. I did some homework and have found no real scientific backing for either school of thought. You can learn more about fiber rabbits in Raising Fiber Rabbits: What You Need to Know and Raising Angoras: The Perfect Dual Purpose Rabbit.
Reason #2: Getting Rabbits for Showing
You can show any recognized breed of rabbit and there are many to choose from. The important thing when showing is that you get your rabbits form from a reputable source that knows the standards and breeds accordingly. Show rabbits can be a friend in the home when not in the shows. With short-haired breeds, maintenance is minimal, but they will need some sprucing up for the big day.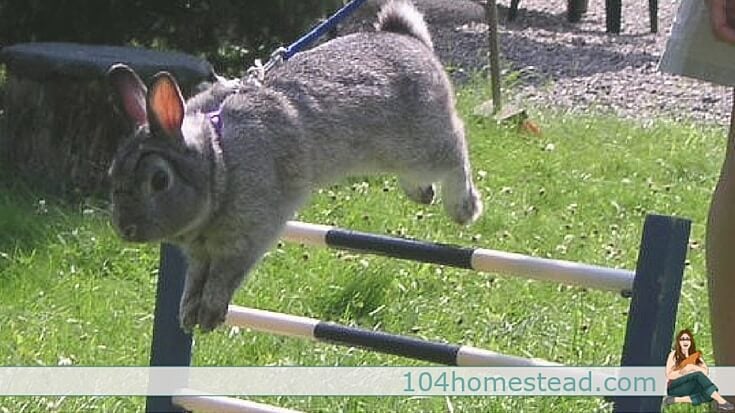 Reason #3: Getting Rabbits for Meat
After the initial investment, rabbits are a great way to produce your own meat on a small budget. A trio can provide meat for years and years since they… for lack of a better phrase… mate like rabbits. The best part about rabbit meat is that it is low-fat, low cholesterol, and offers high-quality proteins.
Californians and New Zealands seem to be the front-runners of the meat rabbit world, but really, any breed can be raised for meat. If you want to support a heritage breed, I've heard great things about the Giant Chinchilla.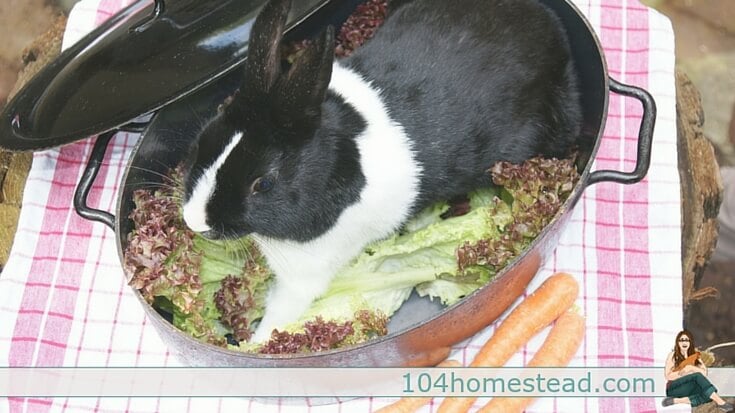 Care of meat rabbits is minimal. The important things are maintaining a healthy diet and a clean environment. Most rabbits are ready for slaughter at 13 weeks. This is something you can send your rabbits away for or you may learn to do it yourself. You also have the option of selling the skin/pelt. Learn more about selecting and breeding meat rabbits in Choosing Breeding Stock for Rabbit Meat and Breeding Meat Rabbits.
Reason #4: Getting Rabbits for Companionship
Rabbits can make wonderful companions. My cousin reports much success with litter box training and keeps her bunny much like you would a cat. Rabbits have great personalities and each one is unique. Some are playful, others are curious, and many are affectionate. Companions may cost a bit more in the long run than other rabbits. Since they are meant as "forever friends" they should be seen by a veterinarian regularly.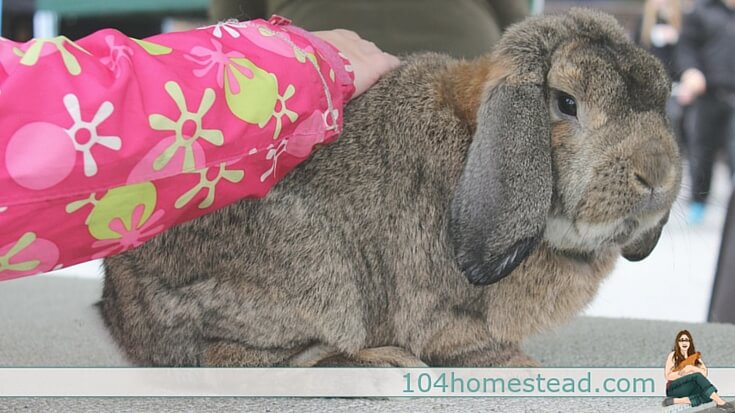 Companion rabbits also require a bit more maintenance beyond grooming and general care. Homes with rabbits need to be bunny proofed to protect the rabbit and your belongings. As mentioned before, they can be litter box trained, but that requires an investment of time. If that is not something that interests you, you need to provide a comfortable containment area for your bunny and let it out for supervised play daily. Learn more about Why Rabbits Make Great Pets.
Rabbits are NOT Gifts
One thing that is not a reason to keep rabbits is this: A GIFT. This is my big Easter P.S.A. As cute and adorable as little bunnies (chicks, ducks, puppies and kittens) are, they are a terrible gift. Unless it is a pre-discussed gift for someone who already has a rabbit and has expressed interest in getting more, please do not gift animals.
According to the Utah Humane Society "Within the first few weeks of Easter an estimated 30% of all Easter "pets" die and another 60% to 70% are abandoned or turned in to shelters."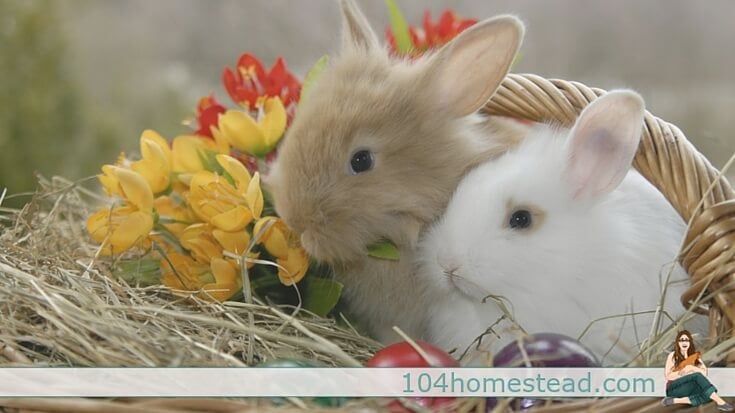 My friend Angela England (from The Untrained Housewife) wrote this great first-hand-knowledge post called Your Easter Basket Chicks a Year Later. It is a very informative post that applies not only to chicks, but all animals.
Recommended Reading:
Rabbits for Dummies by Connie Isbell & Audrey Pavia
The Everything Pet Rabbit Handbook by Sarah Martin
Homesteading Animals by Norman J. Stone
Storey's Guide to Raising Rabbits by Bob Bennett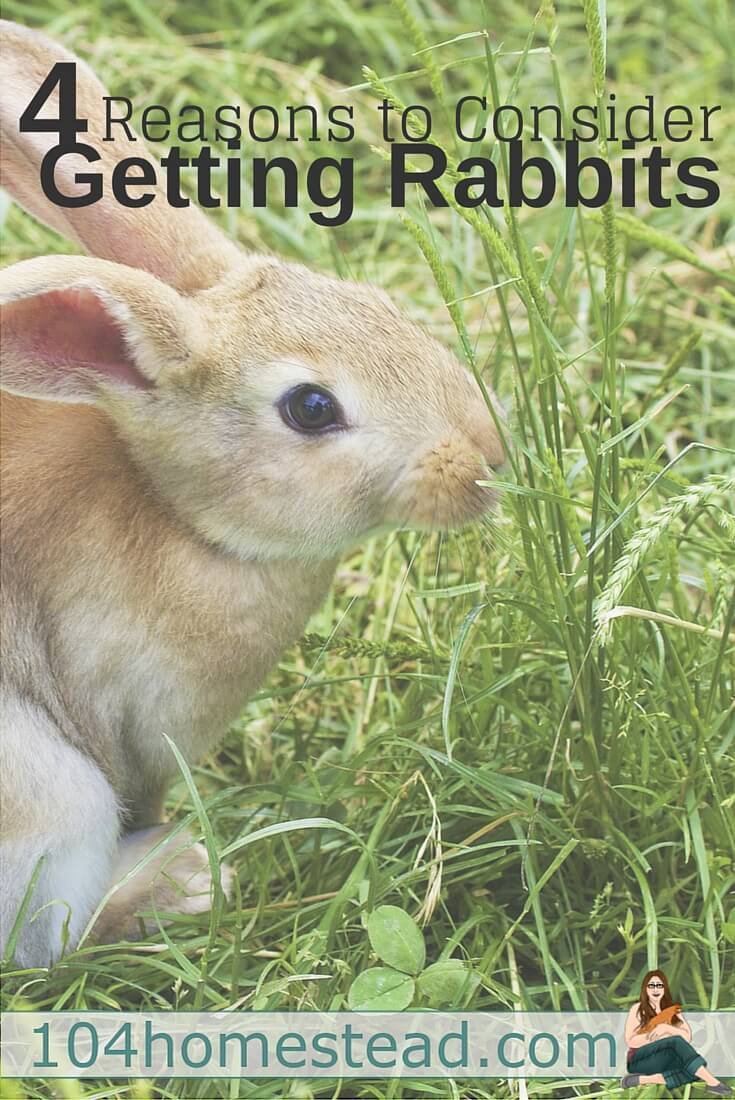 The following two tabs change content below.
I am a non-traditional homesteader. What is a non-traditional homesteader? I'd like to think we are the people who don't fit the mold. I am a busy mom on a small bit of property with not a lot of financial resources, but I am figuring out how to live the life I want. A homesteader's life.
Latest posts by Jessica Lane (see all)