---
Mixed berry jam is perfect for this time of year. The strawberries are just wrapping up for the season, the raspberries are abundant, and we're starting to see some blueberries on the low bushes. None have appeared on the high bushes, but they'll be here before we know it. This is the recipe I make, but feel free to change up the berry ratios for what happens to be available in your neck of the woods.
This recipe uses Pomona's Pectin. If you're not familiar with how to use Pomona's you can read about it here. If you don't have Pomona's, you can use Ball or Sure-Jell, but you may have to play around with the sugar ratio. Fun tip: Before you start the jam-making process, stick a spoon in the freezer. When you think you've got the jam about right, pull the spoon from the freezer and dip it in. The cold spoon will chill the jam quickly, giving you a good idea of how thick it will be after canning.
Making Mixed Berry Jam
For the abbreviated, printer-friendly version of this recipe, click here.
Yield
7-8 half pints
Ingredients
4 cups mashed raspberries
2 cups chopped strawberries
1 cup blueberries
1½ cup sugar
2 tablespoons lemon juice
2 teaspoons Pomona's Pectin powder
2 teaspoons calcium water (if using Pomona's)
Jam Instructions
If you plan to can your jam, prepared the water bath canner, jars, and lids. If you have any questions about water bath canning, check out our FAQs and recipe guide.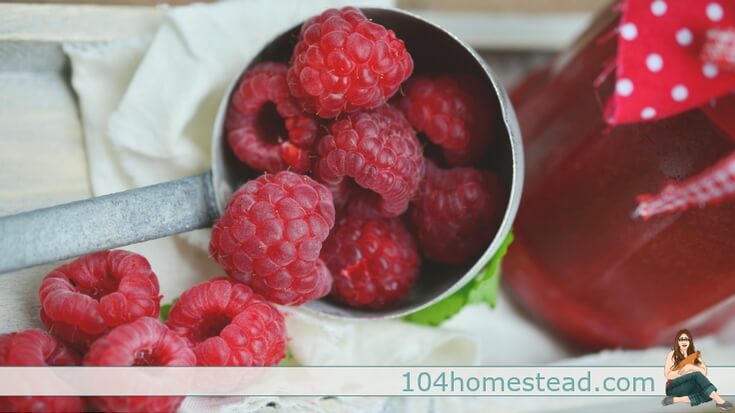 Wash and prepared your berries. The raspberries only need to be lightly mashed to pack them into the measuring cup. Strawberries need only be quartered and blueberries can be left whole. Add all your berries to a shallow stock pot/spaghetti pot. Add in your calcium water and lemon juice, then mash your berries with a potato masher. They don't need to be fully mashed, but this helps the process later on.
Mix together your sugar and pectin with a fork and set aside.
Warm berries on medium/low for 3-5 minutes and then blend the mixture with a stick/hand/immersion blender. This is, by far, my favorite kitchen tool ever. Keep blending until you reach the level of smoothness you like to see in your jam. Raise the heat and bring it to a full boil. Watch for splatter! If you wouldn't eat juicy berries in a shirt, don't wear it when making jam. Same goes for making spaghetti sauce. Ask me how I know…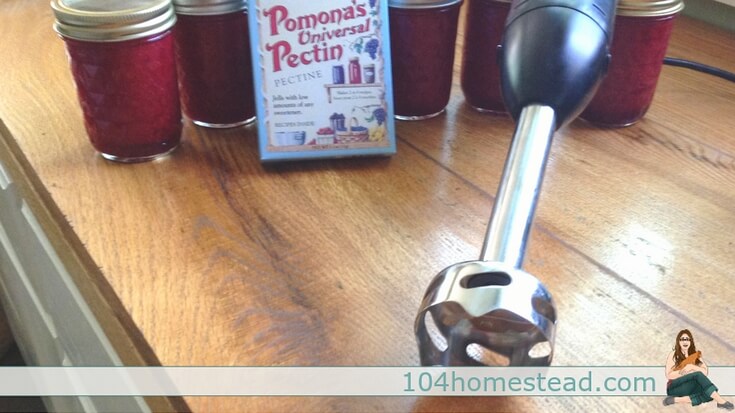 Once your jam is boiling, stir in your sugar/pectin mix. Stir for 2 minutes so the sugar and pectin melt and are well incorporated. Remove jam from heat and assemble your canning assembly line.
Canning Instructions
Fill your half pint jars (you can use the smaller jam jars, but obviously you'll been more than 8), leaving 1/4″ headspace. Wipe rims clean and add lids. Remember, finger-tight. You don't need to be the hulk putting on those lids and it won't process correctly if they're too tight. Be sure you haven't included the lid grabber magnet… Add your filled and lidded jars to the canner and process for 10 minutes. Allow your jars to cool and check the seals.
That's it! You now have the flavors of spring berries in a jar to enjoy all winter long.
Make it your own mixed-berry creation
Remember, you can use any ratio of mixed berries that floats your boat. Be creative. You can also switch out the sugar for some honey if you prefer. My guess is you'd want about 3/4 cup of honey to replace the sugar, but I haven't tried it myself. You could even add a little vanilla bean. Yum! Let me know what you think of this recipe and share how you added your own personal touch in the comments below.
The following two tabs change content below.
I am a non-traditional homesteader. What is a non-traditional homesteader? I'd like to think we are the people who don't fit the mold. I am a busy mom on a small bit of property with not a lot of financial resources, but I am figuring out how to live the life I want. A homesteader's life.
Latest posts by Jessica Lane (see all)