Heads up! I link to products and services that I love from time to time. More often than not I have an affiliate relationship with these providers. What does that mean? I might make a small percentage from any purchases you make, but don't worry, you won't pay even a penny more. Thanks for supporting The 104 Homestead. You can see our full disclosure statement here.
Shortbread Pinwheel Cookies are one of my favorites. It is proof that mistakes can turn into wonderful opportunities.
This was supposed to be a sugar cookie, but as soon as I pulled the pan from the oven, I knew something wasn't quite right. The taste was not that of a sugar cookie. Instead, it was reminiscent of those Danish Shortbread cookies that come in the tins around the holidays. I loved them!
Today's pinwheel cookies were created with a little help from our Cookie Month sponsors:
Spatula, perfect for incorporating the butter, from GIR
100% Organic Unbleached All-Purpose Flour from King Arthur Flour
Vegetable Colorant Decorator Set, to add color to the pinwheels, from India Tree
Pinwheel Cookie Recipe
Ingredients
2 c. King Arthur All Purpose Flour
1/2 tsp. Baking Powder
1/4 tsp. Salt
2/3 c. Powdered Confectioner's Sugar
1/4 c. Sugar
2 1/2 sticks Unsalted Butter (chilled & cubed)
1 1/2 tsp. Vanilla Extract
2 tbsp. King Arthur All Purpose Flour
India Tree Natural Food Dyes
Sugar Crystals or Nonpareils (optional)
Instructions
Combine the flour, baking powder, salt and sugars in a large bowl. Add butter and mix until the batter resembles corn meal. It's easiest with a hand mixer on low or with a stand mixer. Add in the vanilla and continue mixing until the dough starts to form a ball.
Divide the dough in half and set one of the halves aside. Add the food coloring until you get the shade you want (it stays true to dough color after baking), as well as an additional 1 tablespoon of flour. Use a silicone spatula to "squish" the color throughout the dough.
Repeat with the other half of the dough.
Roll out the dough balls separately between two sheets of wax paper. Aim for a rectangle shape about the size of a piece of paper and 1/4″ thick. It does not need to be perfect. Put both dough sheets in the fridge and chill for at least 2 hours.
Remove the doughs from the fridge and stack them so the long side of the rectangle is facing you. Pinch the long end a bit and begin rolling. The dough may crack a bit when you're rolling. Don't worry! You can smooth it out with the heat of a finger and when it cooks no one will no. Roll all the way and smooth the raw edge so it makes a smooth "log".
Roll your dough log into the decorators of your choice (I've successfully used nonpareils and sugar crystals). Wrap in plastic wrap and chill overnight.
Preheat the oven to 350ºF.
Pull your dough log from the fridge. Using a sharp knife, cut the raw edges. Slice your log into 1/4″ discs and bake on parchment lined cookie sheets for 15 minutes or until the edges have just begun to set.
Remove from hot cookie sheet and place on a cooling rack as soon as you can get a small spatula under them.
I used India Tree's yellow and red dyes made from vegetable colorants to make these orange and reddish colors in my Rainbow Pinwheel Cookies for fall. They colored beautifully. Later this month I will use them again with white icing to show how bright the colors can be. The fun thing about these cookies is that you can do them in any color you wish, or try just dying one-half and leaving the other plain. If you're feeling super adventurous, you could do three or more colors. Just remember to roll them thinner or take into account a longer cook time.
King Arthurs Flour was as great as always. It has been my staple flour for years. The nice thing about using the same flour regularly is that you know how it will perform in recipes. It eliminates some of the fear of experimenting with recipes.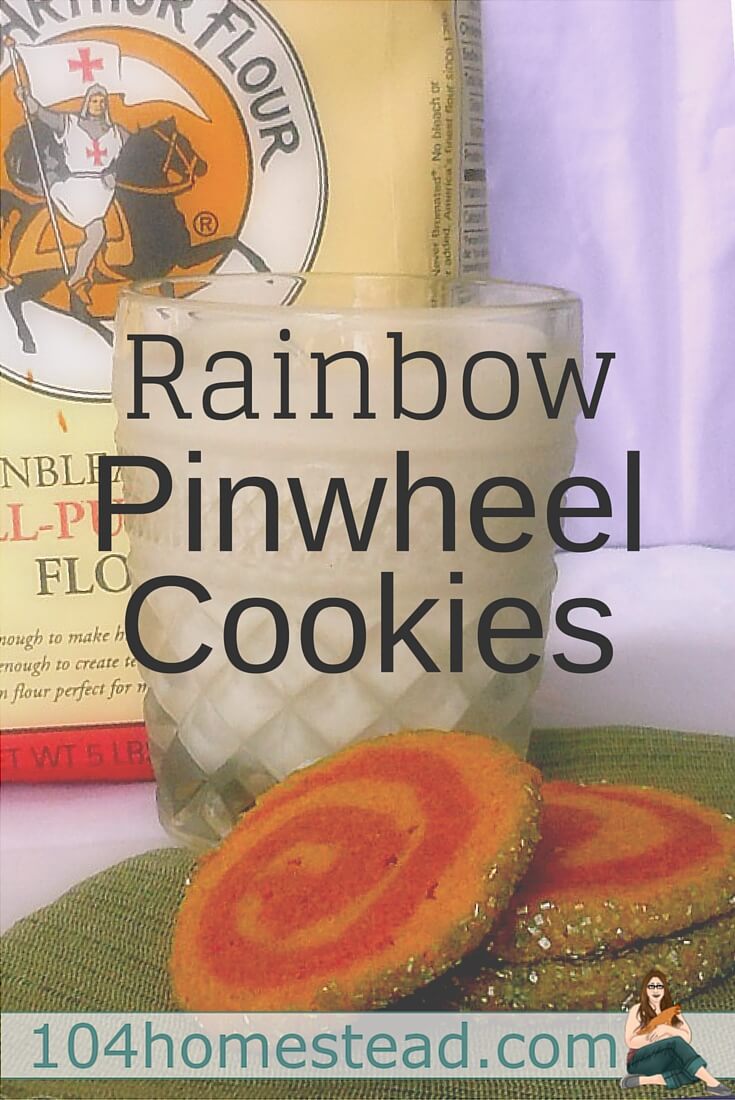 The following two tabs change content below.
I am a non-traditional homesteader. What is a non-traditional homesteader? I'd like to think we are the people who don't fit the mold. I am a busy mom on a small bit of property with not a lot of financial resources, but I am figuring out how to live the life I want. A homesteader's life.
Latest posts by Jessica Lane (see all)