Our family favorite cookie has got to be chocolate-chocolate chip cookies with a big glass of milk to wash it down. Our sponsor, Bob's Red Mill, inspired me to take our family favorite and see if I could make an equally delicious cookie that's made from gluten free flour. Having only dabbled in gluten-free cooking (with less than stellar results), I didn't think these cookies would be right without gluten.
Bob's Red Mill launched a new gluten-free flour earlier this summer called Gluten Free 1-to-1 Baking Flour and they offered to send me some to try out. I did my homework while I waited for that package to arrived. The site said I could simply switch out the flours with no extra work. No starches or xanthan gum. Just replace my normal flour with the gluten free flour in any recipe.
I'll be honest, I didn't think it would be that easy.
When my flour arrived, I searched high and low on the package for the special instructions. I couldn't find any. I rifled through the box thinking maybe there was a pamphlet. Nope. I became more worried about how these chocolate-chocolate chip cookies were going to turn out. It seemed like uncharted baking territory.
The Gluten-Free Flour Test Results
To make this a true side-by-side comparison, I made two batches of the exact same recipe at the exact same time, cooking them on the same pan so half were regular flour and half were gluten free. I didn't want any deviations that would account for a difference in the cookies. I had reminders hidden as to which bowl and which side of the pan housed the gluten-free dough. Then I conducted a blind study with my dear family.
My family was divided right down the middle. With a cookie in each hand, half preferred cookie A and the other preferred cookie B. They all admitted that had they not known that there was research being conducted, they may have thought it was the same cookie. The observations I made, knowing which was which, was that the gluten-free cookies were not quite as rich (which was preferred by some family members) and that the chocolate chips were more enveloped in the dough than with the regular flour. I'd say the results of this study were a big thumbs up for Bob's Red Mill 1-to-1 Gluten Free Baking Flour.
My Double Chocolate Chip Recipe
So obviously, I can't go on and on about cookies without sharing my family favorite recipe, so here it is:
Ingredients
1/2 c. Butter (softened)
3/4 c. White Sugar
1 Egg
1 tsp. Vanilla Extract
1 c. All-Purpose/Baking Flour
1/3 c. Unsweetened Cocoa Powder
1/4 tsp. Baking Soda
1/8 tsp. Salt
1 c. Semisweet Chocolate Chips
Instructions
Preheat oven to 350ºF.
In a large bowl, beat butter, sugar, egg and vanilla until light and fluffy.
Combine the flour, cocoa, baking soda, and salt with a fork in a separate bowl.
Stir into the butter mixture until well blended.
Mix in the chocolate chips with a firm silicone spatula.
Drop dough onto ungreased cookie sheets (about 1 tsp.).
Bake for 8 – 10 minutes until edges set.
Cool slightly on the cookie sheets before transferring to wire racks.
These divine cookies are served best warm, but hold up well for several days. The dough can be refrigerated between batches if you don't want to make them all at once. It's nice to pull out just a few so they are fresh each day. And remember, if you have a friend coming by with a gluten allergy, mix up a batch with Bob's Red Mill 1-to-1 Gluten Free Flour. You'll all enjoy them.
Update
I received an email from a sweet boy named Caleb who has his own cooking channel on YouTube. He asked if he could feature my recipe in one of his videos. He did an amazing job! I asked if I could share it with you all and he gave me a big thumbs up. Without further ado, may I present Caleb of Caleb's Cooking Creations…
If you're looking for more yummy desserts, might I suggest my famous Peanut Butter Cups or one of these 22 quick and easy dessert recipes (they're all ready for munching in an hour or less!)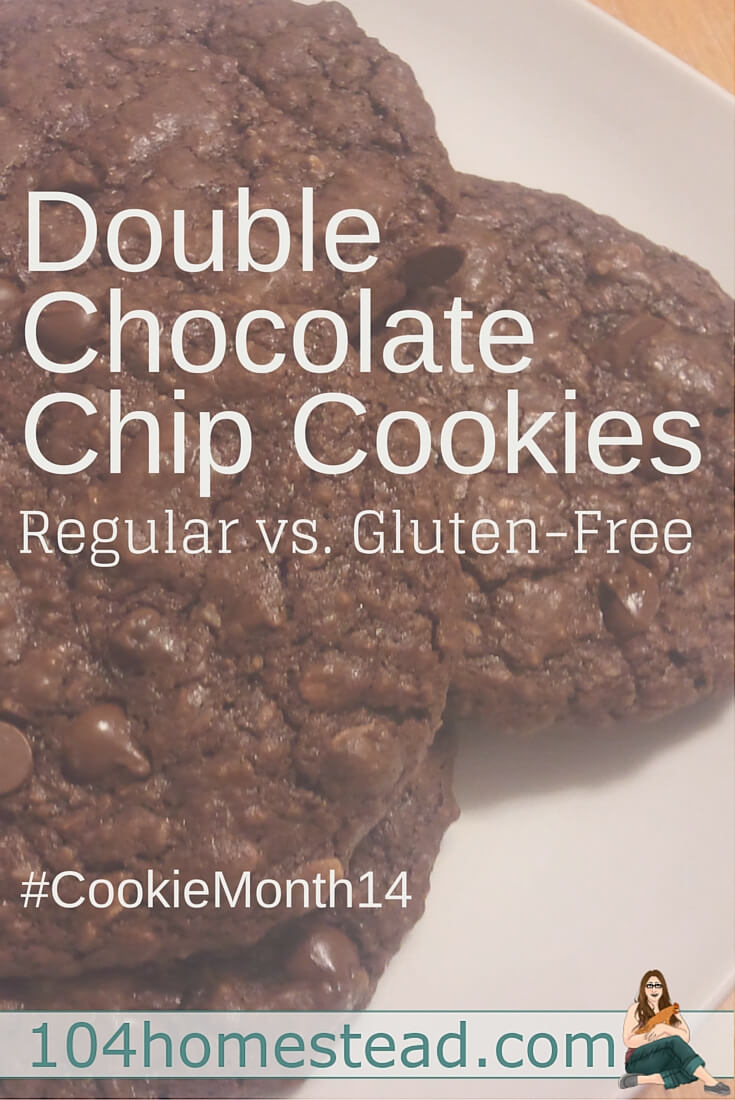 The following two tabs change content below.
I am a non-traditional homesteader. What is a non-traditional homesteader? I'd like to think we are the people who don't fit the mold. I am a busy mom on a small bit of property with not a lot of financial resources, but I am figuring out how to live the life I want. A homesteader's life.
Latest posts by Jessica Lane (see all)