This roast maple ham is so delicious and really, so very easy to make. A meal like this is wonderful for Sunday dinners and it's easy to make lots so there will be leftovers. You can see the whole recipe here.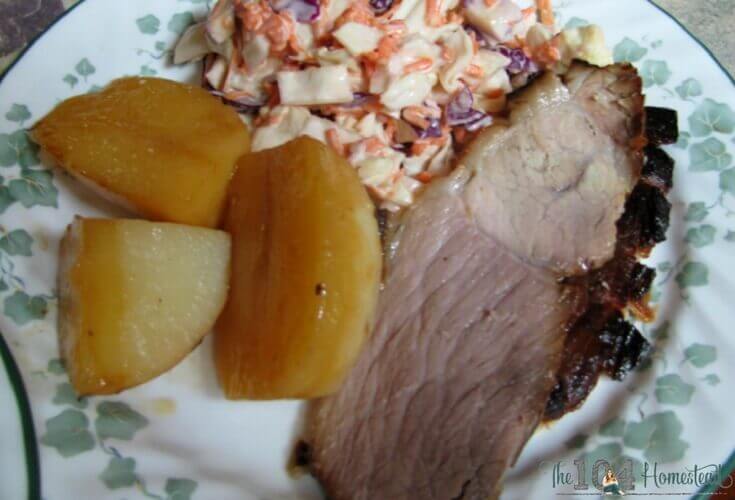 Roast Ham with Maple Syrup
So delicious and really, so very easy to make.
Ingredients
1

ham

about 4 pounds

Whole cloves

Pure maple syrup

Water

Salt and pepper
Instructions
Turn your oven on to 350°F.

Score your ham crosswise in each direction.

Put the whole cloves in the slits of the ham.

Put the ham in a large roasting pan; add ½ inch water.

Pour pure maple syrup on top and brush it in all over the ham. Use as much as you like. Baste a little more on part way through roasting and again at the end when you remove from the oven.

Sprinkle with salt and pepper and put it in the oven.

Roast for about two hours.

After removing the ham from the oven, let it rest on the counter for about 20 minutes before carving.
Recipe Notes
Remove the cloves before serving.
The following two tabs change content below.
Annie lives in the bush in BC, Canada. Since it takes her 20 minutes just to get to her mailbox, Annie and her husband try to live as self sufficiently as possible. In her spare time, she runs a Garlic farm and ships naturally grown garlic all over Canada. Follow her adventures on her website,
Country Living in a Cariboo Valley
.
Latest posts by Annie Coombe (see all)