Roast Chicken with Sweet Potato, Apple & Cranberry Stuffing
In my house I roast chicken fairly often. For one thing, the beautiful pastured chickens I buy come as roasters. There are no neat boneless, skinless packages to be had, which is all to the good, I think; except for the part where I don't really like cutting up my own chicken.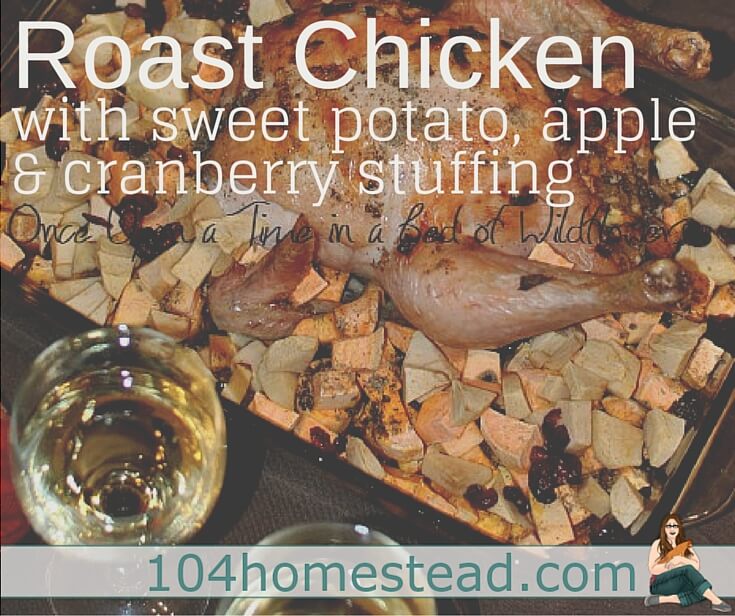 Secondly, with only a tiny bit of forward planning, a roast chicken is an easy meal that comes out of the oven sitting on top of its very own side dish. All I have to do is pour a couple of glasses of milk (or wine!), and dinner is ready. And, believe me, that is exactly the kind of meal I like to prepare.
Finally, this dish has no shortage of leftovers! My husband can take bits of chicken and vegetables to work with him for lunch. I can make a pot of broth from the bones, and use the rest of the meat and vegetables to start a soup.
How to Make the Roast Chicken & Stuffing
Rinse a fresh, or thawed, pastured chicken and place in a shallow pan.
For the Spice Mix:
1 teaspoon salt (I like this kind)
3 teaspoons sage (get quality herbs and spices here)
1/4 teaspoon black pepper
1/8 teaspoon white pepper
1/4 teaspoon nutmeg
1/8 teaspoon cloves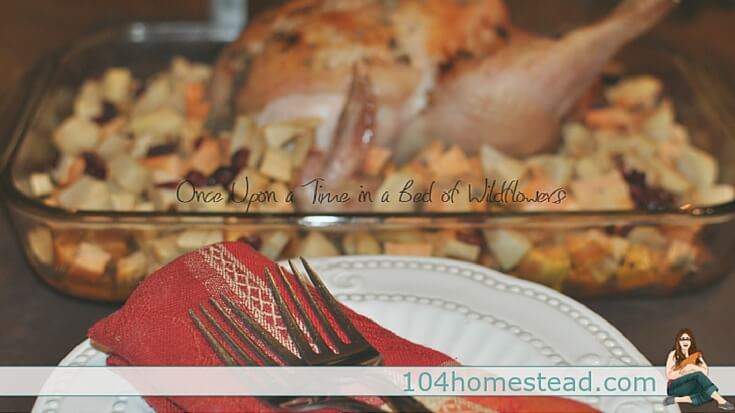 For the Stuffing:
Saute 1-2 onions in butter. (Preferably good butter from grass-fed cows.)
Peel and cut up 2-3 sweet potatoes and place them in a pot of water. Bring the water to a boil, then drain.
Add the onions, about half of the spice mix, and a tablespoon or so of butter to the sweet potatoes. Stir to combine, then stuff as much of it as will fit into the chicken. Spoon the rest of the stuffing into the pan, around the chicken.
Peel and cut up 3-4 more sweet potatoes, toss in melted butter, and add to the pan. Sprinkle about 1/2 cup dried cranberries (or 1/4 cup dried cranberries and 1/4 cup raisins — I like to use golden raisins for this) over the sweet potatoes. Sprinkle the rest of the spice mix over everything.
Put the chicken into a cold oven and turn it on to 425ºF for 25 minutes. (Or a preheated oven for 20 minutes.) Reduce heat to 375ºF and add 1-2 apples, cut up; there is no need to peel.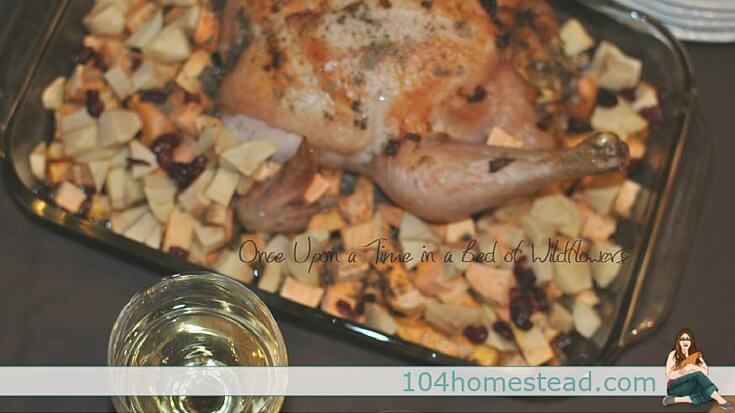 If you like, you can do math and figure out exactly how long it will take to cook your chicken (and stuffing) to at least 165ºF. It probably won't surprise you at all that I just set the timer for an hour and walk away.
In my oven, for a 4-5 pound chicken, one hour usually gets the internal temperature of the chicken to about 175ºF. I have never had my pastured chickens go dry using this method.
If you like this, please be sure to check out my Sweet & Savory Sweet Potato Stew, which is the recipe where this flavor combination was born!
If you liked this post, please share it with your friends!