Heads up! I link to products and services that I love from time to time. More often than not I have an affiliate relationship with these providers. What does that mean? I might make a small percentage from any purchases you make, but don't worry, you won't pay even a penny more. Thanks for supporting The 104 Homestead. You can see our full disclosure statement here.
Cleanliness is an important factor when you are milking a goat or cow. It's important to keep the milk clean. Bits of hay, dirt, or whatever else your dairy animal decides to lie down in doesn't need to end up in your milk bucket. Ick! Keeping the pen clean helps, but rain and mud happens. To ensure clean milk (and delicious), the dairy animal's udder and teats need to be thoroughly washed.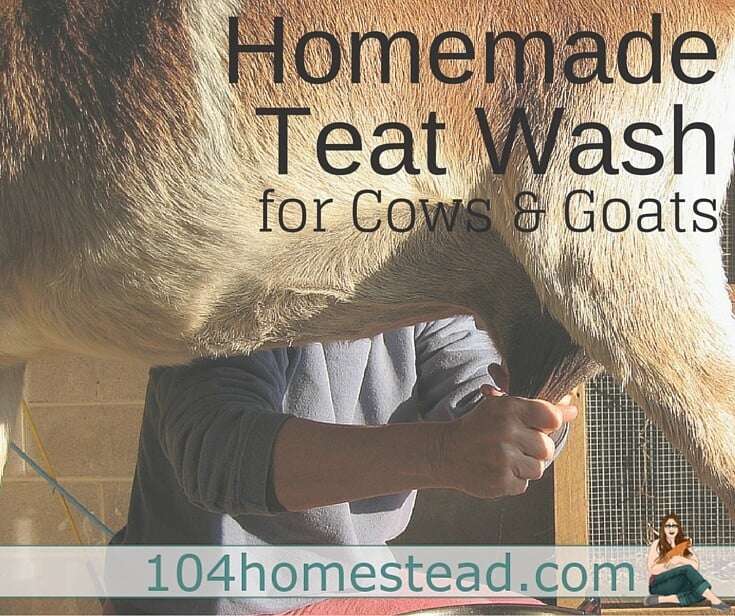 There are a lot of different teat washes out there, a lot of them contain bleach. I just can't wrap my head around washing a goat's udder and teats with bleach. I understand the reasoning, to kill all the bacteria that could potentially cause a problem. Bleach, even diluted, is harsh. In my opinion, the teats and udder of a dairy animal seem like a sensitive area to be washing with a bleach solution. A teat wash can be effective when made with gentler ingredients. Yay!!!
Instead of using a bleach solution on my goats, I make my own teat wash. The teat wash has some requirements, it needs to kill the bacteria that could potentially get into my milk bucket and needs to prevent mastitis. It also needs to be gentle to the goats and safe, in case my kids or pets would happen to get into the teat wash.
This recipe is very simple and easy to mix up. Essential oils are the perfect solution for a small milking operation like ours. We use essential oils with our chickens and dog as well. Lavender oil is known for its anti-bacterial properties. Tea tree oil is anti-bacterial, anti-fungal and anti-viral. Lavender and tea tree oil smell a lot nicer than bleach, which is a major bonus! Castile soap is a very gentle, mild soap. It is added as an additional cleansing agent.
Homemade Teat Wash
To make your own gentle homemade teat wash, you will need…
Put oils and soap in a quart size spray bottle. Fill bottle up with warm water and shake well.
To use: Spray udder and teats with teat spray. Wipe off with a clean cloth until clean. Milk as usual (what's your technique?) and use the teat spray once again on the teats when milking is complete. A drop of milk left on the teat could cause bacteria to enter into the udder, causing infection.
I have been using this teat spray for 5 years now and have not had a case of mastitis nor any contaminated/bad milk in that time.
Happy milking!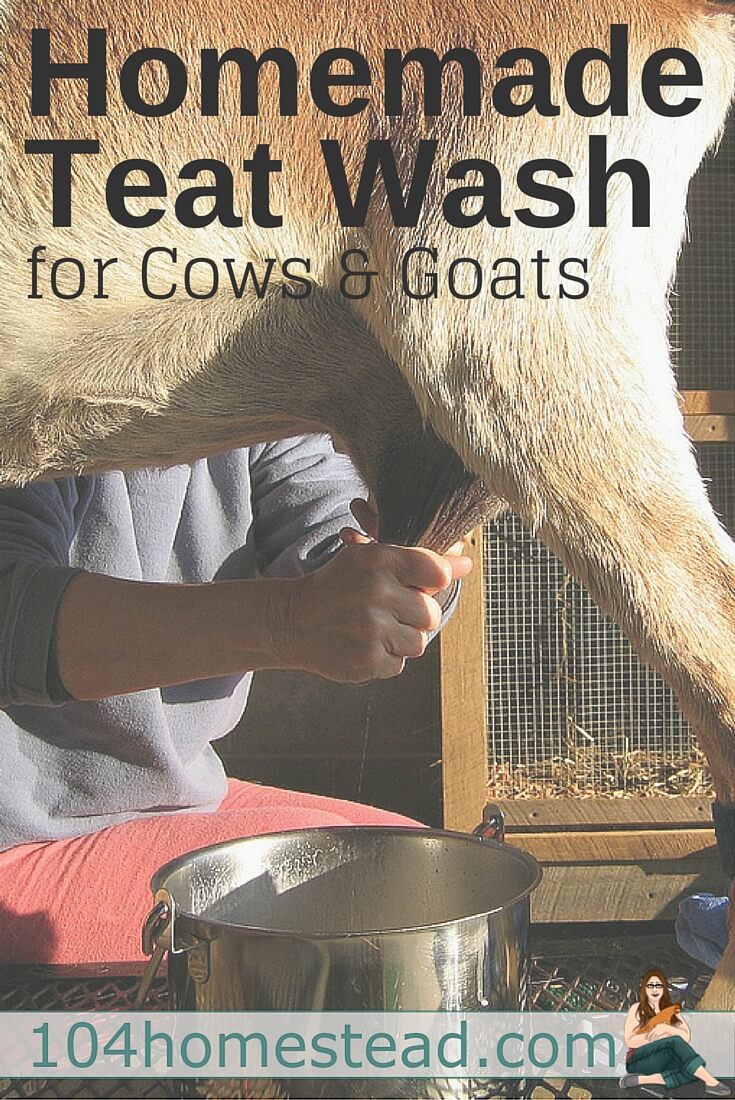 The following two tabs change content below.
Janelle and her husband are building a permaculture farm in the Missouri Ozarks. They blog about learning to live a sustainable lifestyle, including growing all of their own food and living off­grid. You can read about their adventures at
Homestead in the Holler
.
Latest posts by Janelle Veldkamp (see all)