Flavors of Autumn Stuffing Recipe
Print this stuffing recipe and add it to your binder of real food recipes. See the step-by-step instructions and how nicely it pairs with roast chicken here.
This recipe was written to be prepared with a chicken, but you can make it on its own or with another bird.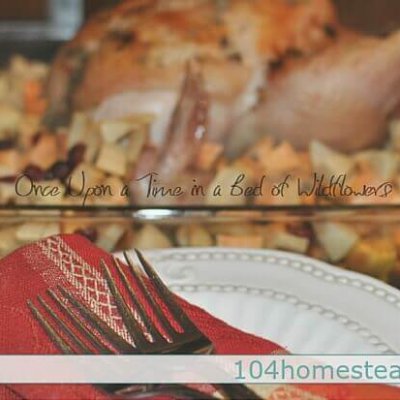 Flavors of Autumn Stuffing Recipe
This autumn stuffing recipe is a celebration of fall flavors, blending the warmth of sage, thyme, and rosemary with the rich, earthy notes of mushrooms and cranberries. Combining these ingredients with bread creates a stuffing that's both hearty and aromatic, making it a perfect accompaniment to your Thanksgiving or autumn dinners. Elevate your holiday table with the essence of the season through this delicious and comforting stuffing recipe.
Print Recipe
This post may contain paid links. If you make a purchase through links in this recipe, I may earn a commission.
Instructions
Mix together the spices in the spice mix.

Saute 1-2 onions in butter.

Peel and cut up 2-3 sweet potatoes and place them in a pot of water. Bring the water to a boil, then drain.

Add the onions, about half of the spice mix, and a tablespoon or so of butter to the sweet potatoes. Stir to combine, then stuff as much of it as will fit into the bird (if preparing with a bird). Spoon the rest of the stuffing into the pan, around the bird.

Peel and cut up 3-4 more sweet potatoes, toss in melted butter, and add to the pan. Sprinkle about 1/2 cup dried cranberries over the sweet potatoes. Sprinkle the rest of the spice mix over everything.

Put the chicken into a cold oven and turn it on to 425ºF for 25 minutes. (Or a preheated oven for 20 minutes.) Reduce heat to 375ºF and add 1-2 apples, cut up; there is no need to peel.

Cook until bird reaches internal temperature of 175ºF or until heated and softened (if prepared outside of the bird).
Nutrition
Calories:
332
kcal
|
Carbohydrates:
72
g
|
Protein:
4
g
|
Fat:
5
g
|
Saturated Fat:
3
g
|
Polyunsaturated Fat:
0.3
g
|
Monounsaturated Fat:
1
g
|
Trans Fat:
0.2
g
|
Cholesterol:
11
mg
|
Sodium:
557
mg
|
Potassium:
870
mg
|
Fiber:
10
g
|
Sugar:
31
g
|
Vitamin A:
32219
IU
|
Vitamin C:
10
mg
|
Calcium:
87
mg
|
Iron:
2
mg
Don't forget to yum this recipe! Yum

See all our yummy Yummly recipes here.