Flavors of Autumn Stuffing Recipe
Print this stuffing recipe and add it to your binder of real food recipes. See the step-by-step instructions and how nicely it pairs with roast chicken here.
This recipe was written to be prepared with a chicken, but you can make it on its own or with another bird.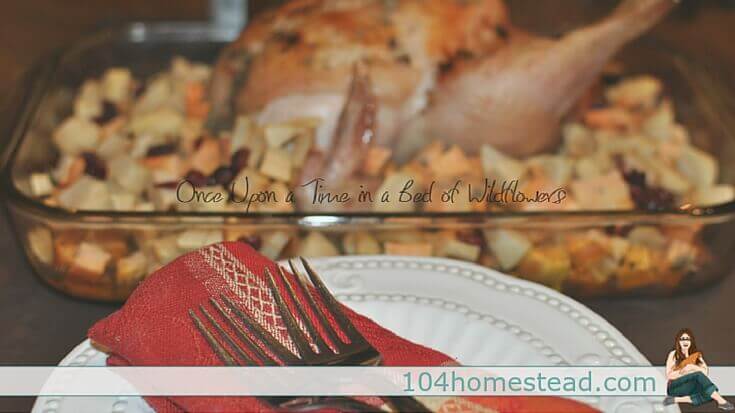 Flavors of Autumn Stuffing Recipe
Ingredients
For the Spice Mix
1

teaspoon

salt

3

teaspoons

sage

1/4

teaspoon

black pepper

1/8

teaspoon

white pepper

1/4

teaspoon

nutmeg

1/8

teaspoon

cloves
For the Stuffing
6

Sweet Potatoes

2

Apples

1

med. Onion

1/2

c.

Dried Cranberries

2

tbsp.

Butter
Instructions
Mix together the spices in the spice mix.

Saute 1-2 onions in butter.

Peel and cut up 2-3 sweet potatoes and place them in a pot of water. Bring the water to a boil, then drain.

Add the onions, about half of the spice mix, and a tablespoon or so of butter to the sweet potatoes. Stir to combine, then stuff as much of it as will fit into the bird (if preparing with a bird). Spoon the rest of the stuffing into the pan, around the bird.

Peel and cut up 3-4 more sweet potatoes, toss in melted butter, and add to the pan. Sprinkle about 1/2 cup dried cranberries over the sweet potatoes. Sprinkle the rest of the spice mix over everything.

Put the chicken into a cold oven and turn it on to 425ºF for 25 minutes. (Or a preheated oven for 20 minutes.) Reduce heat to 375ºF and add 1-2 apples, cut up; there is no need to peel.

Cook until bird reaches internal temperature of 175ºF or until heated and softened (if prepared outside of the bird).
Don't forget to yum this recipe! Yum

See all our yummy Yummly recipes here.
The following two tabs change content below.
I am a non-traditional homesteader. What is a non-traditional homesteader? I'd like to think we are the people who don't fit the mold. I am a busy mom on a small bit of property with not a lot of financial resources, but I am figuring out how to live the life I want. A homesteader's life.
Latest posts by Jessica Lane (see all)