Swales are Just Swell for the Homestead
As a teacher (and forever a student) of Permaculture, I admit I become embarrassingly giddy while peeling back the layers of one principle or technique that seem to encompass that entire design science. To me, a swale is one such technique and is a quintessential Permaculture microcosm all its own. Swales store and use energy, apply a small and slow solution, use edge, value the marginal, create innumerable microclimates, and can scale up or down depending on your landscape. My schoolgirl-like giddiness for this simple technique overfloweth since a swale is a manifestation of my own goal for Permaculture implementation – Designing systems that work harder than you do.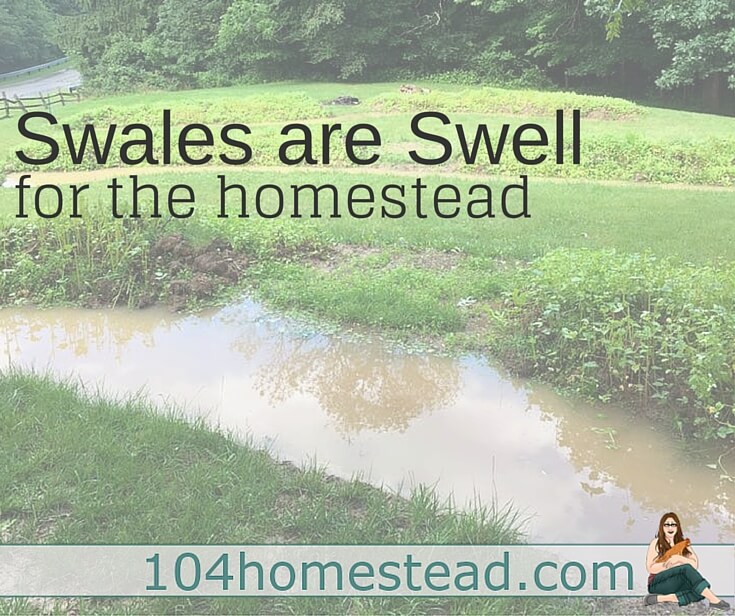 I'll stop there, but trust me when I say I could go on (and on, and on, and on, if you were to ask my wife) exploring the nuances of swaling. So please forgive that introduction which I know reads like a gushing man-crush… and I guess we should go ahead and start from the top.
What is a Swale?
Simply defined, a Swale is a Ditch dug-on Contour that captures water so it can slowly soak into the land. We are all probably familiar with a ditch. Well then, what the heck does "on contour" mean?  The easiest way I have found to understand this concept is to think of a topographical map, which depicts changes in elevation.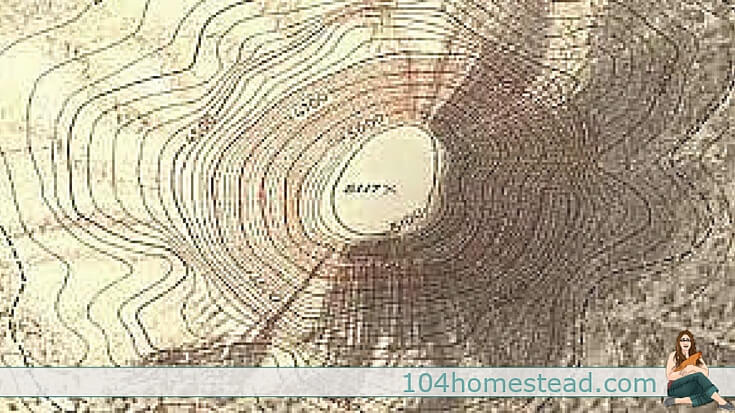 Above is a representation of a hill. The oval shape in the center is the highest spot, and each larger oval surrounding that peak is a contour line down the slope of the mountain.
Any specific spot on one oval contour line is at the exact same elevation as all the other spots on the line. That means one of those lines, a contour, is dead level. Yes, even the weird squiggly-looking ones further downhill. So if you were to dig a ditch on contour and fill that ditch with water… the water would sit there as if in a perfectly level trough.
That's a swale.
Allow me to don my imagination cap and dig four swales on the western slope of our magical Mt Watershed.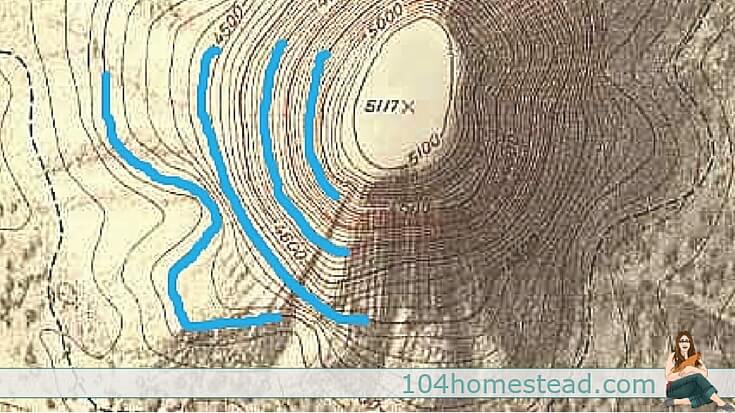 Water flows downhill and is captured in the topmost swale. When that swale's capacity is full, water begins to overflow at a specific place we designed (called a sill) and continues downhill into the next swale. Water catchment continues in this manner until as much of a rain event as possible is held. This capture slows the velocity of water runoff, greatly reducing erosion, and allows all that moisture to seep into the landscape, hydrate the soil and subsoil, and eventually work to replenish groundwater stores.
On a smaller scale more applicable to our backyards, swales almost negate the need for active irrigation in many scenarios.
I don't know about you, but this passive water harvesting technique sounds much more appealing than dragging hoses everywhere, carrying heavy watering cans, and installing expensive irrigation systems. Why… that all sounds like work!
So now that we have a high-level image, let's drill down and look a little closer. Here is the quintessential depiction of a cross-section of a swale included in many texts.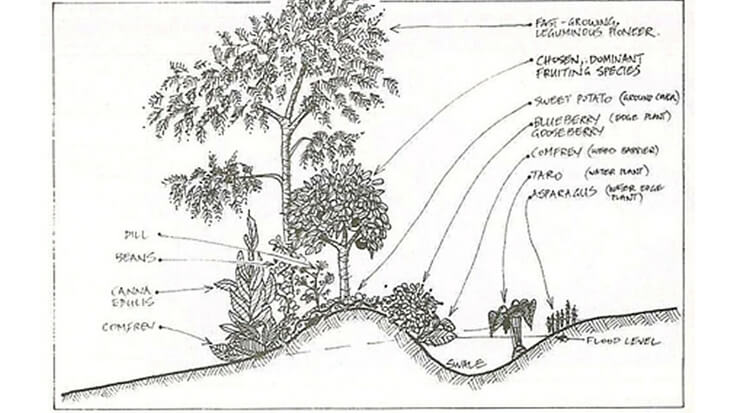 "Uphill" is to the right of the diagram and water flows "downhill" towards the left.
When digging a swale, you pile the excavated soil into a mound on the downhill side of the ditch. That mound is the first to be hydrated, and therefore an ideal place for planting (which is depicted above and a lengthy topic for another day).
Sounds cool. How can I get one?
Great question. How do we apply such a technique to our own landscape? It's easier than you might think.
First, determine a contour line where you want to install a swale. You can either purchase a very pricey laser level used by architects and civil engineers that does the work for you… or, you can follow my penny-pinching lead and build a more traditional tool: the A-Frame Level.
Cut two identical pieces of scrap wood and attach them to make up the legs.
Attach a horizontal brace in the middle so the frame looks like a capital letter A.
Tie a piece of string to the top of the A-Frame.
Attach some form of weight to the bottom of the string. (Yes, my weight could've been 12 fluid ounces weightier… but it's not!)
Make sure Chief Wahoo approves (Go, Tribe!)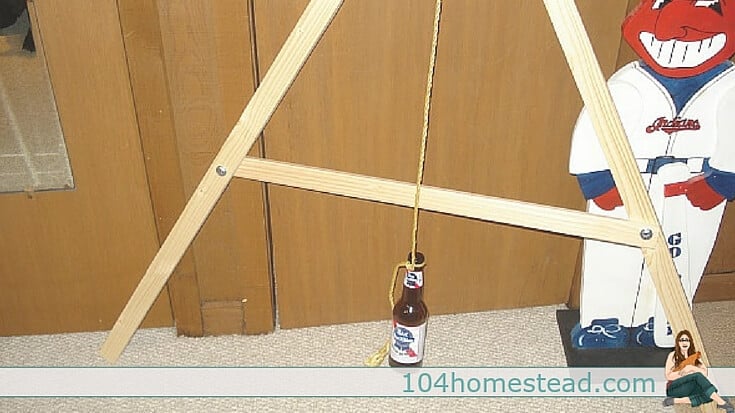 Once built, calibrate the A-Frame Level…
Pick any spot to hold the A-Frame and mark the ground where both legs rest.
Mark a line on the horizontal crossbar where the string crosses it.
Turn your level 180 degrees so each leg is now touching the ground mark where the other leg was initially.
Mark a line on the horizontal crossbar where the string now crosses it.
Measure the distance between the two marks on the crossbar.
Mark exactly halfway in between the two marks on the crossbar. THAT is dead level!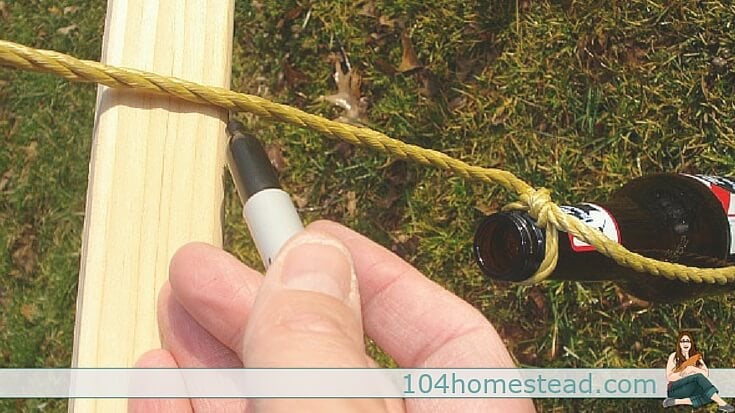 Now anytime your string is dangling over your level mark, you can be certain the two spots where your A-Frame's legs rest are on a contour. Mark those spots with something and continue on with your A-Frame to find the next level spot.
Here is part of a contour line in my garden area I marked after raiding my kid's art supply box for popsicle sticks.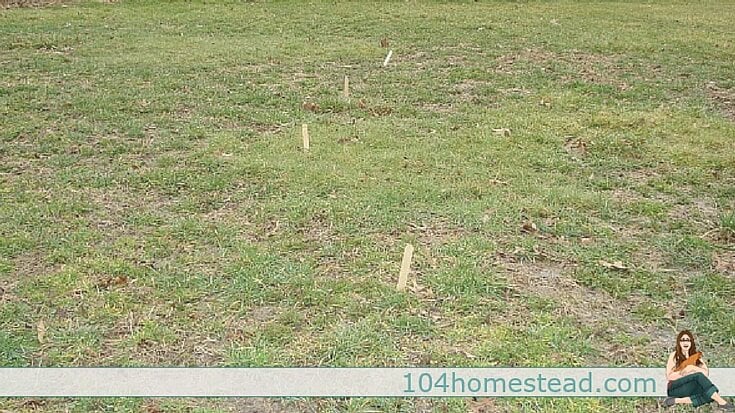 Standing back and looking at this area, it's very difficult to tell there's a slope on this seemingly flat part of the yard. Yet my A-Frame found it.
Now we have a contour line. We're all set to dig a swale as described above and plant it into the downhill mound. One note, if you're looking to hire an excavator to install very large mainframe swales (as I'm designing for about 2 acres in my front yard), make sure you interview the operator and that he fully understands what you're trying to do. An off-contour ditch doesn't do you much good.
But back to smaller scale stuff…. as for me and my garden, I decided to kick things up a notch and stack a few functions. I built wood-core Hugelkultur beds on top of my swales as I wanted the water harvesting (and other) benefits of both techniques.  If you're not familiar with Hugelkultur, Jessica wrote a nice introduction you should read it here.
Building a Hugelkultur Swale
Mark your contour line as shown above. Dig your swale on a contour. I decided to go about ten inches deep.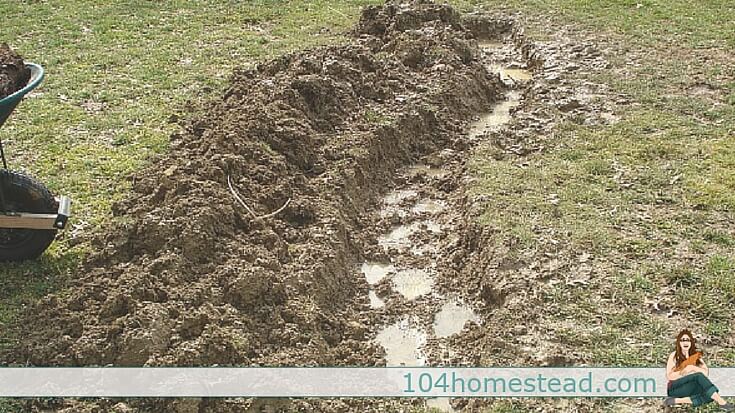 Fill the swale with wood. Slightly rotted is ideal.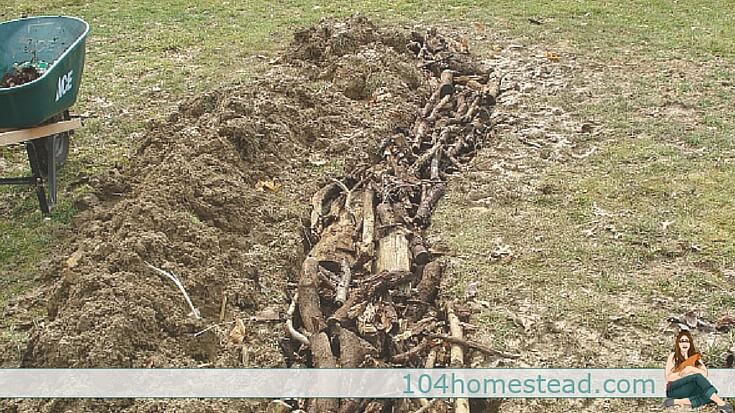 Cover the wood core with topsoil and compost. I used alternating layers for a Sheet Mulch or Lasagna Layering effect.
Finish with four to six inches of deep mulch to help retain all the moisture your Hugel Swales will capture. Rain moves down a slope and is captured by the swale and is absorbed by the wood core to be released as needed during drier times.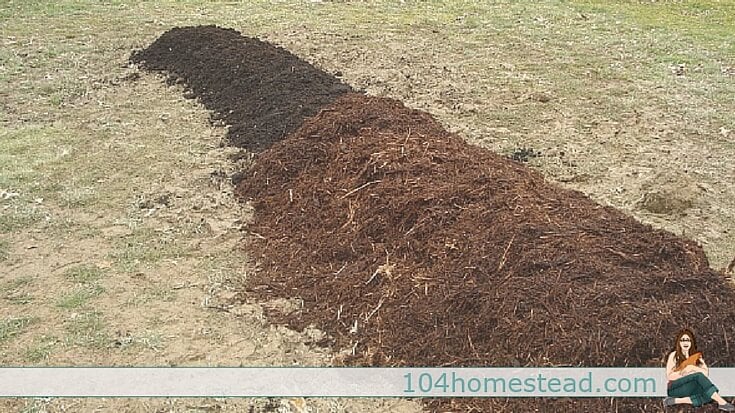 When finished, move downhill and add a few more Hugel Swales to maximize your catchment and minimize your irrigation workload!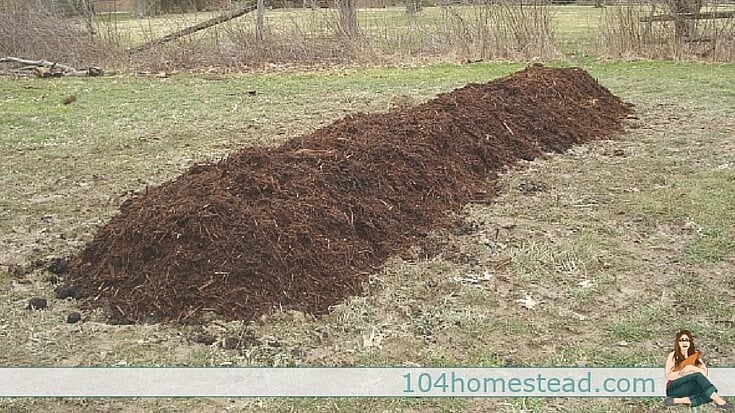 Again, huge thanks again to Jessica for letting me stop by, and if you have any questions or something I might be able to help with, please don't hesitate to comment below.