Bringing a Barn Cat (or two) to Your Homestead for Pest Control
Some cats aren't suited for indoor life. They'd rather work outside. If you have an outdoor structure, adopt them as barn cats.
It's time to consider a barn cat. Or maybe a few of them.
This past summer I found something horrifying in my goat shed. It was something I never expected to see. I didn't even know this horror was possible in Maine. If you read the title of this post, you may have already guessed. I found a rat. Not a mouse or a cute little chipmunk. A huge nasty rat was gorging itself on my goat feed.
I was milking and heard a rattle in the metal bin next to me. At first, I thought it was my imagination. Finally, curiosity got the best of me and I opened the lid. The disgusting creature leaped from the bin, onto my lap, back onto the floor, and took off. My house cat just watched it all happen. She did nothing! She simply looked at me as if to say "are you almost done milking so I can lick the bowl clean?"
It was horrifying. Appalling. I don't consider myself a squeamish person, but I draw a line at rats invading my personal space. My pampered house cat isn't apparently up to the job, so a barn cat might be a wise investment to our homestead. Not only will a barn cat keep the rats from touching me ever again, but they will also help protect our grain from being invaded by rats, mice, chipmunks, and squirrels.
What is a barn cat?
A barn cat is a cat who prefers the company of other animals over the company of people. They prefer an independent living setting such as a barn or outbuilding. Sometimes these cats were given a chance to live indoors, but they were unhappy or displayed negative behaviors that didn't make them suitable to be house cats or pets. Barn cats may befriend you over time, but they prefer a life of freedom and the killing of rodents, making them the perfect addition to a homestead.
Barn Cat Breeds
Maine Coon Cats are a classic Maine cat breed (as the name implies). They are excellent hunters and incredibly intelligent. I've had coons and I absolutely adore them. Maine Coons are hardy, productive workers, and still generally friendly and sociable.
Other than the beloved Coon Cat, the standard for barn cats is any shorthair breed. Longer-haired breeds can be used, but their fur is at risk of becoming tangled and becoming a breeding ground for fleas and other creepy crawlies.
Where can I get a barn cat?
A quick Google search will bring you lots of barn cat programs near you. If you are in Maine, here are a few I recommend. Other options include Craigslist or local classifieds, but these come with risks. It will be your responsibility to vaccinate and fix a cat that came from the classifieds. Also, depending on how that cat has been raised, it may be better suited to a life of indoor living.
Located in West Kennebunk, AWS Barn Cats are spayed/neutered, up-to-date on vaccinations, and have tested negative for feline leukemia. The fees for barn cat adoptions vary.
Located in Bangor, BHS cats are spayed/neutered and up-to-date on vaccinations. They come with an optional crate in which they can be confined for 1-2 weeks prior to being released. This helps ensure the cats understand their new environment before wandering free.
The "barn buddies" is a barn cat program at CHS in Brunswick that provides barn cats free of charge.
This program, located in Portland, provides spayed/neutered cats that are up-to-date on all vaccinations. In return, they ask for a $40 donation per cat to defray veterinary expenses, with discounts for multiple cats.
Their feline barn buddies are available for no fee and are spayed/neutered and vaccinated before being placed. PMHS is located in Rockland. The adoption fee for these feral cats varies.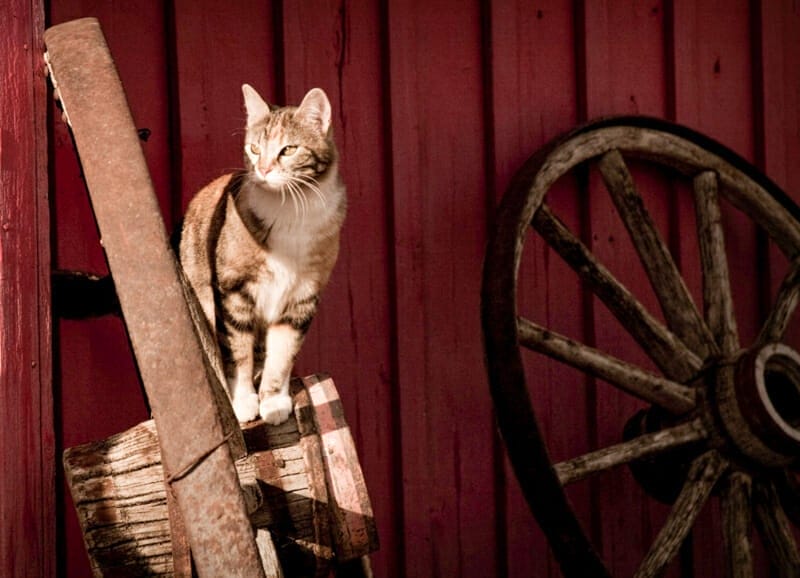 Bringing home a barn kitten
Training a barn kitten so it's used to being outside is a bit different than training a house cat so it's an indoor/outdoor cat. The safest way is to contain your kittens or cats in the barn or structure for a couple of weeks in their new home. If you have a free animal stall with tall walls, that might be the perfect place to keep your kitty. About the time it takes for the kitten to figure out how to get out of the stall, it's probably ready to explore.
If you don't have a stall or building that will contain the cat, put the cat in a large crate to contain it. This is a great diagram for setting up a crate.
Provide a litter box. In this case, you will want to be sure to use an unscented and non-clumping litter. Your cat won't be using a litter box once it has access to the outdoors and the non-clumping, unscented litter best mimics the great outdoors where they'll be doing their business in the future.
This is not the time to force a relationship with a skittish cat. The cat will bond with you when it realizes you provide food.
How much care do I give my barn cat?
Your cat(s) need shelter. Despite the name, the cat doesn't necessarily need a barn to take shelter in, but some sort of building or structure is required. The cat will come and go as it pleases, but it needs a safe place away from the weather and predators. These DIY cozy shelters are great if you live in an area prone to cold winters.
There is a misconception floating around that barn cats don't need to be fed by their humans. That a well-fed cat won't hunt. This is simply not true. A healthy cat is more likely to hunt. Feeding them free choice assures they stay healthy. Fresh water should always be made accessible as well.
Your barn cats should also not be left to reproduce at will. Please, if you are purchasing or acquiring an intact cat (male or female) get it fixed. There are quite a few low-cost spay and neuter programs available. You can visit ASPCA's page to find a clinic near you. You'll also want to get your hands on a flea and tick solution. You don't want your barn cats bringing infectious bugs into your barn. Beyond that, your cats should require very little, if no, veterinary care.
For more information on caring for barn cats, check out this article from Timber Creek Farm. For canine care for your working dog, check out how to make an essential oil flea collar for fido and how to make healthy and balanced dog food at home.