Heads up! I link to products and services that I love from time to time. More often than not I have an affiliate relationship with these providers. What does that mean? I might make a small percentage from any purchases you make, but don't worry, you won't pay even a penny more. Thanks for supporting The 104 Homestead. You can see our full disclosure statement here.
It took me several years to be a carrot gardener. Yes, apparently you have to be a special kind of gardener to grow carrots. For years I could grow practically anything… except carrots. I know I'm not alone. I've seen the gardening forums. Carrots are extremely discouraging, but they are (in my opinion) one of the yummiest garden gifts. Tomatoes may get all the glory when it comes to backyard gardens, but carrots really are the stars.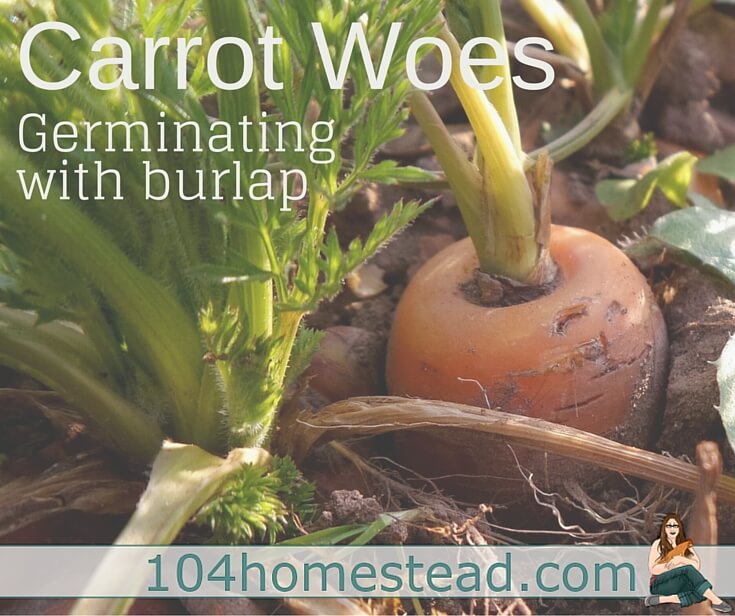 Finally, I discovered the trick and I was in carrot heaven. It is inexpensive and it will change your carroting world forever.
Open Weave Burlap
Open weave burlap is the secret to growing carrots. Germination is the real struggle. Once properly germinated, carrots expect very little from us. A sprinkling of water, maybe a bit of organic fertilizer (but keep the nitrogen to a minimum or you'll have beautiful tops and not a lot happening below the soil). The burlap saves you from many of the struggles that come with starting carrots: soil drying out, seeds being unearthed, ants destroying your emerging seedlings. The burlap keeps the soil moist, it prevents heavy rains and troublesome critters from relocating your seeds, and it seems to confuse the heck out of ants.
To use burlap to germinate your carrots, dig furrows for the carrot seeds. I like to use DIY seed tape to make that whole process easier. You don't want really deep furrows, but you'll want them deep enough so that the burlap is held off the emerging seedlings. The soil along the top of the furrows will help hold the material off as well.
Secure the burlap over the seedlings using rocks to hold it relatively taught. Keep the area moist with light waterings. I find the shower setting on my hose is perfect. Continue this routine until your seedlings are brushing the bottom of the burlap. They should be about 1/2-3/4″ tall at this point. You've successfully passed the hard period. Now is the time to remove the burlap. Ideally, you would be removing the burlap before the carrots have had a chance to grow through it, but you may have waited a bit for a few slow pokes to catch up. No big deal. Just slide your hand under the fabric and gently free the seedlings.
Because I use a Back to Eden gardening method, I add a bit of wood mulch around my seedlings after removing the burlap. The mulch helps retain moisture which is important since dryness can still be an issue for your tiny carrots. If you don't use Back to Eden, here are some other good mulch options for your carrots:
Hay or Straw Lawn Clippings Mulched Leaves Newspaper
One of the keys to growing great carrots is keeping the soil continuously moist. Sudden drenching of dry soil causes the carrots to split. I know we've all see the PG-13 carrot photos. Irregular moisture is what brings about those carrot abnormalities.
Inexpensive Burlap
Burlap is pretty darn cheap anyways, but here is a tip for getting an even lower price. Check out wedding clearance at WalMart. I'm not sure why, but apparently, the whole "farm wedding" is a thing. I found pre-cut sheets of burlap (4′ x 8′ – the size of my beds) for only $4.88 as well as rolls of burlap and lace ribbon (6″ x 50′) for only $3.88. I was able to remove the lace from the burlap with just a few snips of the scissors. The rolls of burlap "ribbon" are great for the carrots you companion planted along the front of your tomato beds.
This Year's Woe
I had done everything correctly. I had used burlap to get my carrots germinated. I had mulched with wood chips. The carrots were looking thick and thriving. Then disaster struck. I have a huge food grade barrel that I use for making compost tea. It was full to the brim with beautiful compost tea. In the middle of the night, a tree limb fell on the barrel, knocking it off its stand. All 50+ gallons of water washed over the carrot bed. The seedlings that weren't washed away were crushed by the barrel or the limb. I cried a bit at the discovery. I've dug out my burlap again and hope that it's not too late in the season for another run.
You might enjoy some of these carrot chronicles: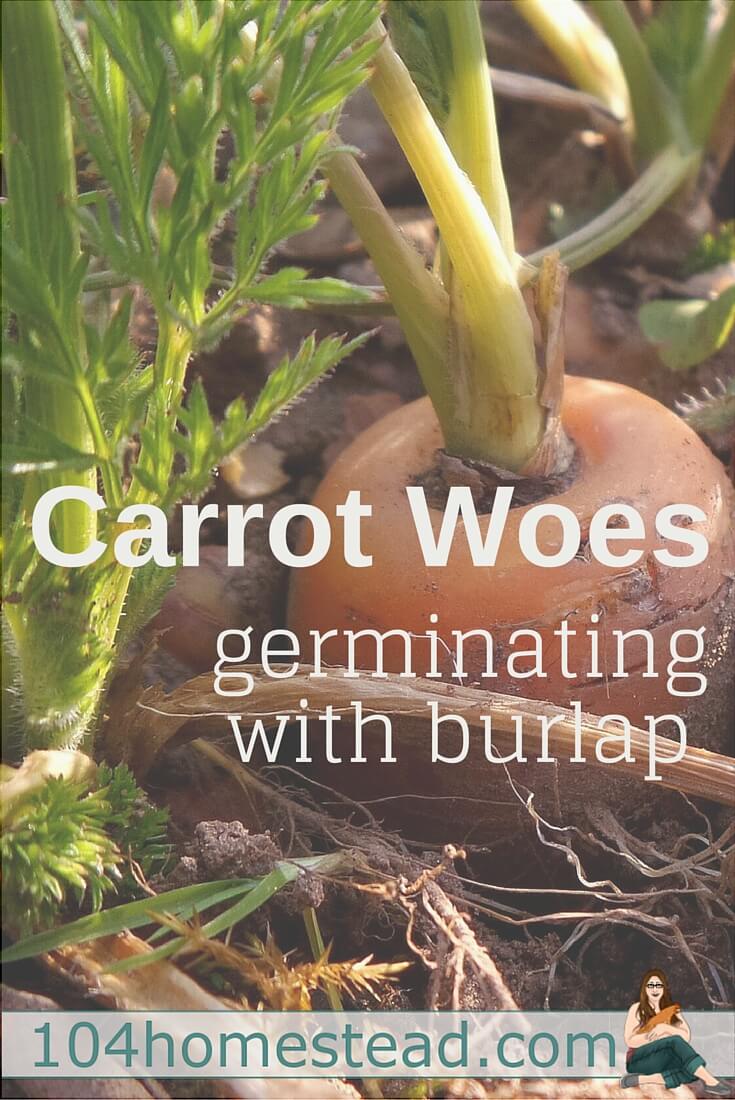 The following two tabs change content below.
I am a non-traditional homesteader. What is a non-traditional homesteader? I'd like to think we are the people who don't fit the mold. I am a busy mom on a small bit of property with not a lot of financial resources, but I am figuring out how to live the life I want. A homesteader's life.
Latest posts by Jessica Lane (see all)