The Theory Behind Back to Eden Gardening
The concept behind Back to Eden gardening is to cover the soil, mimicking nature, so the soil is not exposed to harsh elements.
So many exciting things happened on The 104 Homestead during the 2014 season. We increased our duck flock to keep up with egg demand, we added quail to our homestead, but most exciting is that we changed the way we garden.
Wait… there's more than one way to garden? Why yes, my friends, there are many ways to garden.
Common Gardening Methods
The Traditional Method: A single plot garden where plants are tended (weeded, watered, amended) on a regular basis.
No-Dig Method: Narrow rows of plants that are composted from the top and not turned. A common term for this style is lasagna gardening.
Raised Bed Method: Framed mini-gardens where the soil is specially made or purchased.
Square Footage/Intensive Planting Method: Planting in a grid to maximize the use of space in the garden.
Of course, each of these methods can utilize even more gardening methods such as permaculture concepts like swales and hugelkultur, as well as companion planting, deep mulching, etc.
The gardening method I'm going to introduce you to today is Back to Eden gardening. It incorporates several of the common planting methods, but with a twist. This is going to be an honest review of the method as it applies to where I live. I'm going to share our experience throughout the 2014 growing season and beyond. The good, the bad, and the just plain ugly.
What is Back to Eden Gardening?
I'm not big on sitting and watching documentaries (especially those with a strong religious tone), but this one is worth watching. The creator, Paul Gautschi, explains the idea in depth far better than I could.
So I throw out some wood chips and I'm good?
Well, not exactly. That seems to be the takeaway that many people get from the film. Unfortunately, it's not quite that easy. First, although Paul prefers wood chips, he mentions that you should use whatever natural materials you have in your area. It's all about keeping moisture in the soil and the harsh elements of blazing sun and winds out. Some great covering options, if wood chips aren't available, include grass clippings, leaves, animal manures, straw, and even rocks. For my case study, I'm using wood chips because I was able to get some from my tree guy, Eli of Hutch's Property & Tree.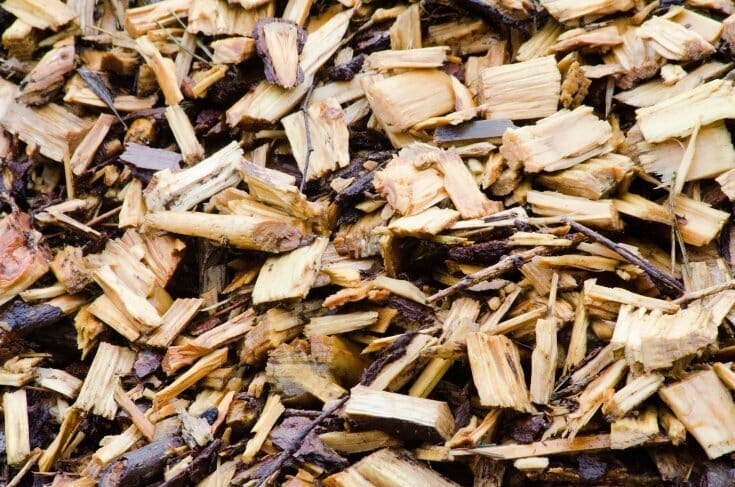 What about nitrogen?
Now, it's not just about covering the soil. Again, that's what people seem to take from the film and nothing more. There are two things you need to know that address the nitrogen aspects of Back to Eden gardening.
First, you need to layer with the covering, not mix the covering. If you mix wood chips into your soil, it certainly will lock up the nitrogen in the soil. This is part of the reason why I stopped using wood shavings in my chicken coop. It drastically reduced the quality of my compost.
2021 UPDATE I use sand inside my coop for a multitude of reasons, and I put wood chips from my arborist in the chicken run to help with drainage and to later use in my garden.
Second, you need to spread compost in your garden regularly. Cue the chickens! Paul mentions in the film how chickens are a great companion to the Back to Eden gardening method. They have wonderful high-nitrogen manure and they love to break down the compost. I am lucky enough to have a whole flock of hard workers, ready and willing to put their time into my gardens. Much like Paul does, all yard and kitchen waste go right in with the chickens. They do all the hard work for me (I'm a firm believer in work smarter, not harder).
2021 UPDATE Like above, this all happens in the chicken run now. I use to have a bin for yard waste and kitchen scraps that the chickens could access, but now we just toss it in the yard and they eat what they want and scratch up what they don't, allowing it to break down quickly.
Throughout the growing season I can access the wonderful compost my chickens have provided me and spread it in the gardens as I see fit. With Back to Eden, you can't over compost. The covering acts as a filter of sorts, creating marvelous compost tea every time it rains.
So when can I start Back to Eden gardening?
Last fall. Oops!
Did you, like myself, get bit with the Back to Eden bug over the winter or spring? Not all hope is lost. Starting a Back to Eden garden in the spring has its challenges, but it can be done. The reason why most people start in the fall is so that your coverage layer has a chance to break down before planting season. Our goal with spring starting is that we want to accelerate that breakdown so that our covering doesn't lock up the nutrients in the soil. The best way to do this is to add high-nitrogen elements such as chicken manure and even urine, and keep the garden moist (not drenched or you'll be opening a whole new can of worms – or slugs).
Another consideration when starting a Back to Eden garden in the spring is how you plant. Regardless of when you began your garden, you always need to be sure you are planting in the soil and not in the wood chips. This is even more important in a spring-started garden. When planting, push the wood chips or other covering back away from the planting area until the plant is well-established. Once the plant is established, you can push the covering back in place.
Our Back to Eden Garden Experience
Getting Started
This month in our experimental garden, we are putting the "you can use any type of wood chips except Eucalyptus" theory to the test. I'll be honest, it was not my intent to check the validity of this statement. My friendly neighborhood tree guy, Eli, gave me a call saying he had a truckload of chips and I was so eager to get that first layer down that I sort of tuned out the word Walnut.
Eli mentioned something about the trees containing juglone, a growth inhibitor, but I kept thinking to myself "but Paul said…" After receiving the chips I did my homework and thought "oh crap." I am still standing by my belief of what Paul said, but bet your bum I'm working extra hard to encourage those juglone toxins to dissipate quickly. I also made sure not to spread the walnut chips anywhere near the future planting sites of potatoes, peppers, and tomatoes since those seemed to be the most susceptible to juglone toxicity. Time will tell and I promise to share the good, bad, and just plain ugly…
The Good
Where once there was almost pure sand, after only one year we have rich, beautiful soil. My son has joked about starting a worm business for people headed fishing down the road. Such a little entrepreneur.
We barely water anymore. Once the seedlings took hold, nature pretty much took it from there.
The first year resulted in some leaf discoloration, but it didn't affect the quality or quantity of the vegetable production. Every year after that first year, it just kept getting better and better.
Juglone did not end up being an issue whatsoever. We've used chips from a large variety of tree species (probably every kind that grows in Maine at this point) and we haven't had a problem with any of them.
The Bad
Germinating carrots was a bit of a pain in the butt. Any time it would rain, the wood chips would wash down and crush the little seedlings, no matter how far I pulled them back away from the planting site. I did find a cool workaround that helps with germinating carrots in general.
Cucumbers sometimes bury themselves in the wood chips, making it hard to find them. This was only really an issue when they were little and I was harvesting for whole baby pickles.
Again, the first year we had some yellowing leaves. It didn't hurt anything, but it did lead to me panicking unnecessarily.
The Ugly
There was none! Five years of Back to Eden Gardening and it was the most beautiful garden I'd ever had.