Easy Crème Brûlée at Home
Although it sounds fancy (and therefore difficult to make), crème brûlée is easy to make. It is the perfect dessert to follow a Valentine's dinner. Heck, you can skip dinner all together and just have the crème brûlée. I won't judge. It has milk (dairy), vanilla beans (bean = vegetable), fruit zest. A well-rounded meal in my book.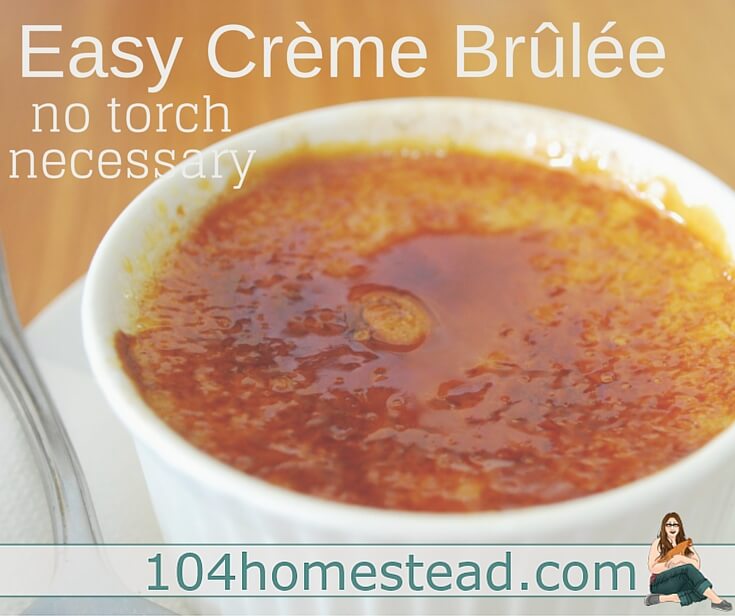 To make crème brûlée, you need special cups called ramekins. These cups are flameproof and are the correct size for proper cooking. These are the ones I have. No torch necessary. We are going to caramelize these babies in the broiler.
Custard Ingredients
3 c. Milk
3/4 c. Sugar
3 Eggs + 3 Additional Yolks
1/4 tsp. Salt
1 Vanilla Bean (split)
4 strips Orange Zest (3″ x 1/2″)
3 strips Lemon Zest (2″ x 1/2″)
3 strips Lime Zest (2″ x 1/2″)
Making Crème Brûlée
Set eight of your ramekins on a folded towel in a large baking pan.
In a medium saucepan (stainless steel is a great choice), combine the milk, 1/4 cup of the sugar, the vanilla bean, zests, and salt. Bring to a simmer then remove from heat. Cover and let it stand for 30 minutes.
Preheat the oven to 325°F.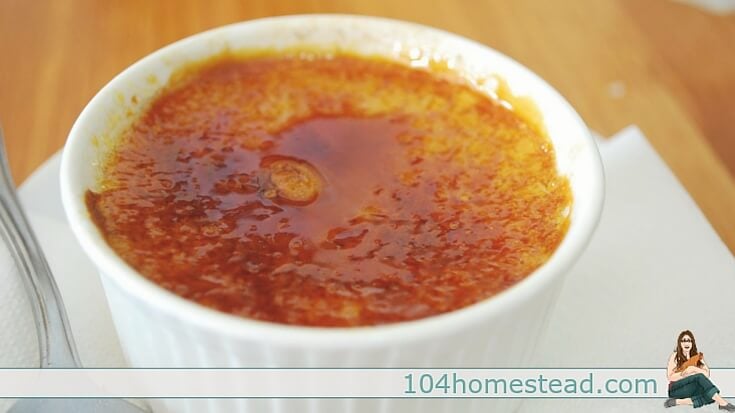 In a large bowl, whisk together the eggs, egg yolks, and remaining sugar. Whisk until just blended. Whisk in the milk mixture (pour in the mixture through a sieve to remove vanilla and zest bits). Continue whisking until well-blended.
Spoon custard evenly into ramekins. Pour enough water into the baking pan to come halfway up the sides of the ramekins. Bake uncovered for 45 minutes (or until a knife inserted in the middle comes out clean). Remove the ramekins from the baking pan and transfer to a cooling rack.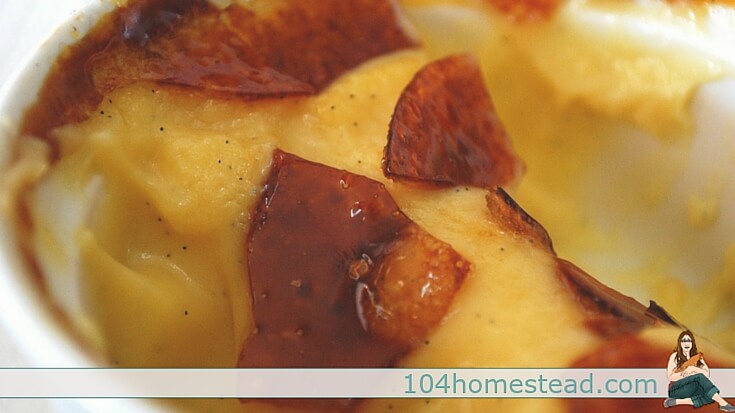 Crème Brûlée Topping
Sprinkle 3/4 cup of firmly packed light brown sugar divided between the ramekins. Place the ramekins in the broiler 6-8″ from the coils and broil until they are caramelized. Don't take your eyes off them because it happens quickly (about 45 seconds). Let them cool on a wire rack again and serve when they get to room temperature.
Voilà, you've made crème brûlée. Also, can I say how much I enjoy typing the fancy letters for this post? It makes me feel classy.
If you are a huge crème brûlée fan, you should check out this recipe from Shugary Sweets for crème brûlée coffee creamer.